Essential printer & signage expo to attend
Updated May 27, 2014; first posted April, 2014
If you want to learn about textile printers, 3D printers, UV-cured printers, then APPPEXPO is essential.
For eco-solvent, lite-solvent, or full-solvent: more brands than any expo in EU or USA (put together).
After-market ink is a great way to save money (if you select an appropriate brand). Lots of different brands of ink here.
For media, substrates; both roll-to-roll, thick and rigid: everything. Brands from USA, EU, Korea, Taiwan, and China.
These are a few of the reasons why FLAAR Reports sends a team of five to experience APPPEXPO every year.
If you are by yourself you can also enjoy being here: we send five since we have to take notes on every significant product at the entire expo. But if by yourself or one or two colleagues, you can see everything in the four days.
To get an attendee pass, sign up and register here:
www.apppexpo.com/2/EN/Visitor
Below are the new FLAAR Reports related with "what to expect" at APPPEXPO 2014
If you need our reports in spanish or russian please visit this site.
FESPA Digital 2014
Updated May 26, 2014. First Posted May 12, 2014
We enjoyed FESPA Digital in beautiful Munich, this past May 2014. Four of us from FLAAR assisted.
FESPA is the single most important international printer expo in all of Europe. It is helpful also to attend your local expos in your home country or nearby, plus APPPEXPO in Shanghai is highly recommended for July.
We are now preparing over 10 FLAAR Reports on what we experienced and learned at FESPA in late May. Here are the front covers of several of these. You can order them by writing FrontDesk@FLAAR.org.












Signage printers, media, ink: everything for 2014
Updated twice in April, 2014, Previously updated Feb 2013; Posted Dec. 13, 2013
ISA International Sign Expo was in Orlando, April 23-26, 2014. There are many good reasons why you should have attended, because if your competitors assisted at ISA they will learn what is new and what is happening.
For example, how many printer brands now offer SUV ink? (much more than Mimaki)?
How does SUV ink compare with latex ink? Which are benefits of each? What are the weak points of each?
Most importantly, how does SUV ink compare with traditional UV-cured ink (mercury arc cured and/or LED cured)?
FLAAR sent 4 people here. We would not risk the airfare and hotel costs, and the time away from the office, if we did not felt ISA was well worthwhile.
Why so many from FLAAR at ISA?
Because just to study media and substrates it takes two days. For example, there are more booths with aluminum composite printable material at ISA last year than all other expos in USA and Western Europe put together! Only Sign Istanbul has close to the same remarkable coverage of brands of ACM (also known as ACP) on exhibit.
And inks: how do you figure out who really manufacturers the ink?
Printers: what about MEMS printhead technology and Memjet-based printers? What are the deficiencies? What are the benefits?
There was a lot to see at ISA every year, and Orlando is an easy place to fly to. So we hope you saw us at ISA, Booth # 3011.
www.SignExpo.org is their web site, definitely worth visiting.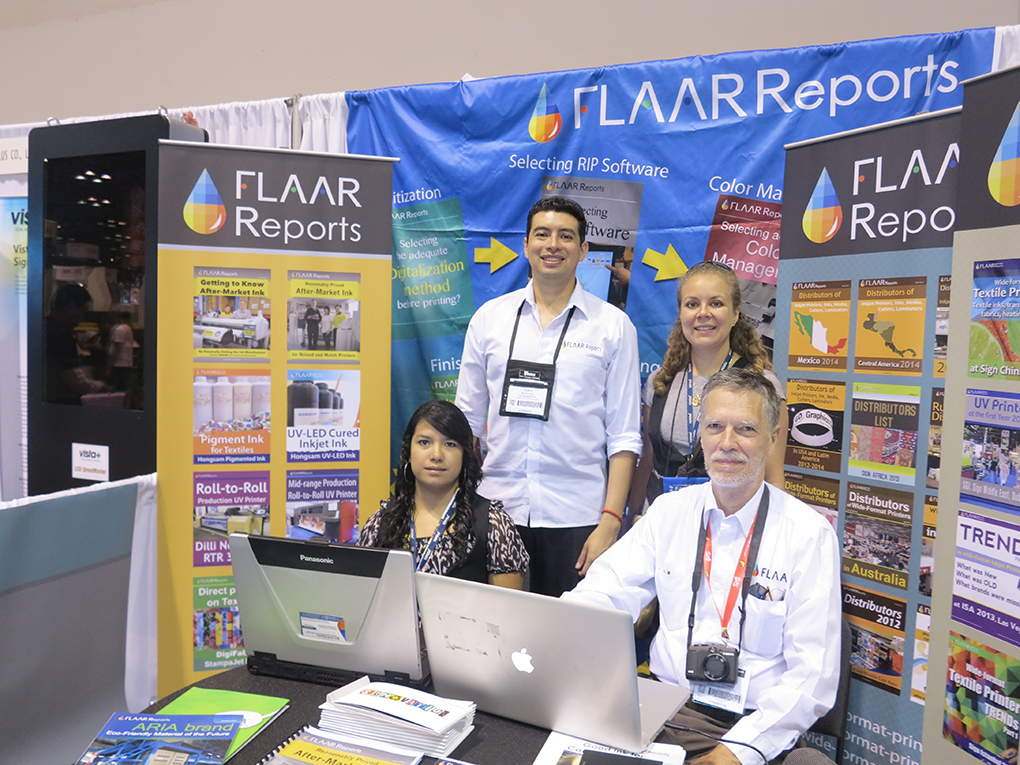 Advances and Trends in Wide-Format Inkjet BEYOND CONVENTIONAL PRINTING
Posted April 2, 2014
Last april in Dubai the Keynote presentation was present by Dr Nicholas Hellmuth, FLAAR Reports, organized by Printing & Publishing Group (Dubai), April 9 (Wednesday), Le Meridien (Wasl Ballroom) Airport Road.
Also speaking were Mr Richard Sanders of Call Print (3D Printing Services) and on Digital Printing (Mr Phil Walsh, Kodak, UK). Contact Ms Roxanne Tandoc, info@ppg.ae
| | |
| --- | --- |
| Invitation English | Invitation Arabic |
FLAAR at Graphics of the Americas

Posted Feb 11, 2014
At GOA 2013 in Miami Dr Nicholas Hellmuth presented two lectures: one in English, the other in Spanish.
*Expanded revenue from printing on innovative materials
*Impresion en cristal, en azulejos ceramicos,
La Realidad UV vs Tinta Inorganica
FLAAR Team at SGI Dubai 2014
Posted Jan 06, 2014
Sign Middle East (SGI Dubai) is the first international expo of 2014. 2014 it was held on January 7-9, so two or three weeks earlier than usual. Nicholas Hellmuth and Pablo Martinez arrived in Dubai after two days of flights; over 11 hours delays in airports due to winter weather in USA.
Dubai is a safe and friendly city to visit, with plenty of things to do, especially shopping. The giant airport has flights from all around the world.
FLAAR has enjoyed visiting SGI Dubai for many years and thus we have many friends at the distributors and print shops in the Emirates area.
Lots and lots of Chinese branded printers; more than any other expo outside of China, and many many brands of Chinese media, but almost no booths of Chinese ink manufacturers; whatever Chinese ink may be present is mostly rebranded with local names.
FLAAR will also make a list of every UV-cured printer, every textile printer, each T-shirt printer, all solvent printer brands, any water-based, plus latex (which most ink chemists consider very different from true water-based).
For 2014 FLAAR will cover the top expos around the world, starting with SGI, then GOA in Miami, then D-PES and Sign China in Guangzhou, then ISA in USA, FESPA Digital, and this year we look forward to attending an expo in Iran. Summer will be APPPEXPO in Shanghai, and then FESPA Africa. Then the autumn and winter expos.
FLAAR Team attended Sign Istanbul
posted Oct 10, 2013
We have enjoyed visiting Istanbul, exploring this remarkable city, and attending Sign Istanbul for many years. So two of us from FLAAR will be going to Sign Istanbul in late November.
Because there are so many expos around the world it is not realistic to attend all. But we find Sign Istanbul worth attending since it is international, relatively large, and thus offers a full range of signage and wide-format inkjet printer products.
What FLAAR evaluated at SGIA last week
Updated Nov 7, 2013, Oct. 18, 2013, Updated Oct 10, 2013; First posted April 10, 2013
Print shop owners, distributors, and manufacturers come to FLAAR to obtain a diverse range of information which is more realistic than press releases or canned "Success Stories."
So at SGIA it is more realistic to actually inspect the printers, and to learn from end-users (print shop owners and managers). In fact we rarely do a full evaluation until we have been to the actual factory (of the ink, media, printer, or cutter). So we are on airplanes about 240,000 miles each year, since manufacturers wish to have us visit their factories and their demo rooms around the world.
But a trade show is an essential event, and we fully support the hard-working staff at expos such as SGIA.
We visited the booths of efi VUTEk, Dilli, DigiFab, GraphicsOne, KIP, Seiko, Splash of Color, YJ USA (ARIA for PE), and many others.
So many people arranged meetings with us that it was not realistic to inspect every product in all the other booths (even with four of us at the expo). But we did accomplish a lot and are now working on all our FLAAR Reports on SGIA.
Most recently updated May 27, 2014.
Previous updated May 26, twice in April, Feb 2013, Dec. 13 and Dec 4, 2013.