FLAAR Team will attend SGI Dubai 2014
Posted Dec. 4, 2013
Sign Middle East (SGI Dubai) is the first international expo of 2014. This year (2014) it is 7-9 January, so two or three weeks earlier than usual.
Dubai is a safe and friendly city to visit, with plenty of things to do, especially shopping. The giant airport has flights from all around the world.
FLAAR has enjoyed visiting SGI Dubai for many years and thus we have many friends at the distributors and print shops in the Emirates area.
For 2014 FLAAR will cover the top expos around the world, starting with SGI, then GOA in Miami, then D-PES and Sign China in Guangzhou, then ISA in USA, FESPA Digital, and this year we look foward to attending an expo in Iran. Summer will be APPPEXPO in Shanghai, and then FESPA Africa. Then the autumn and winter expos.
We look forward to seeing you at this SGI printer and signage event in Dubai to start off the new year 2014.
FLAAR Team will attend Sign Istanbul
posted Oct 10, 2013
We have enjoyed visiting Istanbul, exploring this remarkable city, and attending Sign Istanbul for many years. So two of us from FLAAR will be going to Sign Istanbul in late November.
Because there are so many expos around the world it is not realistic to attend all. But we find Sign Istanbul worth attending since it is international, relatively large, and thus offers a full range of signage and wide-format inkjet printer products.
What FLAAR evaluated at SGIA last week
Updated Nov 7, 2013, Oct. 18, 2013, Updated Oct 10, 2013; First posted April 10, 2013
Print shop owners, distributors, and manufacturers come to FLAAR to obtain a diverse range of information which is more realistic than press releases or canned "Success Stories."
So at SGIA it is more realistic to actually inspect the printers, and to learn from end-users (print shop owners and managers). In fact we rarely do a full evaluation until we have been to the actual factory (of the ink, media, printer, or cutter). So we are on airplanes about 240,000 miles each year, since manufacturers wish to have us visit their factories and their demo rooms around the world.
But a trade show is an essential event, and we fully support the hard-working staff at expos such as SGIA.
We visited the booths of efi VUTEk, Dilli, DigiFab, GraphicsOne, KIP, Seiko, Splash of Color, YJ USA (ARIA for PE), and many others.
So many people arranged meetings with us that it was not realistic to inspect every product in all the other booths (even with four of us at the expo). But we did accomplish a lot and are now working on all our FLAAR Reports on SGIA.
Sign Africa evolving into international venue

Posted Aug. 13, 2013.

Already major international manufacturers such as HP, Mimaki, Epson, Roland, Xerox have booths at this crucial expo. Now that for 2014 this venue will become FESPA Africa, we feel that more manufacturers will realize it is a good investment to have a booth presence at the FESPA Africa expansion for 2014.
FLAAR has been a guest and speaker at Sign Africa for many years, so we are familiar with the capability of the expo organizers and their experience in the wide-format and signage industries both throughout the continent of Africa. FLAAR has quietly watched the alliances of trade show organizers around the world for many years. We welcome the fact that FESPA capabilities have been joined together with the team of Sign Africa to create a joint expansion in the coming year. The primary advantage of this alliance is that Sign Africa already exists and is already the main expo in this part of the world.
We at FLAAR hope to see you at Sign Africa 2013,
21-23 August and at FESPA Africa in 2014.
Lots more at APPPEXPO 2013 in Shanghai

Updated Aug. 13, 2013. Posted July 10, 2013

APPPEXPO 2013 in Shanghai
was a major international event

Fascinating graphic designs with honeycomb board: entire booths made from this material.
Aluminum composite material, both for architecture and printing.
Eco-solvent, mild-solvent, and the last iteration of full-solvent printers, though also latex ink (more than just HP and more than just Mimaki).
Plus more than 30 brands of UV-cured printers, dozens of after-market ink companies such as Inkwin, Hongsam, Sam Ink, AT Inks and a dozen more and over a hundred brands of media and substrates.
Entire halls of CNC rounters, CO2 laser engravers, plus a whole series of hall after hall of traditional signage and more LED dynamic digital signage than every expo in USA, UK, and EU put together!
So much to see, so much to learn about, so we flew five of us from FLAAR Reports to take notes and bring information, tips, help, evaluations, and notes of issues and what a product still needs to add. Our goal is to assist print shop owners, distributors, and manufacturers around the world, to have a more realistic view of the actual-factual reality (so a different approach than scripted claims).
We look forward to providing our initial FLAAR Reports during late August on what's new and what's worth learning about in the world of printing and signage.

Shanghai APPPEXPO 2013 (mid - July)
Updated Mar 5, 2013, first posted Feb 18, 2013
If you wish to learn about ALL the brands of UV-cured printers.
If you need to see 100% of the brands of textile printers and dye sub units made in China.
And especially if you want to get to know all the scores of brands of inks from China, Korea, and Taiwan: then consider attending APPPEXPO in beautiful Shanghai this July.
Plus, there are more exhibitors of wide-format media and substrates at the July Shanghai expo than at every other expo in China put together!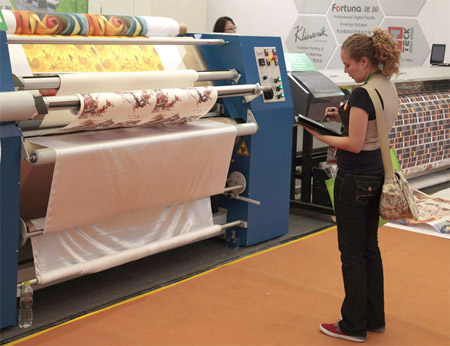 You can ask for consulting assistance during APPPEXPO in Shanghai so you can reserve a discussion time with Dr Nicholas in Shanghai by writing NOW, in advance, to FrontDesk "at" FLAAR.org.
In other words, you can have FLAAR assist in planning your presence at this giant printer and signage exhibit this July.
FESPA is healthy size and impressive diversity
First posted June 24, 2013.
Lots more textile printers than I expected; more than any two different VISCOM sign expos put together.
Lots of UV-cured printers, including about five brands from China. Scores of Chinese media manufacturers but not many Chinese ink companies. But plenty of ink companies from other countries.
Overall a great wide-format inkjet printer expo, and better-than-average for textile printers considering this is a signage expo.
FLAAR attended ShanghaiTEX in early June
Updated June 24, previously updated May 5; first posted April 12, 2013
Although this is not a textile printer expo per se (so not as large as ITMA Europe nor ITMA China, both of which we have attended), we found that ShanghaiTEX actually had more textile printers than ITMA Asia 2012 and more brands than even ITMA Barcelona 2011.
Two of us from FLAAR visited ShanghaiTEX 2013 (June 10-13) to inspect diverse textile inks of Hongsam (especially reactive dye and pigmented (for cotton)). It has more textile printers than ISA+SGIA+FESPA put together, and multiple times more textile printers than all VISCOM put together (since those are primarily for signage printers).
If you wish to Subscribe to the textile TRENDs report which Hellmuth and Ayau will research and publish, please contact FrontDesk "at" FLAAR.org.
ISA Sign Expo
Updated April 5, Posted March 5, 2013
Four of us are attending ISA 2013 Sign Expo, plus FLAAR has a booth.
ISA is successful in a crucial respect: LOTS of exhibitors. LOTS of brands.
A complete range of products to cover the entire sigage workflow.
Plus, several Chinese brands of printers which seldom exhibited at USA earlier.
The organizers of ISA have done a great job and exhibitors are happy with the results.
GRAPHISPAG 2013
Updated May 3, 2013. Originally posted March 5, 2013.
Two years ago Graphispag in Barcelona was multiple times larger than I expected. Actually Graphispag was significantly larger in 2011 than any wide-format printer expo in the identical city, in the identical expo center in 2012.
This year I did not anticipate it will be anywhere near as large as 2011, but it would be nice to be surprised. Unfortunately VISCOM Madrid has collapsed (and is unsure whether it will be held in 2013). If Graphispag is successful this is all the more documentation that some organizers bungle their dis-organization; and other expo organizers are simply better (Graphispag).
But sadly Graphispag 2013 was so much smaller than 2011 that I did not even fly over to beautiful Barcelona to visit. VISCOM Madrid now has decided to open its doors in 2013, but it is too small to see or learn enough to make the cost to attend worthwhile. We may attend VISCOM Duesseldorf.
Graphics of the Americas 2013, Feb. 21-23
Posted Jan 15, 2013
I enjoyed attending GOA 2013 a few weeks ago (in Orlando).
Graphics of the Americas for 2014 will return to Miami (which is so much easier to reach with a direct, non-stop flight). Once GOA is back in Miami (in 2014) it will grow again.
UV-printers, Inks, Textile Printers & Substrates D-PES 2013
Updated March 5, 2013. Posted Feb 19, 2013
China Sign (aka D-PES) was large, growing, and successful last week. Then the following week was the even larger competing expo, Sign China and the immense LED China (only the July expo in Shanghai is larger, the APPPEXPO).
First printer expo of the year: SGI Dubai (Sign Middle East)
Updated March 5, 2013. Posted Jan. 2, 2013
Two of us from FLAAR attended Sign Middle East (SGI, Sign & Graphics Imaging Middle East, Dubai, Jan 20-22, 2013).
For printshop owners and managers, distributors; for manufacturers in China, Korea, and Taiwan, attending SGI in Dubai is essential (it is the largest printer expo in this part of the world).
We at FLAAR wish success to every expo in each country, but expos are becoming regional. In Turkey, for example, Sign Istanbul is the largest and most successful expo in the entire region, larger now than most VISCOM expos in Western Europe. Sign Africa is strong in Johannesburg. We at FLAAR Reports are working with Sign Istanbul, with Sign Africa, with ISA (in USA), with Graphics of the Americas (in USA) and with SGI Dubai. We are also considering assisting key expos in China.
As a non-profit institute, with worldwide coverage of over a million readers a year, we bring tips, suggestions, consulting, and lecture topics to the expos. And we bring day-by-day news about wide-format printers, inks, media, laminators, cutters to our readers around the world.
If your printer, digital photo, signage, graphics, or 3D imaging expo would like to receive our assistance, since we are a non-profit institute, the fee to receive all the services from FLAAR is reasonable.
Sign Istanbul had remarkable attendance
Updated Dec 11th. Posted Nov. 13, 2012
Sign Istanbul is worth visiting for many reasons: Turkey is a growing economy. 2nd: Istanbul is a friendly and hospitable city. 3rd: the museums and historical architecture of Istanbul make a trip worthwhile even if there were not also a printer trade show to attract you.
Two from us at FLAAR Reports were flown to Sign Istanbul by the expo organizers, iFO. We have enjoyed visiting Turkey over many years and thus many distributors and printshop owners and managers utilize the FLAAR Reports to make their decisions.
Attendance was good the first two days and extraordinary the next two days. Sign Istanbul is the largest I have seen it, and significantly better than its competitor in past years Indoor & Outdoor.
Textile printers Site-visit Case Study in Europe
Posted Dec 3, 2012
As part of our increased reviews and evaluations of textile printers, today in Europe FLAAR inspected two 3.2 meter ATPColor printers.
The printshop (in Europe) was frankly quite large and what was the most impressive is that all their other printers were exclusively all top-tier brands. I rarely see a printshop with such a range of UV-cured, flatbed cutters, RIP software, and even the top spectrophotometer brand (more sophisticated than Gretag or X-Rite).
All the equipment elsewhere in this sophisticated printing company, and as far as I could note, all the ink and media, came from USA and Western Europe.
The owner and productions manager were helpful and hospitable. It was especially informative to speak with the production manager to understand why they selected this direct-to-fabric ink chemistry, and why they selected this brand over the other options available. All this we will discuss in the update to our evaluation of the ATPColor grand-format (3.2 meter) direct to fabric printer.
FLAAR Reports on SGIA being updated.
Updated Dec 3, Nov. 13, first posted Oct. 23, 2012
Since last week there is now a double-length update photo-essay version of our free report on SGIA.
We are also still hard at work on the UV-cured printer TRENDs report, to summarize 2012 and discuss progress into 2013.
Our textile report will also mention TRENDs, such as the new textile printer by a major international brand (but sorry, we yawn a bit since that brand is defintely not from the world of textile printing). We recommend sticking to a company who knows textile printing inside out for many years.
Our TRENDs report on latex and resin ink will discuss the new physical printer being attempted by Sepiax: we discuss the totally new curing system; and then the separate printer itself (each is manufactured in a different factory then brought together).
This new report on latex ink TRENDs discusses the potential for latex ink to print on thick and rigid materials. You can order this full color report by asking to be invoiced; e-mail FrontDesk "at"
We also discuss how to avoid potentially misleading claims when a company simply props the words "latex ink" on an ink which most chemists do not accept as really such an ink.
After-market latex ink for all models of HP latex printers
Posted Oct 17, 2012
FLAAR does second inspection of a printshop switching from HP latex into to latex ink from Sam Ink. The printshop owner have lots and lots and lots of HP latex printers, and one by one are switching them to after-market latex ink.
The owners are content with the ink and all-smiles about the money they save. They can get much more business, especially during a recession, if their print costs are lower.
You can see this original quality ink at SGIA in the booth of Sam Ink with an HP latex ink printer.
ATPColor invites FLAAR Reports team to visit
Updated again Nov 13, Posted 20 Sept 2012. Updated 23 Sept. 2012.
Dr Nicholas and Sofia were guests of ATPColor in Milano. We took the train from Cologne, after Photokina. We visited ATPColor to inspect and evaluate their textile printer facilities and products.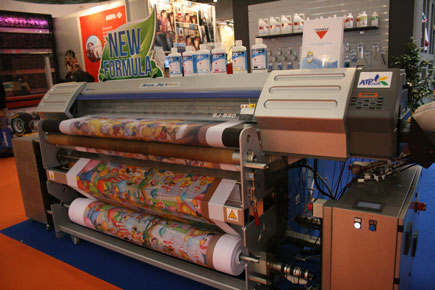 We have been noticing the textile printers of ATPColor over the years and with the rising interest in textile printers around the world now is a good time to visit the major players in this industry.
Next week, en route to Sign Istanbul expo in Turkey, we will stop in Frankfurt to visit the manufacturer of metallic inks. Then we will take the train to Munich and visit a printshop which is using the grand format size of direct-to-fabric textile printer from ATPColor. This is the best way to learn the pros and cons of a printer brand and model: speak with the owner, managers, and separately with the printer operator, to find out how the printer really functions out in the real world.
Sign Africa was in late August
Posted Aug 2, 2012. Updated Sept. 23, 2012
Sign Africa was a successful expo. We will have our reports out shortly (the September expo season is burying us with so many other expos).
FLAAR attends Sign Africa every year in Johannesburg. We look forward to returning in 2013.
Most recently updated Dec. 04, 2013.
Previous updated Aug. 13, 2013 Jan. 2, 2013. Jan. 15, Jan. 2, 2013, Mar 12, 2012, Mar 7 2012, Mar 3 2012, Feb. 29 2012, Feb 23. 2012, Jan 16, 2012, Jan. 5, 2012 Jan. 2, 2012, Oct. 17, 2011, and many times over the last several years.