Wallcoverings and Wallpaper
Posted September 3, 2015
Our first discussions of printers for wallpaper were already over a decade ago. All the years since then, we have been keeping track of digitally printable wallpaper substrates, and printers for wallpaper.
Our interest in wallpaper is part of the FLAAR background in architecture (so we also study printers for glass, for ceramic floor and wall tiles, for textiles (curtains, etc), and wood veneer printers). So now we are showing the front covers of several special FLAAR Reports which are being prepared:

Glossary of Jargon & Descriptions of Wallpaper and Wallpaper Printers and Inks

Information on traditional
(non-digital) wallpaper printer technologies (so you can learn how wide-format can be better)

Media companies in China and Korea which produce printable substrates for wallcoverings

Media companies in USA and Europe which produce printable substrates for wallcoverings

Discussion of pros and cons of each kind of ink for printing wallpaper: HP latex, UV-cured, Solvent, dye sublimation, and water-based

We are considering evaluating specific wide-format printers and inks, to suggest which printers and which inks may be good for wallcovering (and which other inks and other printers may have issues).
More and more people are asking about what ink, what printer, what substrate, so we are updating our past research and adding new reports. These will be available to companies with a TRENDs level Subscription.

Or, you can simply buy the series.
If you wish to have all the FLAAR Reports, plus speak to Dr Nicholas and his team, by phone, Skype, or in-person at the next trade show(s) this is available if you have a Subscription at TRENDs level, or if you request a consulting session.
We will be looking at wallpaper and wallcovering materials at Sign Istanbul (Turkey) and then SGIA (in Atlanta). Plus evaluating further which ink chemistry and which workflow really is best for producing customized wallcoverings.
Sign Istanbul in mid-September is worth attending
Posted Aug. 4, 2015
FLAAR Reports team prefers expos which have a diverse range of printer technologies, toner as well as inkjet. So it helps when Ricoh, Xerox and others exhibit in addition to efi VUTEk (fleksmedia), Durst, HP, Mimaki (PIMMS), etc.
Dr Nicholas has attended Sign Istanbul for many years and since this expo is of ample size, it helps when a second member of the FLAAR Reports team is also present (this year it will be Pablo M. Lee, for inks, media, and cutters).
A pleasant surprise this year is that a 3D focused exposition, 3D PRINTSHOW will be co-located with Sign Istanbul.
We hope to see you at Sign Istanbul 2015, 10-13 September, visible on www.IFO.com.tr or www.SignIstanbul.com.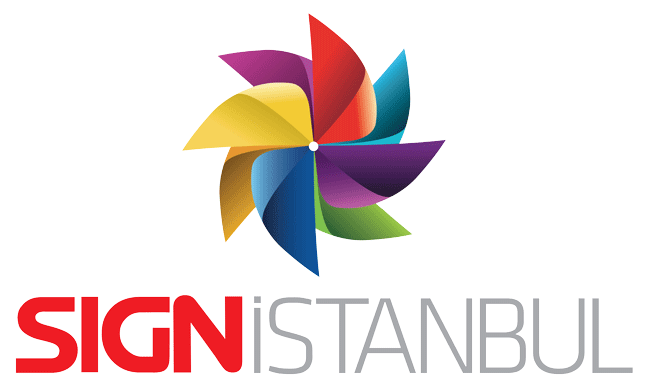 Disscussing Trends in Textile Printing (FESPA Africa 2015)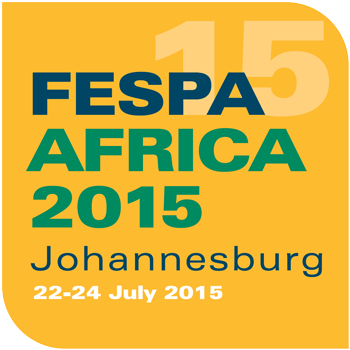 Updated August 18, 2015
Posted July 14, 2015
Daily Debate, 23 July 12PM
DISCUSSING TRENDS IN TEXTILE PRINTING
Chaired by: Dr Nicholas Hellmuth, FLAAR Reports
Panel of experienced individuals in the world of printing:
1. Yasar Guvenen, FESPA president and founder of Global Group of companies including ALGROUP International, ALVISUAL and AION
2. Orlando De Abreu, Owner Of Tali Digital
3. Mike Horsten, Marketing Manager EMEA, Mimaki Europe
4. Leon Bassans, Solutions Team
This was a good opportunity to learn the reality of the current trends in textile printing, since the trend today is noticeably different than what was predicted 10 to 12 years ago. The panel is very international; the FLAAR Reports team sees many of the panel all over the world at other major international expos in other countries.
We were present at FESPA Africa 2015, 22-24 July, with this event being the 23rd of july at noon. www.FespaAfrica.com.
You can subscribe now to obtain our new FESPA Africa 2015 report
Textile Reports week at FLAAR
Posted July 14, 2015
Lots and lots of helpful informative reports on textile printers are now available from the textile printers team at FLAAR Reports.
These can be ordered by writing FrontDesk "at" FLAAR.org to ascertain prices and how to be invoiced so the reports can be sent to you.
FESPA Africa and AFRICA Print
Posted June 25, 2015
FESPA Africa is co-located with AFRICA PRINT, Sign AFRICA and now also AFRICA LED EXPO 2015.
Dr Nicholas will be present every day and all day, 22-24 July, 2015 (we have attended for many years).
We hope to see our many friends and colleagues here in a few weeks.
Sign Istanbul is 10-13 September
Posted May 25, 2015
The dates of mid-September are much better weather than the cold of mid-winter. So we definitely prefer the new dates for Sign Istanbul 2015 (compared with the dates several years ago).
Turkey in general and Istanbul in particular is a multi-cultural area with plenty for you and your friends to enjoy. This is even a good place to bring a spouse or special friend!
Sign Istanbul offers diverse signage products for this entire part of the world. Two of us from FLAAR Reports will be at Sign Istanbul this year. So we hope to see you here in picturesque and hospitable Istanbul in mid-September.
FESPA 2015 in Cologne, Germany
Posted May 12, 2015
This weekend three of us from FLAAR Reports fly to Germany to attend FESPA 2015. This is clearly the largest expo in all of Europe (only APPPEXPO in Shanghai is significantly larger: 100 brands of UV-cured printers and 170 booths with media and substrates).
FESPA 2015 is worth attending since several new printers will be launched here. Most noteworthy will be the new ink and new printer for it. We have an educated guess of the source of this ink and the fact a new super-printer has been engineered to handle this ink is remarkable.
In the last 10 years 90% of new inks have failed because no printer manufacturer coordinated with the ink company. So the ink companies were stuck trying to have their inks work on Epson DX4, DX5 or DX7 heads (but then no printer manufacturer would make the special curing systems and Epson of course refused to allow any ink that did not pay a high fee). HP and its latex ink partner are the only "new ink" success story in ten years.
Thus we hope the new printer at FESPA in Cologne will grow to become a competitor (since competition encourages all companies to make even better products).
So stay tuned to the FLAAR Reports to see our comments on what we see the first day. Sign up for free Subscription, or LinkIn with Dr Nicholas Hellmuth via LinkedIn.

ISA has more textile printers than expected
Posted April 8, 2015, the day before ISA 2015 opens
Durst is now exhibiting a Rhotex textile printer, unexpected for ISA venue.
Mtex Americas now exists and has booth at ISA: this is unexpected (outside EU).
DigiFab, DGI, and d-gen are all here at ISA, so all this combined makes ISA very strong in serious status textile printers.
Water-based printers are available at HP, Canon, and Epson.
ISA 2015 will open tomorrow, but already here on the set-up day, you can see the frankly impressive turnout of brands.
Las Vegas is clearly voted the most-preferred location for a trade show. Orlando is #2. Any other city is, sorry, not a favorite (unless its Amsterdam, Munich, or Cologne for FESPA). Plus Shanghai, the home for the largest inkjet and signage printer in the entire world, APPPEXPO.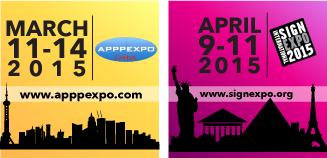 More UV-cured printers than all other expos outside China put together.
Updated March 11, Feb 24, Feb 19, Feb 4, Jan 28. First posted Jan 22, 2015
Yesterday (March 10) was still set-up day, so most printers were still wrapped in shipping crates. But two of our team made a preliminary count of how many brands of UV-cured printers are here (total FLAAR team at APPPEXPO is six).
We counted over 90 potential booths with UV-cured printers. It will take two more days to check every booth, to see which models have UV-curing lamps). There may be 94 brands or more.
There were over 50 brands at D-PES 2015 (last week in Guangzhou).
If you count every printer expo in Europe, North America, Latin America, Japan, Korea, Taiwan, Australia, we estimate that here are more brands at APPPEXPO than the brands at every one of these other expos put together.
Several clients have asked for a complete tabulation: every model, which printhead brand, LED or mercury arc, so over the next four days we will gather this information.
We will then tabulate which brands are new, which brands are absent, what is the percent of LED vs mercury arc, which printhead brands are hardly used any more, etc. You can write FrontDesk "at" FLAAR.org to be invoiced to receive this information on TRENDs.
We are also tabulating every brand of solvent printer (here and comparing with other expos). Plus we make a list of every textile printer, what kinds of inks, as well as T-shirt printers (and what printhead is in each, or if textile, which are toner printers).
Also we list every single media and substrates company, which is thick and rigid, which is for 3D signage, etc.
As a result distributors and manufacturers have either pre-ordered our reports, or have scheduled meetings with our teams so the distributors (and manufacturers) can receive the data in real-time, in-person, here at the expo. Ink manufacturers in particular need the level of documentation that we provide.
New Technologies in Wide Format Printing
Posted Feb. 4, 2015
This lecture by Dr Nicholas Hellmuth, at GOA in Miami (Friday, Feb. 27, 2pm) will primarily be on new trends in wide-format inkjet printing. This presentation will cover inks, media, substrates, textile printers, UV-cured, latex, SUV, Memjet, based on Dr Nicholas's 15 years in the industry.
SGI, known also as Sign Middle East, first printer expo for 2015
Updated Jan 16th, Jan. 2nd and again Jan 9th, 2015, first posted Dec. 11, 2014
Three of us from FLAAR were in Dubai to attend SGI 2015. Dr Nicholas then stayed two additional days to see more of the UAE and to take more photographs of Dubai to update our "lots of reasons to visit Dubai" (FLAAR Report) for 2016.
The expo was well attended all three days 11-13 January 2015.
SGI printer and signage trade show is organized by IEC; to learn how to attend for 2016, go to www.signmiddleeast.com.
You can visit our page about what we have seen on their expo in previous years.

Dr Nicholas and his team look forward to seeing you in Dubai for SGI 2016.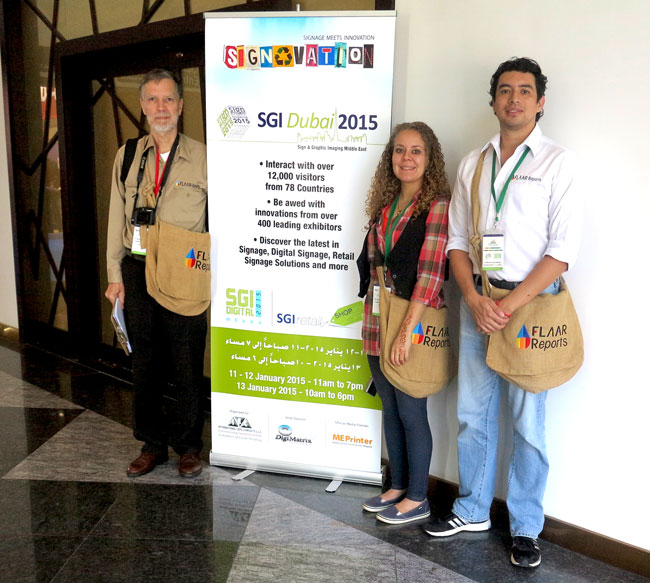 More reviews of textile printer workflow for 2015
Posted Jan. 2, 2015
Lots of companies are asking FLAAR for help with printers for textiles and interior décor (wallpaper), so we are expanding our coverage.

We will also be adding pages on additional kinds of textile inks, including for silk. So lots of new pages for 2015, specifically reviews on aspects of printing more important than the printer itself: it is the ink and the media which are crucial to learn about.
Rumors of new budget-price printhead to replace Epson brand
Posted Oct 29, 2014
90% of Chinese printers use Epson printheads. A year or so ago Epson tried to make their heads nearly unavailable for after-market printer brands. This policy did not win many popularity awards around the world.
So clearly it would be very beneficial to the entire industry, to printer factories and to end-users (print shop owners and managers) if another brand of printheads could offer a printhead more reliable than Epson (meaning less clogged nozzles), and requiring less purging (purging helps you to spend lots of expensive Epson ink).
Two brands are now using Panasonic printheads but these are not well known and thus their performance can't be documented by FLAAR (we can only evaluate a printhead if we are at a demo room, at the factory, etc).
We hope to see such a replacement printhead by Spring 2014. We hope Panasonic does well but the new printhead is a different brand.
Advances in printheads and advances in ink chemistry are the two most important factors in the world of wide-format inkjet printing, so we at FLAAR Reports keep track of what is going on around the world. Dr Nicholas has been on airplanes probably over 200,000 km this year alone, to learn about what advances will provide more options for everyone.
We also learn which brands are, unfortunately, losing traction. It may be tough to obtain spare parts if a factory is no longer fully staffed or is no longer operating full time.
Glasstec 2014, in Duesseldorf, Germany, leading world expo for glass
Posted Oct. 16, 2014
Dr Nicholas flew to Glasstec 2014 in Germany this past october. In past years, Glasstec 2010 and Glasstec 2012 had many booths lots and lots of printers for glass, both in-line and wide-format. So naturally we expected lots of printer brands at Glasstec 2014.
Lots of printing company owners and also glass factories, who read FLAAR Reports, ask us for assistance printing on glass. Magazines also ask Dr Nicholas for articles about printing on glass. There is no expo in USA as good as Glasstec in Germany. And the last glass expo in Beijing was a disorganized disappointment.
Our primary interest is writing about the special inks, primers, and printers which are focused on glass. This is because glass is easy to print out, but very difficult to have the ink adhere.
SGIA 2014 opened last October in Las Vegas
Posted Oct 15, 2014
Four of us from FLAAR Reports assisted SGIA 2014. This is one of the few printer and signage expos which has survived (without dropping down in size). SGIA appears to be very healthy.
So far, in addition to SGIA, the only printer expo in the world which is really growing is FESPA in EU and APPPEXPO in Shanghai (APPPEXPO 2015, in March 2015, will possibly be larger than every printer expo in EU and USA all put together!).
Photokina, the largest digital photo equipment expo in the world
Posted Oct. 6, 2014
We flew from Sign Istanbul direct to Cologne, Germany to attend Photokina. Held every two years this is larger than all other photography expos in the world put together.
Although every year noticeably smaller, the crowds this year were enormous, so many people that often we had to find a back entrance to get in.
Three of us attended Photokina since FLAAR is focused on digital photography since the 1990's, and we were a photography research institute already back in 1969!
Eight years ago lots of wide-format printers: even Durst. Nowadays almost no wide-format printer booths are large except for Epson (they had the largest inkjet printer booth at the entire expo).
But several booths of wide-format media (about a dozen; but if you go to APPPEXPO in Shanghai in March 2015 you will find over 150 brands of wide-format inkjet media; actually at the 2014 APPPEXPO we found 171 booths for printable substrates and materials).
FLAAR will be issuing several reports on Photokina and adding a lot of pages to our www.digital-photography.org later in October.
If you like photography, especially of tropical flowers, you will enjoy our www.maya-ethnobotany.org
Already planning for printer expos in early 2015
Posted Oct. 6, 2014
Dr Nicholas will be giving lectures in Spanish at Graphics of the Americas in Miami.
Plus he will give other topics in English at GOA.
Here is a free download listing the topics in Spanish.
Sign Istanbul, 16th year, great place for international attendance
Updated Sept. 10, 2014
Posted Aug. 12, 2014

Passed through Istanbul airport twice three weeks ago en route much further east to lecture on wide-format printing, and being in the airport reminded me what a dynamic economy and multi-national world center is here in Istanbul. The airport is friendly; takes about 3 minutes to get your visa (most countries don't need visa, but US citizens do).
Immigration line took about 3 minutes also (in other countries nearby up to an hour!).
FLAAR has been attending Sign Istanbul for many years. We have also attended other expos here, and thus quickly learned that the premier and preferred expo is clearly Sign Istanbul, capably managed by Tarsus and IFO.
Two of us are now at Sign Istanbul; then we fly to Photokina in Cologne, and then to Tecnargilla ceramics printer expo in Rimini, Italy.
Their web site is www.SignIstanbul.com; click on UK flag to get English.
We look forward to seeing you in cosmopolitan Istanbul this week.
August is vacation month in much of the world, but not at FLAAR Reports
Posted Aug. 11, 2014
Although it is August, none of us at FLAAR are on vacation, though I will admit I spent several days studying archaeology including ceremonial occupation of caves the last several days south and west of the Caspian Sea.
I was invited to Iran to lecture at a special conference (all six hours of lectures were by FLAAR Reports). After this people in the world of printing here asked if I wanted to see the countryside, and since I am interested in archaeology, and in architectural history, we went for a four day adventure. I thank printer trade magazine co-editor Morteza Tafreshi for planning this remarkable excursion. And I thank Alex Jahanbani, ME Printer magazine, for additional cooperation and coordination.
What most impressed me were two completely different local styles of village house architecture: one carved from stone domes; the other with wattle-and-daub type mud houses. I am studying wattle-and-daub mud architecture also in Guatemala (houses of the Mayan people)..
Most of the people I met spoke English. Friendly hospitality in each village and city, so an enjoyable stay. Also visited the Mimaki distributor in Tehran for a site-visit case study (Tasvirmadar Co., courtesy of Mohammad Ashraf, Managing Director). We will be evaluating photo book printers there.
The lecture was sponsored by Toranj Group, Jalal Zokael, Managing Director. The overall event was coordinated by Vahid Pishan, whom I have met at various printer expos around the world in previous years.
In past years there have been all-day FLAAR lecture programs in Novosibirsk (Siberia, Russia), and in Seoul, Korea. If your city would like a FLAAR seminar, for local university, local distributor, local printer association, contact us at FrontDesk@FLAAR.org for basic conference fee and airfare estimate.
Essential printer & signage expo to attend
Updated May 27, 2014; first posted April, 2014
If you want to learn about textile printers, 3D printers, UV-cured printers, then APPPEXPO is essential.
For eco-solvent, lite-solvent, or full-solvent: more brands than any expo in EU or USA (put together).
After-market ink is a great way to save money (if you select an appropriate brand). Lots of different brands of ink here.
For media, substrates; both roll-to-roll, thick and rigid: everything. Brands from USA, EU, Korea, Taiwan, and China.
These are a few of the reasons why FLAAR Reports sends a team of five to experience APPPEXPO every year.
If you are by yourself you can also enjoy being here: we send five since we have to take notes on every significant product at the entire expo. But if by yourself or one or two colleagues, you can see everything in the four days.
To get an attendee pass, sign up and register here:
www.apppexpo.com/2/EN/Visitor
Below are the new FLAAR Reports related with "what to expect" at APPPEXPO 2014
If you need our reports in spanish or russian please visit this site.
FESPA Digital 2014
Updated May 26, 2014. First Posted May 12, 2014
We enjoyed FESPA Digital in beautiful Munich, this past May 2014. Four of us from FLAAR assisted.
FESPA is the single most important international printer expo in all of Europe. It is helpful also to attend your local expos in your home country or nearby, plus APPPEXPO in Shanghai is highly recommended for July.
We have prepaired over 10 FLAAR Reports on what we experienced and learned at FESPA in late May. Here are the front covers of several of these. You can order them by writing FrontDesk@FLAAR.org.