3D printers at signage expos around the world
In the USA the best place to see 3D printers is at RAPID. I have not yet attended any of the 3d Printer World Expo events because so far RAPID has everything I need.
Although RAPID is a small expo it is focused: everything about 3D rapid prototyping, 3D additive manufacturing, and 3D printers. Plus 3D scanners, 3D software, everything you need to learn about what is involved with 3-dimensional production. Also a great place to compare prices.

But if you are doing signage, 3D printers are not large enough. 3D printers can produce only small objects, at most the size of your head. To produce something 3-dimensional a bit larger you should look at thermal vacuum forming technology. These can produce something the size of a bathtub.

If you need a larger 3D object, you can consider making it out of layers of honeycomb sandwich board (each layer cut with an XY digital flatbed cutter such as Aristo, Kongsberg, Zund, etc.). We give lectures all around the world on 3D signage with honeycomb sandwich material.
CNC routers can also "carve" other materials, and there are robatic-like devices which stand erect and reach out to carve materials.
We at FLAAR have been interested in creating 3D objects for a long time since our background is in Maya archaeology and thus we are interested in creating better museum exhibits.
This page is to discuss 3D "printing" and to remind ourselves that most 3D production is not with "a printer" but with a machine whose end-product is a 3D object.

3D printing is becoming a fad during 2014
Issue 1 of the FespaDaily expo newspaper ran a feature article on "The exciting world of 3D printing." But most of the "3D printers" actually on exhibit were only to sublimate onto cups or bottles. So these are not doing any 3D printing, they are only decorating 3D objects which already exist.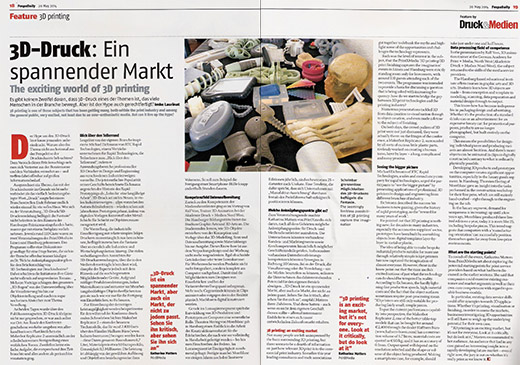 FESPA Daily, Article about 3D printing, 20 May 2014
So there was no significant presence of 3D printers whatsoever at this printer exposition. I did not even notice a 3D printer in the Agfa booth (in their combined AGFA-PITMAN booth at US expos they show one 3D printer). And to clarify the technology, most "3d printers" are not printing, they are laying down melted plastics. This is not the same as doming, but doming is not accurately considered 3D printing either.
There are actual 3D printers, using either HP, Canon, or Ricoh printheads. But I do not believe that any of these were at FESPA 2014.
At most one or two low-end Made-in-China 3D printers could be found at FESPA 2014 if you spent an entire day checking every single item exhibited in the entire expo.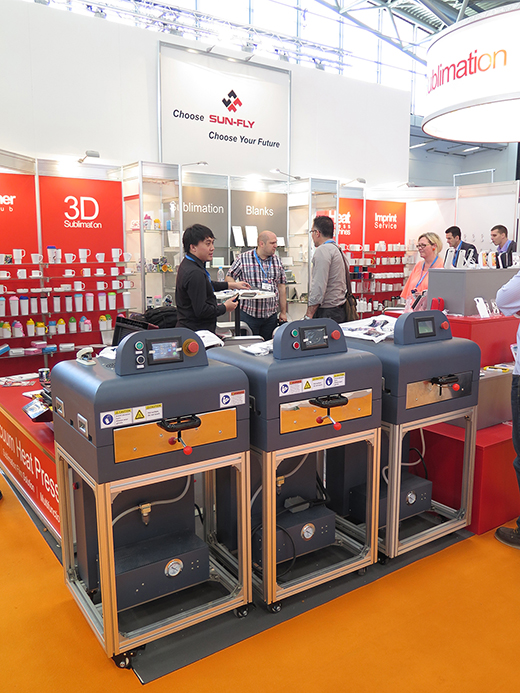 Sun-Fly 3D Sublimator, seen at FESPA 2014
Kind of unexpected that Drupa for 2016 is now focused on 3D printing
Drupa says it has reorganized their entire Drupa 2016 focus and that 3D printing will be a or potentially "the" major focus. This is a good for 3D printing but for wide-format inkjet printer crowds and exhibitors, a focus on 3D printers is a great way to have Drupa collapse even further than in 2012.
3D printer expos already exist. To be meaningful a 3D printer expo needs all the exhibitors of 3D software and 3D scanners. Plus 3D printers have close to zilch meaningful relationship with signage: a vacuum thermoforming system for UV-cured printers (such as offered by efi VUTEk) is plenty. Expos such as RAPID in the USA and EuroMold in Europe are already good enough.
Besides, it would be curious to find out if the Drupa Board of Directors realized that probably 75% of 3D rapid prototype machines are not printers whatsoever! Only a few brands of 3D machines use printheads. As mentioned above, most are other technologys, usually laying down melted plastics.

FLAAR attends RAPID, an expo in the USA which nicely covers most 3D technologies. If Drupa is aiming to compete with the well-established RAPID, we wish them luck. RAPID is about the size of a big university classroom laboratory; RAPID does not even cover the space of a basketball court, much less a football field.

Perhaps Drupa expects an exhibit this tiny will attract people for 11 overly long days (the real problem with Drupa in the last six years has been its silly length: 14 days, since a major owner, sponsor, or whatever is the city of Duesseldorf, who wants people to spend money in their over-priced hotels).
We hope Drupa can recover, indeed we really like Drupa (I lived not far from Duesseldorf many years). Plus I enjoy being in Germany (with a family name like Hellmuth, it is no surprise that I speak, read, and understand Deutsch language).

But until the Board of Directors of Drupa wake up from their misunderstanding of "printing" in the year 2016, their expo for 2016 will be even less, especially since FESPA is growing, as is APPPEXPO 2016 in Shanghai. Indeed the real competitor of Drupa is APPPEXPO.
"Where it's at" in 2014, 2015, and still in 2016 is still wide-format inkjet
FLAAR is an advisor and consultant for APPPEXPO and we are their primary outreach institute, but we equally support FESPA in Europe (and Mexico and Brazil, and will gladly support FESPA Africa as soon as their dates are not the identical days as the enormous Shanghai expo in early July).
We really like DRUPA, having attended in 2000, 2004, 2008, and 2012. But when we politely asked why Drupa was 14 days when 100% of the wide-format printer exhibitors said this length was ridiculous, we were told, bluntly, "Heidelberg and other offset press companies ask for 14 days" (because it takes them 6 days to set up and 4 days to take down their giant presses).

But Heidelberg no longer exists in its former glory. Brands which in past years had entire halls just to themselves barely have enough left to have a modest booth.

Offset printing is on its way out, and offset brands know who their clients are: don't need to have an entire hall any more. Besides, most brands are Chinese now, and there are plenty of Chinese expos for these brands in China. In other words, having a Drupa 14 days long just for offset printers was ridiculous in 2012 and 11 days is still far too long for 2016. 8 days would be plenty; 9 days might be ok; 10 days is stretching it. 11 days is asking for low attendance.
Sorry, but the days when offset printer brands paid the rent at Drupa is weaker every year and by 2020 will be barely a memory of the past. If wide-format inkjet printer companies learn about Drupa's focus on 3D printing, wide-format inkjet printer companies will realize that FESPA 2016 and APPPEXPO 2016 are a better investment.
So if you want to see 3D machines in a wide diversity: from vacuum thermoforming to 3D rapid prototypers (additive manufacturing), all together with wide-format inkjet, textile printers, and lots more, the July 2014 trade show, APPPEXPO in Shanghai, is physically the largest for wide-format signage and many other applications. No need to wait for Drupa 2016.

Five of us will be at the July 2014 APPPEXPO; actually we may fly six of us there: there is that much to see and learn about.

Plus APPPEXPO is a nice four days long, so costs a fraction of the over-priced hotels during Drupa weeks in Duesseldorf. Nonetheless, we hope that Drupa will evolve so that we can recommend it as well.
First posted May 28, 2014
After noting how few actual 3D machines were at FESPA 2014 and realizing how many more would be available to see at APPPEXPO in July in Shanghai.