3M Scotchprint 2000 electrostatic printer.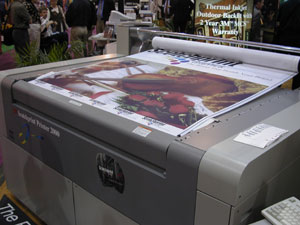 3M is one of only two remaining companies which still market an electrostatic printer for large format.
3M is better known for its weather-resistent media for large format printers, for outdoor signage. 3M also markets the Cactus RIP, a Macintosh based RIP for HP and other large format inkjet printers. If you are considering an electrostatic printer you might wish to find out what other printers are available by asking for the appropriate FLAAR report, listed below.
It was amusing to read the ads which touted electrostatic as "the future of digital printing." In point of fact, sales of electrostatic printing have collapsed to the point that Xerox quit several years ago and does not even bother to provide adequate service to all the Versetec and ColorgrafX machines that it did manage to sell. Phoenix's modest priced electrostatic printer failed in the marketplace. The company went bankrupt.
Yes, electrostatic output is low cost, and fast. But quality is questionable when compared to all the advances in inkjet technology. Besides, the Scotchprint Printer 2000 can go only up to 54" which is rather miserly considering that the Hewlett-Packard can handle a full 60" and the ColorSpan goes to 72" in width. Besides, electrostatic printers cost a bundle to purchase. For speed, however, they are very fast. Too bad there is not enough sales to justify enough research and development to result in breakthroughs in increasing the quality and lowering the cost. Without better print quality and lower cost these printers are destined to go the way of the dodo bird (and the way of CrystalJet, an excellent technology but a failure in manufacturing, marketing and acceptance).
As an example of what an electrostatic printer is capable of, Specialty Toner Corporation has tweaked performance out of their RasterGraphics electrostatic printer that is better than the output of a 300 dpi Encad (and Encad sold almost 50,000 of those models). One observation about electrostatic printers, every time we visit a print shop which has one, the electrostatic printers are printing 8 hours a day and making a profit for the sign shop. But that is because they already have these printers for many years. This is not the kind of printer you want to add to your shop if you don't already have these years of background specifically with electrostatic. Besides, you need dye sub transfer equipment because that's what e-stat is used for: printing on paper for subsequent transfer. What are the options? FLAAR offers an entire series of publications on options for the year 2003 to build and grow a sign shop.
Most recently updated May 25, 2003.
Previous updates: July 06, 2001.