Agfa :Jeti 3020 Titan, a 124" (3.15m) wide UV flatbed printer, now with roll-to-roll option
At ISA 2011 this printer was being exhibited for the second time, after its official launch at SGIA 2010. The difference at ISA 2011 was that the printer was being displayed with a roll-to-roll option.
With more than 3 meters, this model is one of the widest flatbed printers in the market. The list price is US$400,000. You get the roll-to-roll upgrade for US$70,000, which is a viable option considering a (reliable) roll-to-roll UV printer won't be less than US$150,000.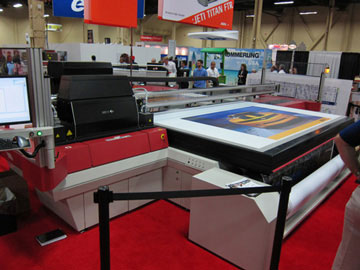 Agfa Jeti 3020 at ISA Las Vegas 2010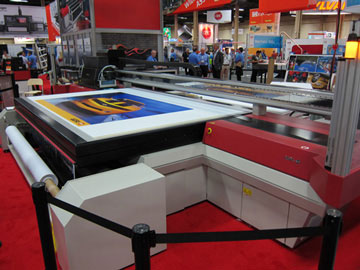 It is usual that the Agfa Jeti machines print slowly at tradeshows, but this model can be upgraded from 16 printheads (1,215 sqft/h) up to 48 (2,439 sqft/h).
Printheads and Ink Colors

The basic model that has 16 Ricoh Gen 4 heads comes with CMYK but there are options in ink colors: W, light cyan, light magenta. Orange and green are still in R&D phase but they will soon be officially available. Varnish will also be available in the near future. The cost to add more colors or printheads will range from US$25,000 to US$50,000 depending on the quantity of heads desired.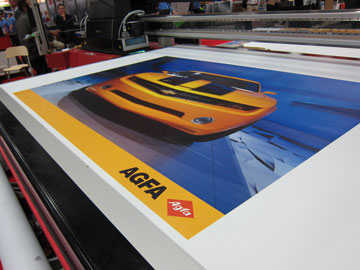 Agfa Jeti 3020 Titan UV flatbed roll-to-roll printer.


The complete FLAAR Reports are in full-color PDF format. Our institute has comprehensive FLAAR Reports on over 73 different wide format inkjet printers, RIP software, color management, scanners, digital cameras and on countless markets such as wide format inkjet printers for photography, giclee, proofing, CAD, GIS, graphic design, signs, and specialty applications too. All FLAAR Reports by Dr Nicholas Hellmuth and his team are available on Wide-format-printers.NET
First posted April 29, 2011