Wow! Factor with the Apple Cinema Displays, 22" LCD monitors.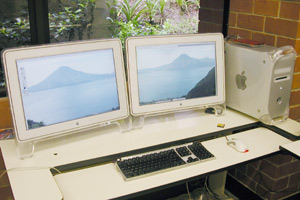 Dual Apple Ciname Diplay 22" at FLAAR.
At our university the president frequently brings the deans and presidents of other universities to see the high tech equipment in the FLAAR office on campus.
These are university decision makers who often decide whether to equip their department's computer labs with PCs (usually Dell) or Macintosh.
In the FLAAR facility they see an awesome arsenal of wide format printers (FLAAR has more equipment in one room than the visiting university VIPs have on their entire home campuses). Yet the single item of equipment that leaves the most impression is the cinema display from Apple.
Visitors ooh and aah over this monitor. We have to wipe their drool off the desk when they leave.
And yet this is only the 22" Apple Cinema Display. We don't yet have a 23" HD cinema display.
Most recently updatedAugust 15, 2002.