Arizona solvent ink Printers from GretagImaging and Oce.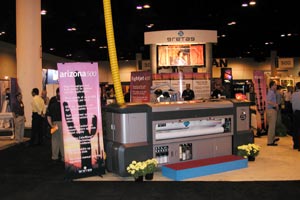 Arizona wide format printer
RasterGraphics, Arizona, Bellise are all part of Gretag Professional Imaging. A year ago that all got bought by Oce.
Figuring out which is an Arizona, and which is a RasterGraphics, which is a company vs which is a brand name vs a model designation is a scramble. The products are great, but branding is confusing. Perhaps we can assist. If we make any mistakes this just shows how tricky it is to figure everything out.
Gretag was the holding company so to speak, the granddaddy that takes care of everything. Gretag is a Swiss company. There are several variants of Gretag. GretagMacbeth is another, and was not bought by Oce. Gretag Professional Imaging handled the large format printers. That Gretag owned Raster Graphics, Onyx Graphics (PosterShop RIP), Cymbolic Sciences (LightJet) and ANAgraph. Oce bought all the printers and the PosterSHOP RIP.
Arizona 180 Digital Screen Press and Arizona 1100-3 were the current model designations last year. The 1100-3 was withdrawn, but the Arizona 90 and 180 continue, as does the Arizona 500. There is also a solvent-ink flatbed printer, the T-220 if I remember correctly.
We intend to get further information at the next trade show, SGIA '03.
Most recently updated May 26, 2003.
Previous updates: May 13, 2002, July 06, 2001.