Wide format printer supplies such as inkjet media from Azon.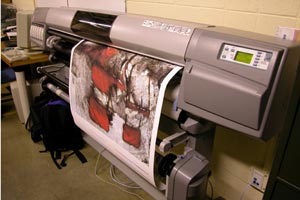 HP 5000ps testing media at FLAAR.
Since large format banners, signs, and posters often need to be outside, you will eventually want to print wide format on outside media. A wide variety of outdoor media are available from Azon such as Polyethylene banner, reinforced vinyl, reinforced poster paper, Tyvek banner, and re-positional adhesive backed vinyl.
Another product which is getting increasing recognition is Azon's "View Thru Film."
We use Azon inkjet media for Hewlett-Packard DesignJet 1055cm, 800ps, and 5000ps wide format printers.
At our office in Guatemala we tend to use Azon media; our lab manager likes their low price. In the USA you can usually get the widest variety of inkjet media for all printer brands from LexJet Direct; their web site is lexjet.com.
Unfortunately Azon went bankrupt, but InteliCoat bought them out. InteliCoat is the former Rexam.
For additional information on inkjet media and for help making your decision, you can order the report on "Media and Inks for Photo-Realistic and Fine Art Giclee," or "Media and Inks for Sign Printing with Large Format Inkjet."
If this will be your first printer, then we have a special report that holds your hand and leads you through all the basic questions that will assist a first-time buyer of a large format printer. Purchase the FLAAR report on "RIP + Help." This explains what RIP software is, why this is useful, and includes tips, warnings, information, and help for a wide range of matters for a newbie. Here you will really appreciate that FLAAR is based at a university; Professor Hellmuth has plenty of experience writing in a manner that explains what you need, and why.
Most recently updated May 26, 2003.
Previous updates: Nov. 18, 2002, June 24, 2002, May 13, 2002, August 02, 2001.