FLAAR specializes in evaluating printers for technical drawings, especially CAD.
CAD plotters for construction drawings, engineering drawings, architectural renderings eventually turned into the Encad NovaJet printers. This was our first wide-format printer at FLAAR, circa 1996.

Then a few years later HP Designjet caught up, and surpassed Encad. Actually thse were the years that FLAAR had a major long-term project to evaluate both Encad, HP, Epson, and Mimaki water-based printers. We received a total of 27 different printers for in-house evaluation, including two Canon printers towards the end of those projects (2001-2006).

FLAAR still evaluates printers in 2009, but our readership has quadrupled from what it was when we evaluated Encad and HP Designjet printers. Now we evaluate and review solvent, eco-solvent, and UV-cured printers as well (all have uses for graphic design, scientific drawings, electronic layouts etc.). Actually some printers today can not only print a drawing of an electronic layout, a Xaar printhead can jet the actual electronic material and create a printed circuit directly, actually "manufactured" by the printer.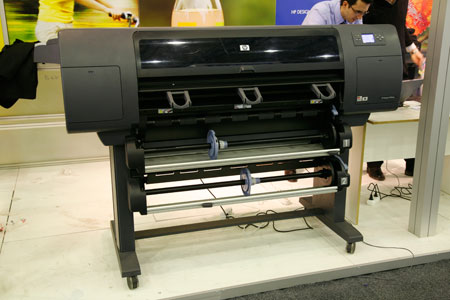 HP 4500 CAD-GIS printer at Sign Istanbul 2006.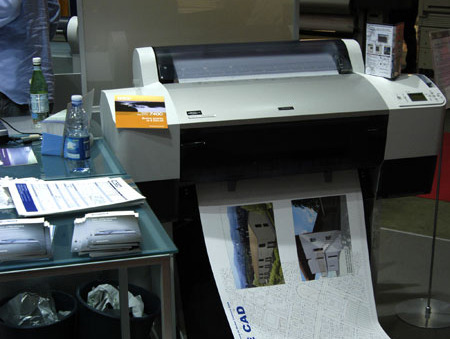 Epson_CAD-GIS printer at Viscom Milan 2005.
Inkjet printers for architecture are more than for CAD and 3D renderings.
If you are an interior decorator today, or architect, you can use large-format inkjet printers for a lot more than just CAD and 3D renderings
Architectural Décor: Fine Art Giclee
Architectural Décor: inkjet printable textiles
Architectural Décor: UV-cured flatbed printing on wood, stone, glass, and tiles
A good example of printing on ceramic tiles would be the GCC StellarJET 250. The Durst Rho, WP Digital Virtu RS25 and RS35, and Grapo Manta can all print on glass. The latter two also print on mirrors or mirror-like aluminum.

Ironically, the CAD printer from Mutoh, the Mutoh DrafStation RJ-900 and RJ 901 are increasingly used for textile printing. You print onto the dye sublimation transfer paper first. Then this printed paper is run through a heat press or calendaring heat press and the image sublimates as a gas from the paper to the polyester. The results are quite impressive color.

So our message is simple: an interior decorator, or architect, can accomplish so much more today if they learn about the different wide-format printer technologies.
And FLAAR also works with real 3D: 3D rapid prototypers for architectural models.
Yes, although FLAAR is a research institute we study and evaluate as much architectural software and digital imaging systems as possible. By later in 2009 we will open a new web site on 3D scanning and imaging, much of which will be devoted to 3D renderings of architecture: as actual 3D models.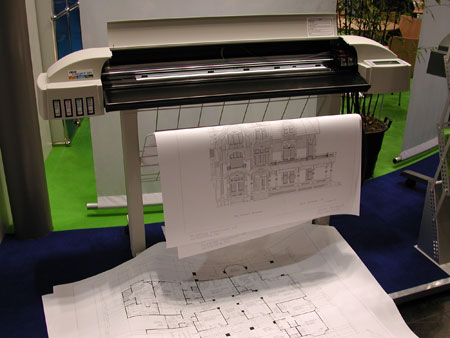 Encad Cadjet 3D printer at CeBIT 2001.
Most recently updated May 5, 2009, after ISA trade show in late April.
Previous updates: Jan. 17, 2006, Jan 23, 2006.