Hewlett-Packard DesignJet 1055CM
The Hewlett-Packard DesignJet 1055CM was made to be a basic printer for CAD, 3D graphics, signs, and in general to be a multi-purpose printer.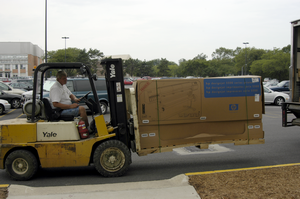 A new HP 5500 arriving to FLAAR BGSU facilities, we will have a full review soon.
It turns out that if you add PosterJet software RIP to the 1055 that you can obtain photographic quality from this printer at a reasonable cost (sorry, we don't buy or sell printers so we don't know the exact figures).
Shown here, FLAAR Photo Archive images as printed at DRUPA Trade Show in Duesseldorf, Germany (September 2000). In the middle is a another HP 1055CM printing at CeBIT Trade Show in Hannover, Germany (March 2001). HP booth, section on PosterJet RIP, printed on an Hewlett-Packard DesignJet 1055 CM. It is the PosterJet RIP that brings out the full potential of this printer.
Normally we use the HP 2800 for printing fine art photographs, but if you are on a budget you can consider the HP 1055 series. Of course now, in 2010, we use an HP Z3200. But many years ago the earlier HP Designjet printers were good for their day.
This Hewlett-Packard DesignJet 1055 CM printer is much faster than any Epson 9000 and the beautiful colors certainly last longer. The 1050 and 1055 are intended for GIS, maps, and other graphic design. This printer was not originally designed to produce photographs for museum exhibits, but if you have the proper RIP its amazing what you can tweak out of this printer. Of course if you do photos often, you really need the DesignJet 800ps or 5500.
The 1050 and 1055 can print on regular newsprint, that's right, on untreated newsprint. To do this you need a special RIP, either ColorBus or SeeColor. We have also used this printer to do drawings (CAD) on raw Kraft paper.
The HP DesignJet 1050 and 1055 can also print on 3M's Ink Jet Poster Paper with restickable adhesive strips which are sort of similar to 3M's Post-It Notes. Downside is banding. We have seen several of this model printer with banding problems. Architects don't seem to care, or even notice, when the banding is on their line drawings. But we found it objectionable on photographs. We do not know what causes the banding, since we have seen other model 1055 printers produce flawless output.
For additional information and for help making your decision, ask for the "FLAAR report on large format printers for CAD and GIS" or check out the FLAAR report on "Piezo vs Thermal printheads, fact vs fiction, pros and cons of each kind of inkjet printhead." This is in the Survival SERIES of FLAAR Reports because you, and your company, will survive a lot better in wide format printing if you don't know the differences between piezo and thermal.
If this will be your first printer, then we have a special report that holds your hand and leads you through all the basic questions that will assist a first-time buyer of a large format printer. Purchase the FLAAR report on "RIP + Help." This explains what RIP software is, why this is useful, and includes tips, warnings, information, and help for a wide range of matters for a newbie. Here you will really appreciate that FLAAR is based at a university; Professor Hellmuth has plenty of experience writing in a manner that explains what you need, and why.
What about after-market ink for the HP Designjet 1050 and 1055?
Recently (May 2010) FLAAR inspected the factory, R&D department, and facilities of an ink company in Singapore that makes good quality after-market ink for these HP CAD and GIS printers. The FLAAR Reports on water-based third-party after-market Sam-Ink for HP Designjet printers should be out later this month.
Should you buy a used HP Designjet 1050 or 1055?
We would not recommend buying a used 1050 or 1055. The 1050 was a simple basic printer that was okay in its day, but the HP 5000 and HP 5500 were significantly better in every respect. So I would skip a used 1050 and go for a used HP 5000 or 5500. But either way, be sure you see it printing first.
If you are in Canada or outside USA, please contact your local national dealer. Most USA resellers do not sell outside the continental USA.
We only recommend resources that offer competent technical support, experience based on years in the business, and a company where we have personally met (and checked out) the people behind the name.
The advantage of a place that offers both Epson, HP, and Epson is that they can provide some tips on the differences. If a store sells only one brand or the other, they will understandably push the brand they sell. One value-added retailer that we have visited several times is Parrot Digigraphic. They know each of the brands and models. Contact info is 978.670.7766
Most recently updated May 10, 2010.
Previous update:March 11, 2005, May 13, 2002, July 05, 2001. March 11, 2005.
include '../plantilla-php/Textil_sidebar.php';?>