HP DesignJet 815mfp provides options in scan to print for wide format scanners and printers in GIS and CAD.
Scan-to-wide-format-printer systems are popping up everywhere. Scanner manufacturers have not realized how much interest exists for such a system so innovative companies such as Vivid Image Technologies and Vidar took the lead several years ago. As soon as the market was large enough, Hewlett-Packard and Contex moved in. HP partnered with Contex to develop the HP Designjet copier cc800ps.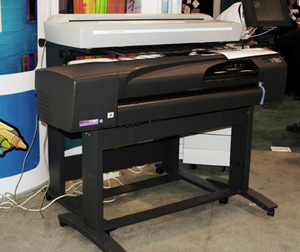 HP DesignJet 815mfp display at GOA 03
The HP Designjet copier cc800ps was shown at tradeshows in early 2002. I had previously inspected several scan-to-print solutions at the Seybold '99 trade show and found the Vivid Image setup the best. By 2001 Vidar had teamed with ColorSpan and others for professional solutions. Then a few months later Contex bought Vidar. Now HP and Contex continue.
Scan-to-print means you put any paper, print, or whatever onto a scanner and reproduce it immediately on a printer. No computer, no Adobe Photoshop, no experience required. Vivid Image Technology was an early leader in scan-to-print systems. They provided drivers for scanners from Agfa, Canon, Epson, HP, Microtek, and Umax, as well as large-format scanners such as Colortrac, Contex, and Vidar. Colortrac, ANAtec
h, and Tangent merged with each other to form ACTion Imaging Solutions. Eventually Vivid Image Technology moved into other technologies, not as much related to wide format printers.
Thus we looked around at tradeshows to find alternative solutions. We noticed the HP DesignJet copier cc800ps.
HP DesignJet 815mfp replaces HP DesignJet copier cc800ps.
The newer hp designjet 815mfp is a sophisticated turnkey solution if you want ease of use. This consists of an HP 800ps printer and a wide format scanner with its own monitor and CD burner. Very handy for making digital copies of old plans, old drawings, GIS aerial photographs, electrical and technical drawings. This is the kind of multi-purpose machine which would be ideal for a service provider or in-plant facility at any large corporation, including large universities.
Most recently updatedSeptember 2, 2003.
Previous updates:
August 16, 2002.
include '../plantilla-php/Textil_sidebar.php';?>