Xerox XES Colorgrafx X2 for CAD and GIS.
The XES ColorgrafX X2 deserves the FLAAR award for "best improvement from one model generation to another" as shown at CeBIT computer trade show, Hannover, Germany, 2001. In translation that means that the new model is better in all respects than the older discontinued XES Xpress 54.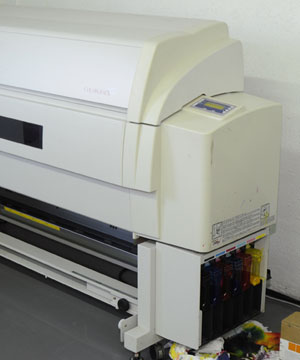 This is the XES Xerox ColorgrafX X2.
The best-improvement award is shared with Graphtec, which also got rid of its earlier low-end, low-quality 300 dpi Encad-Lexmark printheads and now has a 600 dpi printer (with Hewlett-Packard printheads) which is vastly improved in every way, shape, and form.
We no longer give a "Worst in Show" designation since the XES Xpress was no longer shown, nor did we notice a Fuji-Hunt printer (the elderly Brady). The Orion would be probably the most uninspiring printer at the show, but I did not see it anywhere. Besides, Gerber no longer sells it and Oce has improved that also; now the Oce Arizona 30s. Thus overall, three different so-so printers are now all replaced with newer better models. Just be sure you don't get tempted by one of the older models on e-Bay.
For a full list of "Best in Show" and "Most Popular Inkjet Printer at Show" all trade show reports are available from www.wide-format-printers.NET. You can also ask for the actual FLAAR on DRUPA, Photokina report, Seybold, BigPicture Show, SGIA (sign trade show), PMA, Graphics of the Americas. Each is in PDF format. Our institute has some of these still available when you fill out the Inquiry-Request survey form. Others can be purchased from the FLAAR Reports web site.
The quality of the output of the new Colorgrafx X2 printer is definitely considerably improved over that of the older Xpress.
Based on the German price I am guessing the wider model ColorgrafX X2 is about $34,000 in the USA. Just realize that for this same price you can get two ColorSpan DisplayMaker XII or Mach 12 printers with 62" width and fully photo-realistic.
I do not know if the price for the final Xerox XES ColorgrafX X2 includes a RIP. The former Xpress used the EFI Fiery hardware RIP, vastly overrated, even more overpriced, with meager options, zero upgrade path, and what almost looks like planned obsolescence. XES evidently also recognized that the EFI Fiery RIP was not a favorite with buyers; there is no longer any hardware Fiery RIP for the new ColorgrafX X2. Instead XES offers other options, including the impressive RIP products from Caldera. A bit expensive but if the printing system is bringing in a profit you can probably afford all the accessories.
The acceptable price range for a RIP for other brands of wide format inkjet printer is $2500 to $3000 nowadays.
Still, even with, or without the RIP, you could buy one Mimaki JV4 or three Hewlett-Packard DesignJet printers for $30K. Surely three HPs could produce the equivalent speed of a single X2. Besides, the quality of any HP or ColorSpan of that day was better than any oil-based system. Actually the output of any Encad printer is better than the Seiko oil-based printer with Xaar heads. It's the Xaar heads that bring the speed but simultaneously the fuzzy-wuzzy sort of out-of-focus appearance. I will have to double-check the price in the USA. Perhaps it's much less in the USA. Even $30K, however, is far outside the range of many other printer on the market. You can get a Mimaki JV3 solvent-ink printer for $30K nowadays.
The advantage of the Xerox is that the output at top speed (360 dpi, one pass) is acceptable, if you are at a distance and don't need sharp focus. On any Epson piezo system (including Roland, Mimaki, and Mutoh), output at 360 dpi is normally to be thrown away.
Conclusion: Xerox engineers have done an excellent job rescuing their large format printer line. The new ColorgrafX X2 is a well thought out system. Downside: overpriced printer, EFI RIP is even more overpriced, and oil-based ink has limitations.
Perhaps the images used at the trade shows were just stock photos from a quickie scan (even expensive scans are often deficient). Maybe if better original images were available the quality of output could be enhanced. Our goal is to find out how to draw out all the capabilities of a printer. Sometimes a trade show is not the ideal place to render a judgment.
Before you buy any printer, be sure to find a print shop that has each brand in actual use. In the case of XES, realize the high costs involved in the RIP, the possible lack of wide media selection, and the lack of full photo-realistic quality when viewed up close. However, if you don't want to be stuck with a semi-obsolete electrostatic printer, then the XES oil-based technology can produce lots of signage very quickly.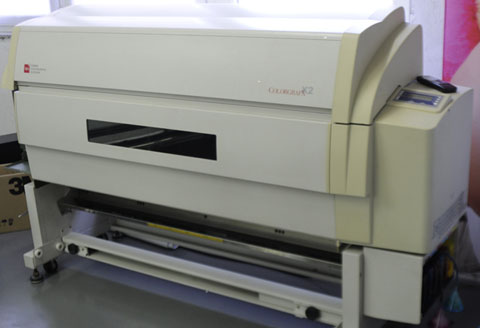 During 2008 I visited the largest printshop in Slovenia, Print Di Vision, in Maribor (near the border with Graz, Austria). They still had several XEX ColorgrafX X2 printers at work. But for spare parts they have to buy used printers; this was cheaper than buying spare parts from Xerox itself.
XES disappears as a company.
Xerox Engineering Systems looked alive and well at CeBIT trade show in Hannover, Germany (2001), DPI 2001, and IPEX 2002. Met helpful and informative German person at CeBIT who explained the printer then met pleasant important person from XES USA. At IPEX tradeshow in Birmingham, England, XES looked like it was doing just fine (April 2002). But at ISA '03 XES failed to appear. Eventually XES was disbanded and Xerox withdrew from attempting to make its own wide-format inkjet printers.
As of October 2004, with XES no longer existing, Xerox itself returned to the world of wide-format printers, and for several years resold Encad 1001 as its own. The same printers were then resold as the Kodak 1200i.
No more inkjet CAD or GIS printers from Xerox; only solvent printers.
Today (2008), for inkjet, Xerox wisely does not attempt to design and build their own printers. Xerox today only rebrands printers of other companies. The Xerox 8265 and Xerox 8290 are a Mutoh Rockhopper 3 Extreme eco-solvent printers. The Xerox 8365 and Xerox 8390 are Mutoh Spitfire Extreme mild-solvent printers.

Most recently updatedNovember 24, 2008.
Previous updates: September 15, 2003, September 8, 2003, Aug. 26, 2002.