EFI Rastek R3204, an affordable roll-to-roll UV printer
The EFI Rastek series of products has been focused in small UV printers mainly for rigid substrates (that also handle soft signage media to some degree). But the new EFI Rastek R3204 is a dedicated roll-to-roll UV printer for those who need a 3.2m machine especially for billboard signage at a more affordable price, compared to other UV printers. At ISA 2012, EFI will introduce a new model, a 3.2 meter roll-to-roll UV printer.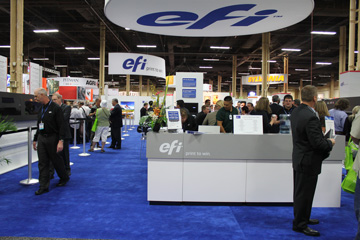 efi booth at ISA 2011, Las Vegas
Price
The list price is US$129,000, which is considered an entry-level price considering other roll-to-roll UV printers are US$250,000 to US$400,000.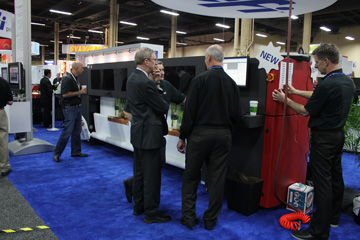 The new efi Rastek 3204 at ISA 2011
Printheads and Ink
As for the printheads, this printer uses Toshiba Tec heads. The specific model of Toshiba Tec heads was not revealed, but so far we know it is a model with 8 levels grayscale. The printer currently comes with 4 ink colors (CMYK) in the standard version, but this printer will be upgraded in the near future.
The ink price is $210 per liter.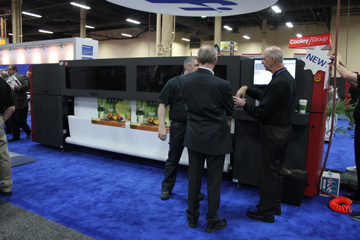 efi Rastek 3204
Roll-to-Roll UV printers in the Market
Although this is being advertised as a billboard machine, the print quality produced at ISA 2011 was good. However, print quality is difficult to determine in a trade show, because most machines are set to print at the slowest modes to get the best quality displayed. FLAAR has been taking notes on several UV printers in trade shows around the world and although the concept of this printer is not new, you can tell in some details that being designed under a company such as EFI does count. For example, the movement of the printhead carriage is almost noiseless: the UV lamps are appropriately shielded to avoid any damaging UV light leakage. Not to mention the quantity of branches around the world and the efficient tech support resulting from years and years of experience.
This printer is the fourth UV model from the Rastek family produced under EFI, after the company acquired Raster Printers a number of years ago.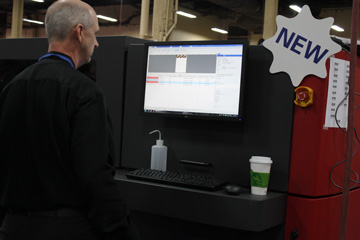 The printer comes with EFI's own RIP, Fiery but Onyx is an additional option.
Most recently updated May 15, 2012.
First posted April 29, 2011.