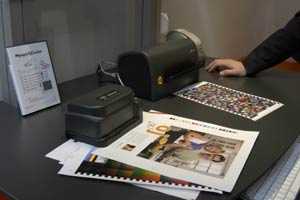 The newest X-Rite color management tools were all displayed at DRUPA trade show in Germany. Nicholas dedicated 10 days to take notes at DRUPA so that the FLAAR Reports could be updated. Note that all updates appear in the FLAAR Reports; we update the PDFs frequently.
X-Rite color management measuring instruments for wide format printers.
X-Rite is the best known name in color management color measuring instruments for desktop publishing. X-Rite makes a wide range of color management tools that are widely sold by leading desktop publishing mail order companies.
X-Rite color measuring instruments are also supported by all leading color management software such as Candela ColorSynergy (now Pictographics Color Synergy). Their color management software is linked with the X-Rite DTP51 Auto Scan Colorimeter, the X-Rite DTP41 and DTP 41T (transmissive) Spectrophotometers, as well as the X-Rite DTP92 Monitor Optimizer and X-Rite Digital Swatchbook.
The advantage is that once you learn to handle an X-Rite color measurement product you can use this knowledge in any job in any company, because they will also probably all be using X-Rite equipment. Actually X-Rite and GretagMacbeth are the two industry leaders worldwide.
Color Management Software.
Many people will also select a color management software. Several choices are available, here we show ColorSynergy from Candela (now Pictographics). Color Synergy works together with all X-Rite color measuring instruments.
Newer color management software products are available from Monaco Systems. Monaco is the current industry standard for ICC color profiles, for example. Last year X-Rite cleverly purchased Monaco.
Further help on color management and wide format printers is available from the FLAAR Report on color management for wide format printers, available as part of the FLAAR series on RIPs.
Learning color management requires tools (such as an X-Rite spectrophotometer), ICC color profile software (such as Monaco Profiler), and either training or lots of practice. Our helpful FLAAR Report Series has tips, lists all the pertinent books, and recommends reliable places for training.
FLAAR offers two ways for you to master color management:
1nd: obtain the complete FLAAR Series on Color Management, researched and written based on the experience of Prof Hellmuth, together with his staff at Bowling Green State University.
2nd: either come to FLAAR at BGSU (in Ohio) or have a FLAAR crew come to train you and your personnel live and in person, anywhere in the world. Dr Hellmuth speaks espanol and Deutsch. For information on consulting, write to readerservice@flaar.org.
We provide training at beginning level with both GretagMacbeth and X-Rite tools, as well as can suggest which is best for your situation if you don't yet have either. You do not need to already have any equipment whatsoever; that is precisely the purpose of training.. We also provide intermediate and advanced training if you already have the tools but need professional help on how to use them more effectively.
Since color management is applied through RIP software in some instances, the training can include RIPs if you request RIPs to be added to the coverage. We also offer a separate FLAAR Report series on RIPs.
SmartStuff Inc. is the initial distributor in USA for BARBIERI electronic color management tools. By coincidence SmartStuff Inc. is in the same city as the FLAAR USA office is located, so we know all the folks at SmartStuff including Don Bobenhouse.
Contact info is: Don Bobenhouse, telephone, 314-616-1509
dbobenhouse@smartstuffinc.com
1-800-544-6020
Most recently updated May 27, 2004.
Previous updates: Jan 6, 2003, July 11, 2001.