Epson Stylus Pro 7600 and Epson Stylus Pro 9600.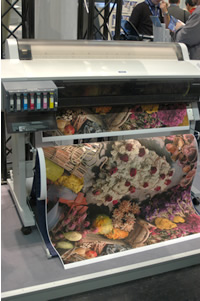 Epson 9600 being checked out at Photokina Tradeshow.
Epson now offers new printers aimed at professional photographers and pro-sumers.
Our initial response is favorable but having been disappointed in the past when comparing ad claims to actual printer performance in real life we will wait until actual printers are available in our own facilities to provide evaluations.
FLAAR reviews are based on several factors:
End-user experiences (we continue to collect end user comments).
Advertising claims: the ad claims for this printer seem more acceptable than the unrealistic statements for earlier models. For example, the longevity ratings have collapsed an entire century. Instead of a 200 year claim the new claims are 100 years and under (depending on the media). However small print still admits there is no warranty whatsoever (not even for a year).
Overall, the new advertising claims seem a major improvement. The ad states that speed at photo quality is 8 sq feet per hour. That is one single print 2 feet by 4 feet in size, in an hour. This is fine for an individual photographer, especially prosumer (advanced hobbyist for example).
We know the Epson 7500 and an Epson 9000 is available across campus. We also have the Epson 5500, so we do have a basic understanding of the Epson family of printers.
We feel you can get better information directly from Epson. We recommend Parrot Digigraphic as a reliable place to learn about the new Epson 7600 and Epson 9600 and related digital photography, fine art giclee, color management, scanning, and related matters. Contact [email protected].
Most recently updated May 14, 2003.
Previous updates: May 2, 2002.