Encad NovaJetPro.
After testing and reviewing digital imaging equipment at Japan's National Museum of Ethnology, we developed formal testing programs in our office in Florida. FLAAR's Digital Imaging Technology Center has now expanded and tests both in the USA, Germany, and, to cover the expanding Latin American market, a new technology review center on the campus of Guatemala's leading university.
Del Fox, head of technical services at BCC, installs the ink system for the Encad Nova Jet Pro in the F.L.A.A.R. office. The Encad ink system requires painful patience (and lots of paper to clean up the resulting ink mess).
EFI Fiery RIP is in the background (the blue server).
The Hewlett-Packard printer requires no mess to add or change the ink. You don't have to suck the ink down the lines either. Overall the setup of the Hewlett-Packard printers is much easier (and quicker) than for the Encad printers.
For more information, check out www.large-format-printers.org and www.FineArtGicleePrinters.org.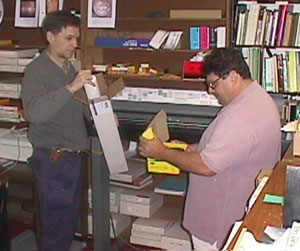 We are now setting up in St Louis. In Europe we do tests and reviews in Essen, Germany. Other tests are accomplished in our office at the main university in Guatemala, Central America.
Sal Scotto unpacks the ink while Nicholas Hellmuth unpacks the photo paper (media). When you have to write the reviews of each product it helps to scrutinize every detail.
The Encad Nova Jet Pro 36" color printer is in the background. We moved this printer to our test center in Guatemala and replaced the Encad with a newer, better Hewlett-Packard DesignJet 2800 CP.
Photography courtesy of James Robinson who helped develop our web site www.maya-archaeology.org.
F.L.A.A.R. also tests on location at archaeology museum in Copan, Honduras This is the former 2,200 sq ft office in Florida.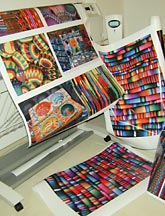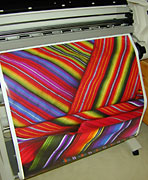 Another reason for opting for the HP DesignJet is that it prints photo-realistic museum-exhibit quality (look at the results here and on www.FineArtGicleePrinters.org). Encad, however, recently announced that it was abandoning the graphics art market to concentrate on printers for simple signs and low-end CAD printers for architectural drawings. So if you wish to reproduce photographs or do graphics design, then consider the HP line of printers.
We like the Encad NovaJetPro because it is solidly made. The main disadvantage of the older series of Encads was changing the ink, say from indoor ink to outdoor UV ink. This can take hours. In short, it is needlessly time consuming. Encad now has a suction gun, which is a great improvement over the turkey-baster syringe system. But if (like we are) stuck without the suction gun, then switching inks is a pain. If you are a production house that needs to change ink often, you need to take this situation into account when you decide on which model to purchase. But if you never or seldom change ink, then the Encad is okay in other respects respect.
If you need to change indoor (dye based ink) to outdoor archival ink (pigmented ink) then you might wish to consider the Hewlett-Packard DesignJet 2000, 2500, 2800 (all 36" printers) or the 3000, 3500, or 3800 printers (54" wide). Pictured here, HP 2800 CP.


We appreciate the Mac 9600 loaded with 548 MB RAM and 20" monitor provided to F.L.A.A.R. by Apple Computer three years ago. This computer is still hard at work (now maxed out with 800 MB RAM and dual 21" ViewSonic monitors). Naturally in the meantime we have added other Macintosh computers, but all products supplied for evaluation are still at work...this is how we test longevity.