Expanded FLAAR facilities at Francisco Marroquin University in Guatemala.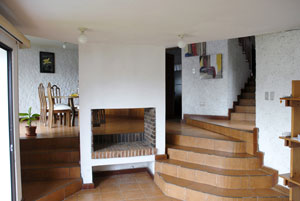 This is part of the new FLAAR facilities at Vista Hermosa II zona 15, Guatemala City. A new photo studio was created.
For decades FLAAR has traditionally maintained offices on three continents including facilities at universities in the USA and Latin America.
We were in Francisco Marroquin University because of the two art museums on campus, a museum of Mayan antiquities (Popol Vuh Museum) and a museum of indigenous Mayan weaving (Ixchel Museum). Our photo studio was in the archaeology museum. These are the photographs we use as test suites of the scanners, cameras, and wide format inkjet printers. Today, our new facilities are at Vista Hermosa II, zona 15, Guatemala City.
In Europe we used to have only a modest office, but now we are looking for a university in Austria, Germany, or Switzerland to set up a digital imaging facility to serve Europe.
FLAAR currently is considering also opening up a facility to handle solvent ink wide format printers. If your University would be interested in a partnership with FLAAR, let us know at [email protected].
For the solvent ink printer facility we are open to partnerships with any university, college, community college in the USA or equivalent in any country in the world.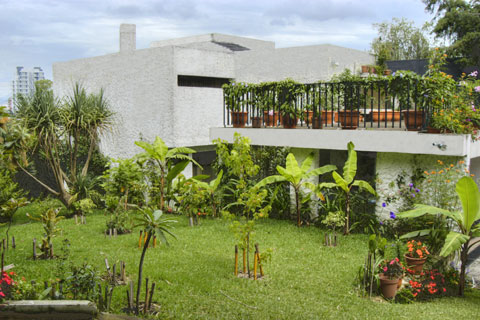 This is part of the garden in our facilities.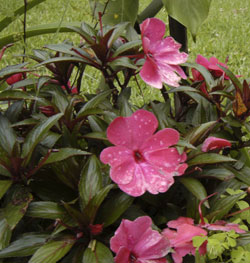 The university added a 20-computer lab for the FLAAR digital imaging courses. We taught introductory digital photography here. If you wish a comparable course for mid-range to high-end digital photography, that is a separate course via the Internet (see www.digital-photography.org).
Although FLAAR itself is about 60% Macintosh, the university decided that Dell PCs were more cost effective, especially since they could obtain 17"" flat panel LCD monitors at a reasonable price from Dell. LCD monitors take less space.
The lab also was available for local companies for them to provide training, for example, in order to provide training for Hewlett-Packard Latin America. The university itself already had a DesignJet 500ps and FLAAR already had a DesignJet 800ps.
Most recently updated May 29 2002.