GretagMacbeth is international leader in professional color management tools and software.
Color management is needed by everyone who owns a large format color inkjet printer.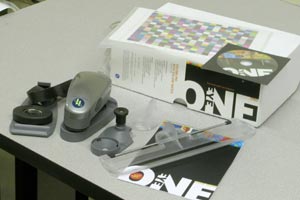 The GretagMacbeth EyeOne color management tools have been evaluated by Brent Cavanaugh. The report is available in the FLAAR Series on Color Management .
So the potential market is several hundred thousand color management tools and ICC profiling software.
Most end users don't yet use color management tools or software. For example, we printed just fine for many years by eyeball alone.
But today we have GretagMacbeth EyeOne in the FLAAR office at our Mesoamerican Facilities and X-Rite DTP41UV with Monaco color management software at Bowling Green State University, where the lab manager, Brent Cavanaugh, generates his own ICC color management profiles every week.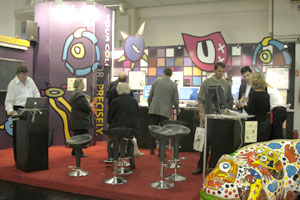 Nicholas visits the GretagMacbeth booth at Photokina 2004.
But color management tools and software keep improving, so we need the newer Eye-One color management tools and profiling software. We would recommend the Eye-One Photo or the Eye-One XT. GretagMacbeth ICC color profiling software is now ProfileMaker 5, version 5.0.5.
Eventually another 100,000 owners of wide format printers will also have to take the plunge and learn color management tools and ICC profiling software.
Since FLAAR is dedicated to assisting end-users in learning about all this, it is logical that we would enter with practical tips in an educational format. Thus we now have two series, one on RIP software and one on color management.
That's right, the RIP on its own is, to some degree, color blind. Actually every component of color management software, tools, and hardware needs several other components to make it work.
We just got a letter from a sad and frustrated first-time buyer of a large format inkjet printer. No one told him about color management. He budgeted only for the printer. Since the RIP advertisements mentioned ICC color profiles and all that, it was logical for him to assume all was included.
The company selling him the printer and RIP evidently neglected to mention that the RIP required additional ICC color profile software. His new company went bankrupt because he wasted so much costly media trying to achieve the colors that his clients expected to see.
We do our best to keep you from bankruptcy, or losing your clients due to lousy color prints. At least we can point you in the right direction. The learning part you have to do on your own. We can't do your printing for you by remote control. But we sure can get you started down the path towards appropriate color management.
For some reason we never received the Gretag ProfileMaker software (now in Version 5.0). As soon as that arrives we can proceed with additional reviews. In the meantime we have two licenses for Monaco software (since FLAAR has two digital imaging facilities). We will have lots of updates on color management during 2006.
Color standard are especially pertinent to FLAAR because GretagMacbeth makes the Munsell Color Charts: Munsell Soil color charts, Munsell Plant Tissue color charts and others. Archaeologists have used Munsell color charts since the 1960's. Previously color nomenclature by Ridgway was favored. These color standards went back to 1912.
Most recently updated January 17, 2006.
Previous updates: Oct. 21, 2004 and lots more coming during 2006, Jan. 8, 2003 as part of that New Year's focus of FLAAR reports on color management and ICC color profiles. Updates continued, Oct. 21, 2004.


The complete reports are in full-color PDF format. Our university-based institute has comprehensive FLAAR Reports on over 200 different wide format inkjet printers, RIP software, color management, scanners, digital cameras and on countless markets such as wide format inkjet printers for photography, giclee, proofing, CAD, GIS, graphic design, signs, and specialty applications too. All FLAAR Reports by Dr Nicholas Hellmuth and lab personnel are available on http://www.wide-format-printers.NET