Super high definition monitors for professional digital imaging.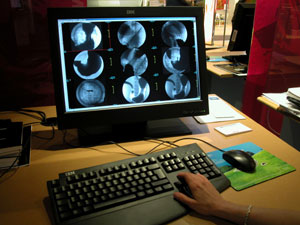 IBM super monitor T221 seen at IPEX.
Apple Cinema HD display monitor made news earlier this year. But already it has been overtaken by a PC monitor from IBM (IBM T221), and also from Totoku (U.S. Electronics).
FLAAR has favored Macintosh computers for years; our absolutely all time favorite monitor is the 22" Apple Cinema display. If our digital imaging equipment evaluation facilities were equipped with dual cinema displays people would probably almost be willing to work for us for free just to enjoy the great Apple Macintosh equipment.
Yet if you are in digital photography, graphic design, prepress, wide format printing, advertising you need to be productive. Being cool is for kids. Being productive is for adults.
So if a meager 1 GHz computer is top of the line at one company, how about a dual 2.2 GHz machine. This Dell is the Hummer of computers. We were told this was the fastest single computer on the entire university campus (Bowling Green State University, outside of the main servers of course). Today Intel already has much faster chips available.
So if you lust after the GMC H2 version of the Humvee (Hummer), now you can satisfy your power-user urge with power rather than fluff and puff (we call it huff, puff, and fluff advertising when a product is cool but not all that impressive in actual performance; after all, if a machine can't cut it, you have to figure out something to say about it.)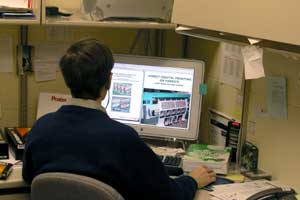 Nicholas Hellmuth using his favorite Apple 22" cinema display at BGSU.
That's typical of FLAAR. We want high-end mean production machines. No toys, no flower-power desk candy.
The FLAAR facility is probably the only university in the United States with two 72" ColorSpan printers, dual HP DesignJet printers, and a multitude of other printers all in one room.
Our status as having the top graphics equipment of any university in the country was demonstrated when FLAAR was selected by Cruse GmbH of Germany as featured test facility for their $ 97,000 digital camera - reprographic scanner system.
If you use a letter sized scanner, then a letter sized monitor is okay. But if you really need a 36 x 48 inch flatbed scanner (the Cruse), then you probably would be happer with a Dell dual 2.2 MHz processor and with either an IBM T221 or Totoku true high definition monitor.
It all depends on how you define high definition: nothing whimpy about 3600 x 2400 dpi, 9 million pixels of monitor capability.
Most recently updated Aug 26 2002.
Previous updates: May 2, 2002.