HP Scitex LX600 is the new name for the HP Designjet L65500
The HP Scitex LX820 and LX850 are recent updates to the HP Scitex LX800. Now the HP Designjet L26500 updates the first edition of the 60" version. We look forward to writing about the HP Designjet L26500 when it is officially launched in October.
For about eight months we at FLAAR Reports have been aware of the new Mimaki latex ink printers, but as a courtesy to Mimaki we did not release any information on our web sites. Now that the launch of the Mimaki JV400-130LX, Mimaki JV400-160LX latex ink printers is public knowledge, we can speak about them.
Mimaki JV400-130LX, Mimaki JV400-160LX latex ink printers will primarily be competition for the Canon "outdoor printer" which will use a latex or resin like ink. The latest scoup is that this printer would not be ready for FESPA but now that the Mimaki JV400-130LX, Mimaki JV400-160LX latex ink printers are out, perhaps Canon will realize it needs to move faster.
The other ink that, unfortunately, will now face even more competition is AquaRes from Sepiax. We wish that all innovative inks are successful, but the wide-format industry has its traditional alliances, and it's tough to succeed if the major alliances are nervous about the potential success of any new ink that did not kowtow to the industry system of paying commissions for all ink flowing through some brands of printheads.
This tradition of some printhead manufacturers to receive a hefty commission for all ink used through their heads raises costs for all printshops, and for many printer manufacturers. If printshop owners realized how all this functions, they might tend to vote-with-their-pocket book and help innovative inks (such as Sepiax) to survive and prosper.

The name change to HP Scitex LX600 is an excellent idea. Designjet is more an office type printer, usage graphic designers, advertising studios, etc. I have Designjet printers in my home in Guatemala and had one in my apartment in Germany when I lived there.
Plus, "Design"jet reminds you of a CAD machine, which is of course HP's forte back in the years of Encad and before that, HP pen plotters.
So whoever decided on the name change deserves kudos, since the 104-inch printer is indeed a serious production machine on a heavy-duty metal frame.
The 42" and 60" HP latex printers are still appropriatedly called Designjet L25500.
FLAAR has been studying the HP Designjet L65500 for two years. Now that there is a name change, it is a good time to issue this FLAAR Report.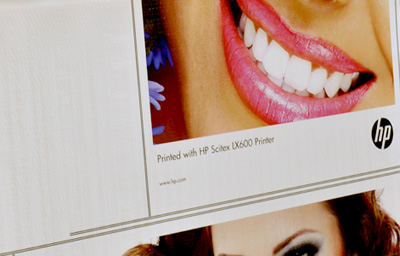 Sample printed by the HP Scitex LX600 printer at FESPA Munich, 2010.
HP releases information on the renamed HP Scitex LX600 and new 126-inch HP Scitex LX800 already in April
Long before April 21 st, all the details of the HP Scitex LX600 and HP Scitex LX800 had been conspicuously posted by HP itself. It was coincidence that on April 21 st was a day I had some extra time to see what was on the Internet. I found document after document after document about the new printers. Yet the release date was in mid-May (IPEX in the UK).
I did not bother to check the premature HP leaks on the Internet again until May 14 th, and much to my surprise, there were even more HP spec sheets about the HP Scitex LX600 and LX800. Plus now there were beta-test site revelations and also even the HP user in Barcelona spilled all the details too (ironically the world headquarters city for HP wide-format is a few kilometers outside Barcelona).
Ironic was the fact that the Barcelona user of the HP Scitex LX800 issued his full report as an official HP brochure (a "Success Story"). Plus, this PR release was dated April 2010, so clearly HP itself was issuing material ONE MONTH before the NDA date was trying to block any non-HP source from mentioning the printer.
As a courtesy we held off discussing the HP Scitex LX800 until the Internet was clogged with additional HP releases all through May.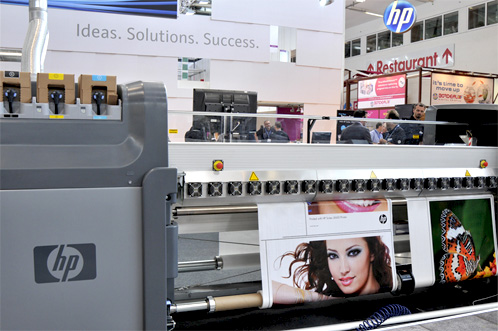 At FESPA Munich 2010 was exhibited the HP Scitex LX600 and HP Scitex LX800. In this photo the HP Scitex LX600 printer.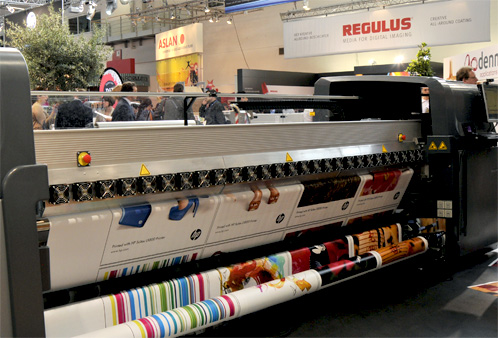 Here is the 126-inch HP Scitex LX800 printing some samples at FESPA Munich 2010.
Successful applications on HP latex ink printers such as the LX600 and LX800
Some materials print well with latex ink, so you can achive many applications successfully. A few thin materials of course can't take the heat of curing, so those materials are not appropriate. We are considering a project to itemize and discuss those applications which work best with HP latex inks.
Will a 5-meter HP latex ink printer be next?
Providing a heater for 5 meter curing of latex ink will be a challenge, though surely the HP and Scitex engineers can handle it. But perhaps the increase in the monthly electrical bills would be rather noticeable for heaters this wide. However HP says that the energy bill would be the same of a UV printers, no more.
Most recently updated September 30, 2011.
Updated July 15, 2010. First posted May 17,2010.