The standard FLAAR Reports procedures for inspecting an ink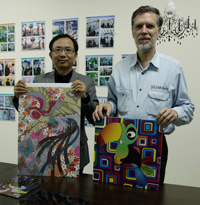 Dr. Alex Lu and Dr. Nicholas Hellmut at the Jetbest factory in Taiwan.
The procedure for initiating an evaluation of a wide-format ink is straightforward.
First, we need to know about a company. What kind of company are they?
If a company has a good reputation and produces a reliable ink, then the FLAAR Reports program tends to have an interest in considering doing an evaluation on this ink.
To accomplish an evaluation the crucial step is to be able to visit the ink factory, R&D department, and demo room.
Next important step is to visit end-users, to see how the ink functions out in the real world.
So for Jetbest ink we began learning about them during 2009.
Jetbest available as dye-based and also as pigment based
The first generation was dye-based. The second generation is pigment-based. It prints on non-coated materials:
uncoated PP
uncoated PET
uncoated PVC
uncoated PC
uncoated PS
Jetbest new special-adhesion ink also available in roll-to-roll chemistry
Most interest is in the flatbed version of the Jetbest ink. But it also is available as roll to roll. I saw this at the R&D labs and demo room of Jetbest corporation in Taiwan recently. I spent several days at the company, inspecting their ink production facilities.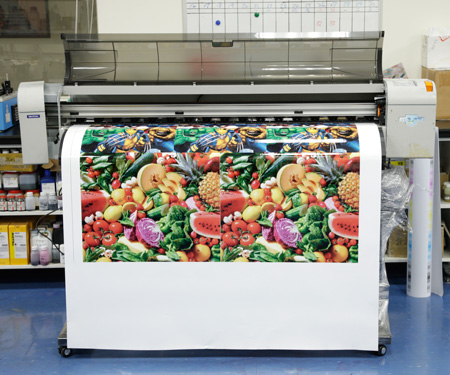 Jetbest Magic Ink roll to roll.
Then I visited the Taipei sign expo on the last set-up day. A printer was using the roll-to-roll version of the ink.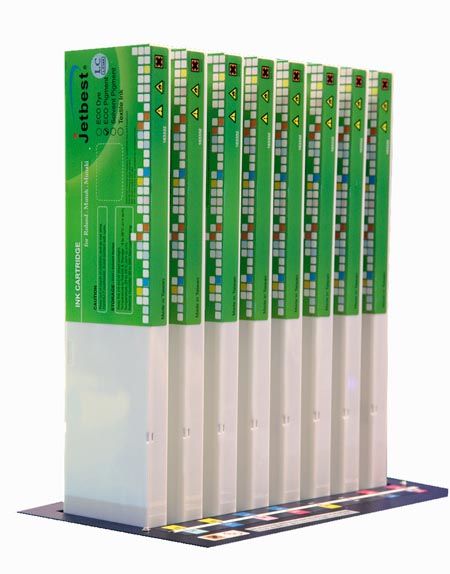 Jetbest Magic ink flatbed
What is the difference between Jetbest and other ink companies in Asia?
Most ink companies make just solvent and eco-solvent ink. Some make inks for printing on textiles. Some make UV-cured inks.
Jetbest makes lots of traditional inks, but they realize that the future is in innovative inks. The future is developing better inks: not just copying other inks. This philosophy led Dr Alex Liu to initiate development of inks for non-coated roll materials and for thick rigid material.
Jetbest offers
Normal eco-solvent pigmented ink
Dye-based Magic Ink
Pigmented Magic Ink
Disperse dye textile ink
Reactive dye textile ink
Jetbest Magic Ink comes in many many colors
Naturally Cyan, Magenta, Yellow, Black. Obviously light Cyan and light Magenta. But Magic Ink also comes in
Light Black
Light light Black
Blue
Red
Green
Orange
Photo Black
Matte Black
Jetbest Magic Ink
Jetbest is available around the world
You can find Jetbest ink in North America (through David Chen, Affordable Sign). You can find Jetbest ink in Africa, Oceania, South America, Europe, and of course throughout Asia.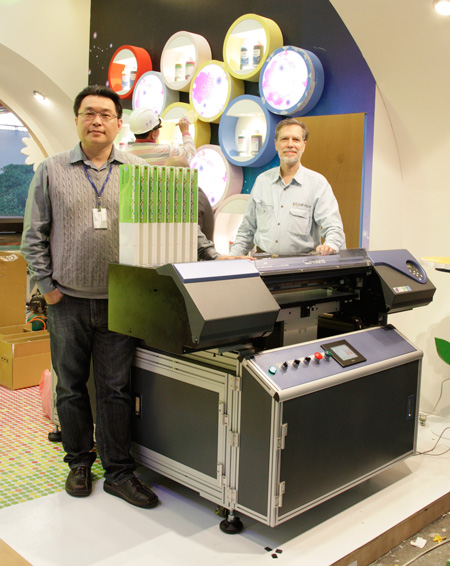 Lionel Li, sales marketing of Jetbest with Dr. Nicholas Hellmuth at TISL (Taiwan International Sign & LED) Expo 2011
First posted May 16, 2011.