IMI Conference Proceedings
If you are a manufacturer, distributor, or end-user of UV-cured printers, you should seriously consider attending IMI Europe events.
I have attended comparable conferences, both in Europe (twice) and in USA (at least three or four times), plus I have lectured on textile printers at an IMI textile conference a decade ago. I find the conferences are educational and worth the time and effort to get there. Technical Writer and Graphic Designer Silvia Herrera attended to IMI Europe in Barcelona 2011 for FLAAR.
Here at FLAAR we use the IMI conference reports as documentation and valued research material. This is Nicholas in his habitat at the university, at work in front of his Macintosh.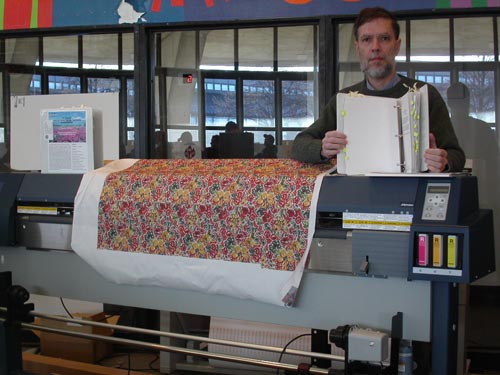 The IMI conference proceedings are especially useful if you have an interest in printing textiles on wide format inkjet printers. Here are two years' worth of IMI information on commercial printing of textiles. Photo shows one of the ttwo Mimaki textile printers in the FLAAR facilities. It is hard to find any information anywhere on inkjet textile industry, so you may find these IMI binders helpful.
Barcelona is a great place to visit and the Hotel were the IMI event, the Hesperia Tower is a quiet hotel, were you will not be disturbed for other noises. In addition to the information you learned, the networking opportunities are great because most attendees are from the industry. These IMI conferences tend to attract manufacturers, not printshop owners or re-sellers. So this is a perfect conference to meet the printhead and ink manufacturers. Printer component manufacturers (UV curing lamps) may also be present.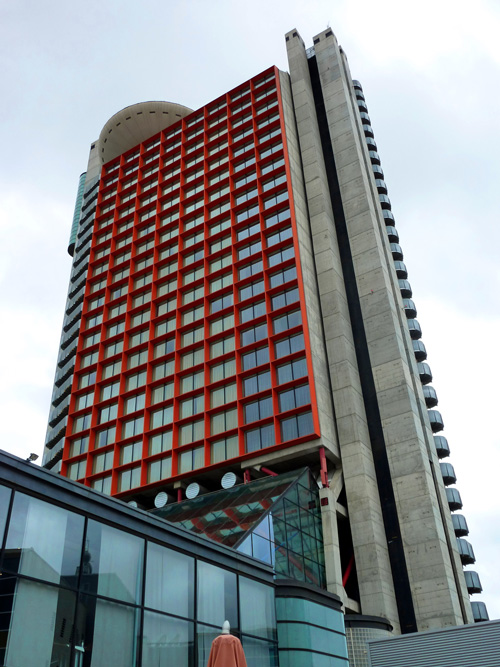 Hesperia Tower, the hotel where IMI Europe Barcelona took place in June 2011.
The IMI Europe event was a week of learning and networking.
The first two days were to learn during the INK JET ACADEMY and the UV INK JET PRINTING COURSE. These both are technical courses, one on inkjet in general and the other exclusively on UV ink.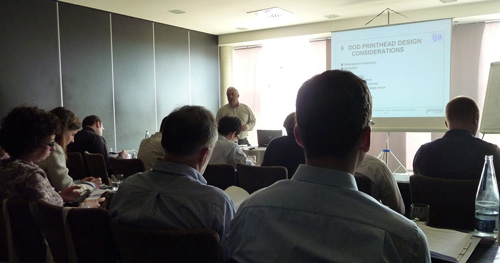 Mike Willis, Managing director of IMI Europe Limited; lecturing in Ink Jet Academy
The last two days at Ink Jet Technology Showcase were to know about some companies, their services and new products.
If you are looking for market trends on ink jet technology, or just a partner for new business, you should attend to this IMI event.
To learn more you can contact [email protected]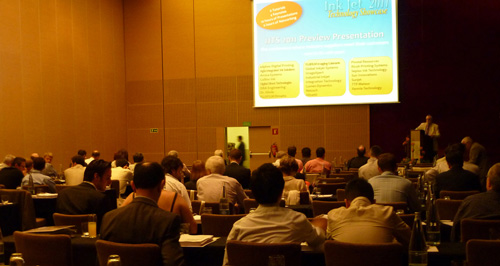 Alvin G. Keene, president of Information Management Institute, INC. giving some welcome words at IMI Europe Barcelona Show Case, 2011.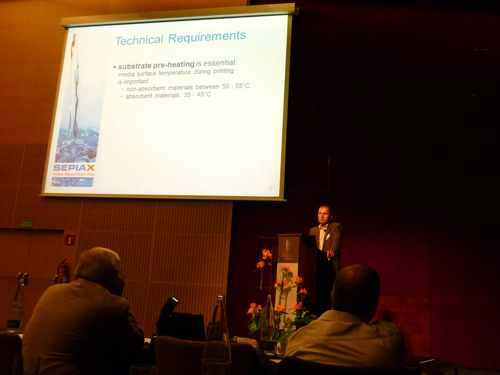 Franz Aigner managing director at SEPIAX; lectured about their water base resin inks for "Direct to Anything"
We at FLAAR Reports also recommend the IMI conferences in America
I have attended IMI Europe conferences in Lisbon and IMI (North America) conferences in several cities in the US. Both locations are good.
You can obtain information on the conferences in America by e-mailing Al Keene at [email protected]
I recommend the conferences for people who are new to the industry and need to learn the basics, and also for people who can profit from networking with industry leaders.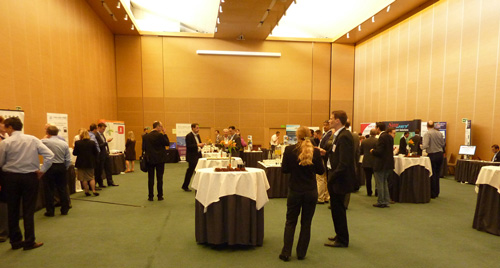 Key suppliers presented NEW PRODUCTS at Ink Jet Technology Suppliers Showcase Barcelona 2011, here you can see the exhibit area
Most recently updated June 16, 2011. First posted Jan 22, 2004.