The DaVince grand format printer from LAC.
What is the DaVinci from LAC? Is this the same as the LAC Art Robo? Its a challenge to get information about obsure brands of printers.
Technology behind the LAC Art Robo is not adequately described, not even in web site (laccorp.com). Mention of airbrush technique makes the printer sound like the early models of Vutek, now obsolete. Sounds like very low dpi. Thus does not appear to be appropriate for fine art. Thus the name "Art Robo" seems misleading.
The DaVince grand format printer was exhibited at VISCOM Germany 2007.
Mention of need of air compressor is what reminds me of the Friend or Faux system. Judging from the specs, this printer does not seem to like high humidity either.
When not many people have a printer you are sort of on your own. Getting spare parts; they may have to come from Japan. There is a distributor for Canada and the USA. As soon as we can see the printer in action, or check out someone who has one, we will report back with more information.
Main benefit seems to be that the printer can be transported and can print directly on virtually any surface, even glass. "speed" seems a tad slow, though not as pokey as an Epson. However if you need to print on concrete or glass it may be easier to use a normal inkjet, a media with sticky adhesive backing, and simply stick the image onto the surface. An alternative is to use a simple frame and hang the image in front of the surface (they way some large truck trailers are decorated; often the image is not physically stuck onto the surface but hangs in front from an aluminum frame.
At the sign trade show in Mumbai, India (Feb. 2001) it was finally possible to see sample output from the LAC printer. It was fuzzy, out of focus, poorly defined, and had an overall splotchy appearance. The images looked as though they were produced by some prototype printer at the dawn of inkjet days seven years ago. If your client were ever to compare the output of a LAC printer with that of any grand format printer from Vutek, Nur, or ScitexVision, the comparison would demonstrate that any of those other solvent ink grand format printers are noticeably superior in quality. Even the output from a Fuji Hunt printer or a XES Xerox Xpress (judged the worst yet seen at any trade show) is better than that what was presented for the LAC printers at the trade show in India. Unfortunately no actual LAC printer was shown.
For additional information and for help making your decision, ask for the "FLAAR report on signs, posters, banners" (specify whether for indoor signs or outdoor signs in the rain and sun) or for the FLAAR report on "Piezo vs Thermal printheads, fact vs fiction, pros and cons of each kind of inkjet printhead." You can also ask for the report on "Media and Inks for Photo-Realistic and Fine Art Giclee," or "Media and Inks for Sign Printing with Large Format Inkjet."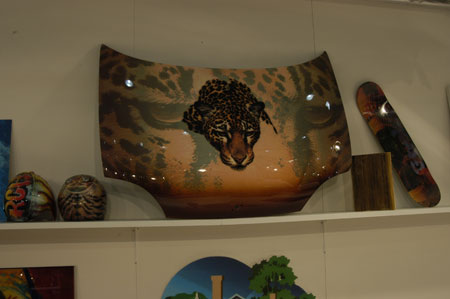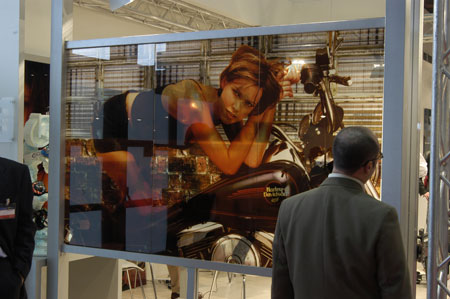 The DaVince grand format printer showing some examples.
Most recently updatedAugust 02, 2001.