Mimaki JV22-160 for dye-sublimation and screenprinting film.
The Mimaki JV22-160 was shown at Photokina trade show in Germany (late September) then a week later at SGIA trade show in Minneapolis.
include 'http://www.large-format-printers.org/include-large/Side-table-Mimaki-printer-manufacturer.php'; ?>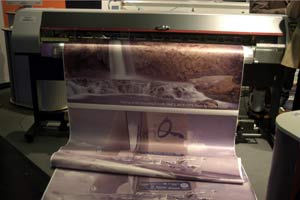 Mimaki JV22-160 with pigmented aqueous ink for printing outdoor signage
The Mimaki JV22-180 has two sets of four inks, as compared with the earlier Mimaki JV4, which as two sets of six inks. The advantage of the JV4 is that you can use two completely distinct full 6-color inksets; just switch them back and forth via software. We have a Mimaki JV4 and find it better in this respect than any Mutoh, Roland, or Epson (none of which can hold two completely different sets of inks in six colors simultaneously). The only other printer that can handle 12 inks (and hence two sets of six) is the ColorSpan DisplayMaker series.
Possibly the Mimaki web site is in error; they list the JV22-160 as a solvent inkjet printer; it is not for solvent ink. The Mimaki JV22-160 is for water-based (aqueous) pigmented ink or disperse dye ink for dye-sublimation heat transfer process.
For additional information on Mimaki printers, we recommend ScarabGraphics. They sell Mimaki printers nationwide. Scarab also sells Canon, HP, and Lyson-Tiara printers, so you can get a comparison of the Mimaki with these other brands. tel (800) 350-1366, fax (805) 684-7090
FLAAR does not have the Mimaki JV22-160, but we do have the Mimaki JV4, and it is one of our favorite piezo-electric printers.
Most recently updated Oct 25, 2004.