Nur Tempo UV curable ink flatbed printer.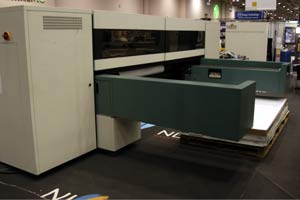 Nur Tempo flatbed printer a SGIA tradeshow 2004
The printer is huge; the potential is impressive.
Nur gets our respect for stating clearly this printer is only gradually entering beta stage. Other companies hid the status of their printers. So some end users got stuck with unfinished machines really not fully out of beta stage.
If you want to be a beta tester (and pay a manufacturer a quarter of a million to half a million dollars for the privilege), then you obviously have enough money to take the risk.
If you prefer an actual production machine, which is known to function, and if you need it now, then you might like to at least order the FLAAR reports on UV curable ink flatbed printers.
These succinct pages of penetrating observations are certainly worth their price if you are considering spending $124,000 to $450,000 for a printer. Plus, an even better plan, would be to get direct personal consulting from the author. That way you get specific answers to your individual questions.
At SGIA 2002 we visited every single manufacturer of flatbed printers. We were accompanying a Fortune 500 company who wanted to buy one, but did not want to waste money on the wrong one. The tech people at this Fortune 500 company really knew their stuff; they were well prepared. However FLAAR was able to translate some of the mumbo-jumbo, some of the occasional hype, and add background observations on aspects not immediately apparent.
We listened patiently. Then after leaving each booth, we explained the reality of each printer. We have summarized our observations in the FLAAR report on UV curable ink flatbed printers.
We also appreciated the comments of another print shop owner who thanked us for our tips. Over the last several months we had provided background info to him on UV curable printers. His company ended up buying one of the printers off the floor: precisely the printer we recommended.
To start learning the actual facts about each UV-flatbed printer, to find out the pros and cons of each model, be sure to download the Previews of the FLAAR Reports on UV-curable ink flatbed printers.
Most recently updated October 27, 2004.
Previous updates: Dec 20, 2002.