Options for after-market Canon inks for imagePROGRAF iPF Canon printers
There are more than fifty companies around the world making after-market
ink for wide-format printers. Our goal as a research institute is to find the 10% of these companies that are corporations that are known and hence accessible. There is no way to evaluate some ink that comes in a bottle with no label.
There are many capable distributors that we know and trust, but if their ink is from an unidentified source, it is not possible to certify their ink. Because the source today may not always be not the same source next month.
For a FLAAR Report on an ink, we need to visit the company; we need to inspect their equipment.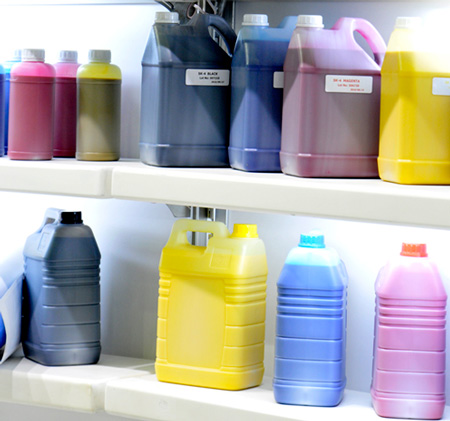 This is ink we found at a trade show last year. Look at this ink: no brand; no information. And no MSDS sheet.  How in the world can you accept such an ink?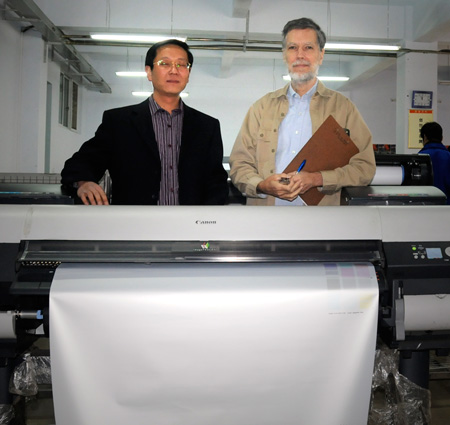 Here is Nicholas inside the Hongsam ink factory with the chief executive Guosheng Qin, hour after hour, day after day, we had full access to every room: to R&D rooms, demo rooms, clean rooms, front rooms, and back rooms. We prefer to interact with a company that is open and is proud to show their facilities.
So the first step in a FLAAR evaluation is to inspect the manufacturer. Once we know about the company, next step is to visit customer sites, to find out how the ink functions out in the real world. Such visits will be necessary for a full evaluation.
Canon iPF printers, after-market ink opportunities
There are probably a dozen companies that produce after-market ink for HP Designjet printers, but only a few ink companies that produce third-party ink for Canon imagePROGRAF iPF printers. One reason is that in the beginning Canon had only 1% of the market. This was when Canon printers were produced with Selex. After Canon produced better printers themselves market share rose to 2%, then 4%. Once the printers had improved further then FLAAR evaluated two of the models of Canon imagePROGRAF iPF. I would surmise that market share rose more as a result of these evaluations, because those models had good features.
Hongsam inkjet inks inside the factory. As you notice, this company produces ink by the ton.
Then we found one model of imagePROGRAF iPF that was not adequate; since we are not a PR agency, we commented that the iPF5000 had a few quirks. This is what distinguishes FLAAR Reports from a sham review or a pseudo-review (or from the faux-review web sites that simply want to get a percent of sales).
Recent models of Canon printers have improved, and now Canon market share varies between 20% and 40%, depending on the country and on what application(s) you are counting. Most of the market share in the beginning was what Encad used to hold. Other market share comes from Epson losing market share (because Epson has not offered anything innovative for over five years, other than a white ink that works only on one or two materials).
Now that Canon market share is large enough, there is a need for after-market Canon ink around the world. So Hongsam is the first Canon-ink manufacturer that we have visited. Here is a tabulation of their ink for Canon printers.
Type

ID

Compatible printer model

Dye

DC163120

Canon ip1000/1500/2000/3000/4000/4000Rl5000/6000D, i560/860/960, mp780/130/110/150/170/450, ip4680/47601 3680, etc. desktop printers

DC163140

Canon ip4200/mp500/830/530/ix5000/4000

DC197380

Canon i9950/ip8500/Pro9000

DC197300

Canon W6200/7200/7250/8200

DC197340

Canon W6400/8400

DC197350

Canon iPF500/600/700, 510/610/710, 650/655/750/755/810/820

DC197390

Canon iPF5000/8000/9000, 5100/6100/8100/9100, 8110/9110
Canon iPF8000S/9000S, iPF801 OS/901 OS/6000S

Pigment

DC163600

Canon ip2200/1600, mp450/170/150 etc. desktop printers

Dc163601

Canon ip4200/mp500/830/530/ix5000/4000

DC197358

Canon iPF500/600/700, 510/610/710, 650/655/750/755/810/820

DC193660

Canon W6200/7200/7250/8200

DC193680

Canon W6400/8400

DC193650

Canon iPF5000/8000/9000, 5100/6100/8100/9100, 8110/9110
Canon iPF8000S/9000S, iPF801 OS/901 OS/6000S

DC193670

Canon iPF8310/6300/6350

Compatible cartridge

DC132810

Canon IPF8000/9000S/8010/9110

DC132820

Canon IPF8000/9000S/8010S/9010S

Accessory

Refillable cartridges for Canon iPF8000/9000/61 00/81 00/91 00/8000s/9000s/8300 etc.
It helps when the ink company has experience
I do not have the figures for how many tons of ink Hongsam produces a month, but this is a serious company that produces lots of ink every week.
Plus they know the chemistry of just about every major kind of ink from thermal printhead ink, piezo printhead ink, textile inks, and their innovative prints-on-uncoated-substates ink (JETALL).
We prefer to study the ink of companies that are pleasant to work with
We write about ink companies when it is possible to visit their world headquarters, visit their demo rooms, and learn their philosophy. Every ink company has a different management style and focus. Since FLAAR is a non-commercial research institute, we don't need to interact with companies that we find are awkward to deal with. For example, we look for companies that have innovative inks, that want to satisfy end-user needs, and that offer consideration if by chance one batch of ink has a glitch.
When you realize FLAAR does not accept advertising and specializes in not issuing silly Success Stories (that never mention anything wrong with the product) you can now perhaps understand why the ink companies that we have evaluated so far all happen to have pleasant CEO, nice managers and helpful sales reps and staff. This month we add Hongsam ink company to this list.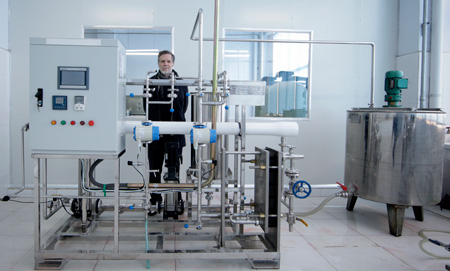 Here you can see the new and modern equipment that is going into the ink factory Zhengzhou Hongsam Digital Science and Technology Co., Ltd.
I have been to their headquarters. I have seen their original factory, which is now being phased out as they move to a substantially larger factory. I have met all the managers and on-site executives, and this over a several
day period. We look forward to subsequent visits to Zhengzhou Hongsam Digital Science and Technology Co., Ltd. during their anniversary events later this year.
I enjoy being in China; three of us at FLAAR are independent of each other studying Mandarin, and we are interviewing several possible candidates for working with us to translate our trade show reports for the Chinese market. Indeed we will be cooperating with CIPN to have all basic introductory FLAAR trade show reports available in Mandarin from now on, for a trial period of one year. The Mandarin translations will be available from CIPN and from FLAAR.
The reason is that China is increasingly a market also for products produced outside China. I was recently in a Chinese printshop in Shanghai. Did they have only Chinese printers? No, they had brand new Mimaki JV33 printers and a new Agfa version of Gandinnovations solvent printer. So China is large enough to also offer a market for major manufacturers in Europe, Korea, Taiwan, Japan, and America.
The other thing I am learning about China is that they are gradually developing inks that are more than after-market. One of Hongsam's other inks is for wallpaper, but it is not a solvent ink. This ink, JETALL, we discuss on our fine art web site since wallcoverings include murals which can be giclee or fine art photography, including panoramas.
First posted in May, in time for FESPA Digital 2011, Hamburg.