An Introduction to the World of Color Management and ICC color profiles.
A lot of the headache of color management can be eliminated if you start with the proper basics. We got one frantic e-mail from a person who had bought an Epson 9000 and ColorBurst RIP...but he did not even have a full version of Adobe Photoshop. Worse, he was about to buy "Profiler 2" from a company named Horses (seriously) and Wiziwig from Praxisoft. It's much better to start off with Monaco. And for RIPs we recommend Caldera, Wasatch, and ErgoSoft. Experience shows that these RIPs are worthy of your selecting one of them. See our FLAAR Reports on RIPs for a report on each one.

If you are going to learn color management stick with the name brands. Monaco, X-Rite and GretagMacbeth are nationally recognized name brands in color management. BARBIERI is the primary alternative, especially for Europe (where people take color management seriously). This is not something you want to buy at WalMart or even CompUSA. If you are serious about learning color management it also helps to get a serious monitor, namely Apple's monitor (if you use a Macintosh), or Eizo if an LCD on a PC).

And don't buy this kind of product from a low-bid Internet site, because who is going to hold your hand when you can't figure color management out on your own? In the USA try Parrot Digigraphic, or LexJet.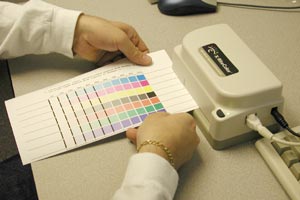 X-rite color management tool
New Color Management tools from X-Rite and Monaco.
FLAAR is in the process of updating our coverage of color management from what was available in 2004, to what is available in 2008. So please excuse our mention of older products during the update profess. X-Rite now offers their Pulse ColorElite System to create display profiles for CRT and LCD displays.
The many people who suffer color management headaches would not get this affliction if they would obtain their hardware and software from a company that can pre-arrange all the seamless setup of the equipment from the beginning. If you buy from a reseller where the sales rep has himself/herself never actually set up ICC profiles, and never actually worked at a print shop, then how can you expect to have help when you are stuck with a color profile error message?
The best place to buy your printer, flatbed scanner, and color management tools is a company that actually uses this hardware and software every day. This means they know what they sell. Several such companies exist across the country
Color management is a growth industry. Pictographics International (formerly Candela), Color Savvy, and countless other companies offer products. Monaco has risen high on the charts of success in this field. Ihara also makes spectrophotometers and densitometer as does German company Techkon. I don't know as much about these, and less about Avantes, or Spectrocam from Spectrostar.
Another reason to stick with the leading brands, is that the Ihara manager at a tradeshow told me that they are not able to provide tech support for people who need help with questions about their instruments and inkjet printers! All the more reason to stick with a place who does both: inkjet printers and also color management. When you travel around the world you quickly notice that GretagMacbeth, BARBIERI and X-Rite are the international standards for color measurement tools.
If you want more information on color management contact Parrot Digigraphic, LexJet or ImageTech Digital.
Where to? Recommendations on where-to-find and where to buy?
Most recently updated Obtober 30, 2008.
Previous updates: October 21, 2004. May 5, 2004, May 21, 2003, Jan. 6, 2003, 25, 2001.