More information: readerservice@flaar.org | Learning units
Private course in digital photography
Today, in 2011, we have grown to a staff of 20+ so no university has space for us, so we are long ago off-campus. FLAAR still does research with digital cameras, but with the 21 megapixel Canon EOS 1Ds Mark III. We are still able to teach digital photography but have no formal course.
If you wish to learn digital photography, you can see the equipment we have on our www.digital-photography.org. We can provide a private course for you and your family if desired. All instruction is in Guatemala. You cover all your own airfare, hotel, meals, local transportation. Fee would be what you expect for a private course from a photographer whose work has been published in Japanese coffee table books and published by National Geographic. Would be for the location options of Antigua Guatemala, Monterrico swamp area, or Peten jungles. Fee obviously depends on how many days.
The text below dates back almost seven years. We are long ago no longer at BGSU; our main office is in Guatemala, closer to outstanding photogenic opportunities. And we definitely go a lot further than 5 megapixel cameras (though we can show you how you can take a perfectly good photo with a normal camera).
We understand French and Italian but speak German, English, and Spanish.
Ready to make exhibit-winning digital images, but don't have time to sit in a classroom?
Or still debating which camera is the best buy? This is the course for you!
Dr. Hellmuth, the founder of FLAAR Large Format Digital Imaging and now a professor at Bowling Green State University, shares his personal insights and practical tips for choosing and using today's state-of-the-art cameras, lenses and lighting.
This course is packed with information for both beginning and advanced photographers, including dozens of comprehensive research reports based on FLAAR's work in its two university imaging laboratories.
Beginning with 5 megapixel cameras, Dr. Hellmuth patiently explains the pros and cons of each level of digital equipment, from 35mm SLR digital cameras, to medium format digital backs, and large format scanning backs. Then he walks students step-by-step through the process of obtaining jaw-dropping photos that will still look good at billboard size.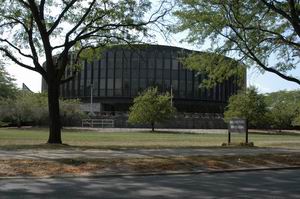 "The Digital Photography class was full of useful information beyond what its title suggested; there were articles about digital photography and also about panoramic photography and photographic issues in general. Some of the writings I found most useful were about CCD technology, film vs. digital, the range of digital panoramic cameras currently available, large format inkjet printers, digital image resolution.
There was also a great glossary. Based on my rapid knowledge increase as a result of this class, I would recommend taking advantage of a learning opportunity with Dr. Hellmuth."
— Cliff Crutchfield
IAPP Member
"Since the beginning, the course was well balanced in terms of documentation and information inside them. I feel now better prepared to distinguish between good quality products and simply average ones. Also, I have a more clear idea of how a typical workflow in the digital photography field works."
—Jesus Rodriguez, (fine art giclée print service)
Most recently updated May 5, 2011.