How do you select a distributor for wide-format inkjet products?
FLAAR is now adding evaluation of distributors; previously we evaluated primarily manufacturers. For an evaluation we need to visit the company headquarters and get to know the company. In the case of Graphics One, we have known them from their popular booth at trade shows in the USA for many years. But to do an evaluation it was essential to visit them.
It sure does help to see a company in-person. Following are initial comments. Over time we will update these notes during 2014.
Convert Epson, Mimaki, Mutoh, Roland-eco-solvent printers into a UV cured printer
At FESPA 2012 the world witnessed the launch of Mimaki SUV ink. This Mimaki SUV printer was one of the most remarkable new ink chemistries, launched this expo. But Mimaki delayed actually shipping it. Some of the delay was to improve several aspects of the printer mechanics and ink quality. But also Mimaki needed to get their latex printers finished and into the market.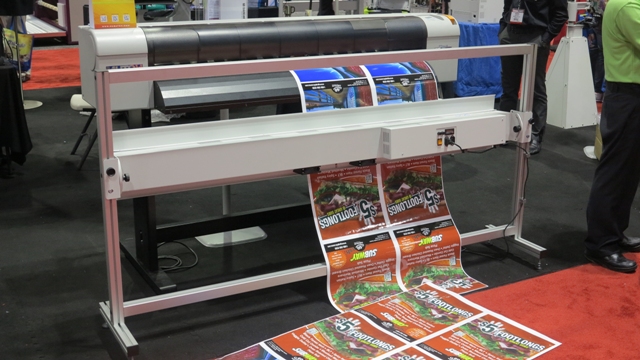 The GO e-UV (SUV ink) printer was first shown for USA at SGIA in November 2013, in the booth of Graphics One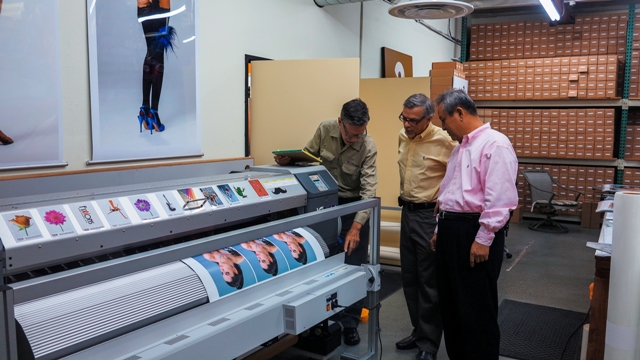 Here is the new eUV (SUV ink) available for North America, Mexico, Central America, and South America being inspected by Dr Nicholas Hellmuth in a special testing facility in California. In the photo is Richard Lim (Kimberly US) and Dan Barefoot, the head of Graphics One
But the latex ink had to be replaced by a new source, and the printer was improved (logical, HP is now in its third generation ink chemistry and third generation mechanics; so it is understandable that Mimaki carefully went through several generations before actually making their latex printer available).
So the Mimaki SUV printer was also not readily available for anyone to buy. Yet the SUV ink was ready already in early 2012. This ink would need to be sold before it expired.
Then several competing companies offered a solution: so now you can obtain printers for SUV ink from several sources (starting with FESPA 2013, in London).
Is the new ink of competitors the same, or different, as the SUV ink used by Mimaki? We have a clear answer in our separate FLAAR Reports: one on SUV ink printers at FESPA 2013 and a follow-up report on even more SUV ink printers at SGIA 2013 in Orlando.
GO sells an alternative to the official Mimaki original. At GO you can obtain an add-on accessory which turns any Epson, Mimaki, Mutoh, or Roland eco-solvent printer into a dual-curing system: eco-solvent UV cured printer.
There will be a lot more comments coming, but to get this page into our web site system we wanted to post at least the initial observations. What most impressed me was the lack of nozzle deterioration of the Epson printheads. I would have expected more lost nozzles, especially on Epson DX heads. But the SUV ink is very gentle to Epson DX heads.
Mimaki uses the words SUV. These are generic; actually SUV is already used by another unrelated brand.
Graphics One calls their ink e-UV. For 3.2 meter width you can obtain e-SUV ink from Global Imaging Ink (PrinterEvolution Evo33 eSUV).
GO F-24 UV LED Flatbed
Graphics One is very careful not to sell cheap Chinese printers what may be so cheap they don't hold up. GO tested a Rodin desktop printer and was unable to get it to function adequately, so they dropped this brand. Rodin is a nice company but this model seems to have issues. What is noticeable is that GO did not sell this brand or model; they tested it first.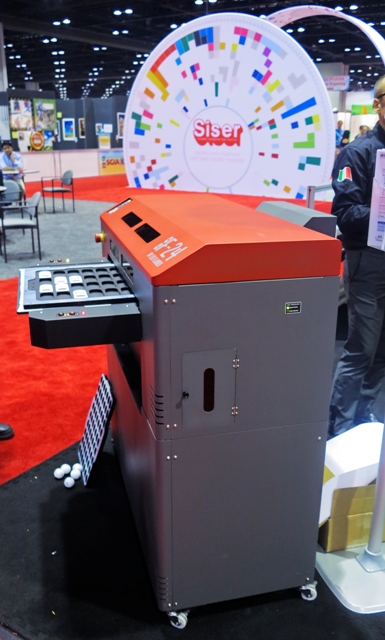 GO F-24 UV LED Flatbed
Any distributor which is formally linked to just one manufacturer may have to sell that brand no matter what. So the fact that GO dropped a brand is a compliment.
So Graphics One spent careful consideration looking for a better UV-cured printer in the mid-size range (larger than desktop but what we at FLAAR call medium size). They found a capable engineering company in Australia. This company takes a Japanese-made printer and joins it to a flatbed base in Singapore. Thus this printer is not suffering from low-bid components in the same way as other brands.
This GO F-24 is new and I would need to inspect it at the next expo. The Wasatch RIP is still being coded to operate this printer. What is notable is the effort that Dan Barefoot invests in getting printers which don't fall apart the first months of use (and printers which actually function out of the box).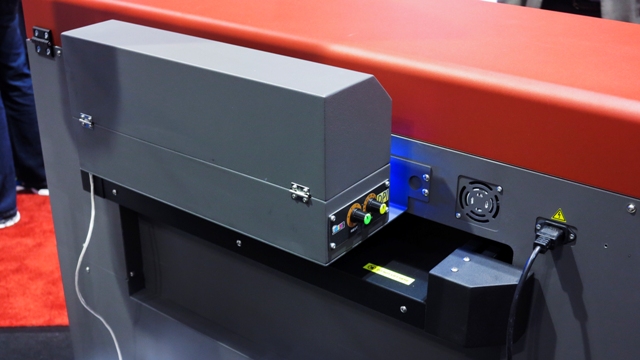 GO F-24 UV LED Flatbed
GO Duo, especially for T-shirt sublimation
The primary purpose of the inspection visit to Graphics One were the two UV-cured printers. But once in California I found another printer that I really liked, the "GO Duo." We will have more information on this printer later in December.
Since the background of Dr Nicholas includes being a Visiting Research Professor at two universities, and the Director of their respective wide-format inkjet test facilities, you can logically expect he was able to ascertain how to answer this question accurately).
Distributors & Dealers
For the first fifteen years we at FLAAR Reports focused on research at manufacturing plants and site-visit case studies at print shops (out in the real world). Now, for the last two years we have added a major segment of the inkjet printer industry: distributors and dealers.
We have a special program whereby any distributor or comparable company can fly FLAAR to their world headquarters and we will evaluate their company. There is a modest fee to cover airfare and expenses, as would be expected.
FLAAR also provides consulting services to distributors and dealers, to assist them in ascertaining which printer, ink, media, and cutter brands are reliable. We have many years experience inspecting ink, printer, media, and cutter factories in Korea, Taiwan, and China.
Plus FLAAR visits all the key expos in China, every year (indeed FLAAR is now a consultant to the largest printer expo in all of China, in Shanghai).
If you are a distributor, or dealer (or manufacturer) and wish consulting services from FLAAR, contact us at [email protected]