Lamination equipment for wide format inkjet printers.
Lamination is still needed, even with solvent ink, eco-solvent inkl HP latex ink, and UV-cured inks.
Links, info on all major wide format laminating machine manufacturers for wide-format inkjet printers, Seal, CODA, GBC, LEDCO, USI, Accutech, AGL Advanced Greig Laminators and other laminating equipment for large format.
In years past I tended to inspect the laminating equipment at trade shows, such as the Seybold, Comdex, DRUPA, SGIA, ISA, etc. In past years the nice people at LEDCO provided helpful information (as well as laminated all my Encad wide format print samples that I was carrying around). LEDCO seems to make good equipment.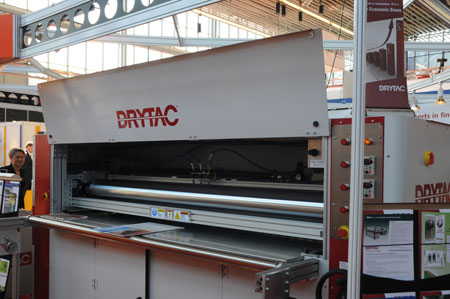 Drytac Ultimate UV Liquid Roller Coater at FESPA Digital, amsterdam 2009.
All these years I was unaware of D&K laminating equipment, until I saw their booth at Print '05 trade show. Now, today, in 2009, Seybold, DPI, and Comdex no longer exist as trade shows.
Laminating does more than protect your prints from coffee spills inside and rain outside. Laminating actually increases the dramatic contrast of the colors of your ink jet print. Take a sample print and laminate it; a laminated print attracts more attention as a point of sale sign, or displays for a trade show. Once you acquire your wide format printer it is only a matter of time before you want a roll laminator as well.
"High-end" lamination equipment is a polite way for saying that these laminators are industrial strength, large, complex and correspondingly expensive. These are for large shops with lots of equipment and trained operators. AGL and Seal make the best known high-end laminators.
If you are just starting in wide format, or are a small company with limited budget, it makes more sense to find a practical laminator that is easy for you and your staff to use. We recommend laminators from Drytac for several reasons, including that Drytac offers a wide range of products that will help yourself and your company enter the world of large format digital color printing.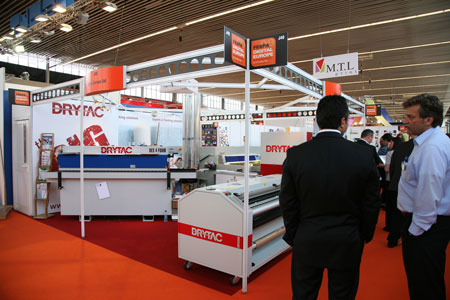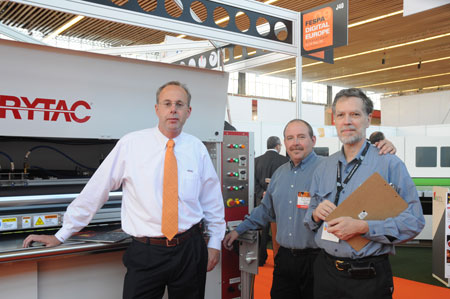 Dr. Nicholas Hellmuth at Drytac booth, FESPA Digital, Amsterdam 2009.
We checked with several companies that had laminators. Many have LEDCO brand, so this is the first laminator we have installed in the former FLAAR facility at Bowling Green State University.
We are getting acquainted with liquid laminating systems from Neschen and from Lumina. We cover all major kinds of laminating.
Liquid laminating for canvas for giclee and décor
Liquid laminating for signage
Regular lamination for general protection
Be very careful not to fall for possible scams or claims of excessive lamination protection. 4 to 5 years is industry standard for acceptable advertising.
We have received several complaints about both lamination equipment companies and materials that claim excessive number of years. So, if the claim is "too good to believe" it probably is. I have visited the offices of LEDCO and Drytac, so know these companies best.
If the company exhibits at a major trade show, this is a general yardstick of trust. If a company avoids a trade show, they are tough to judge.
| | | |
| --- | --- | --- |
| Accutech | laminating equipment for wide format | |
| AGL Advanced Greig Laminators | high-end laminating equipment | |
| Axiom Graphics, now part of Seal | liquid lamination for super wide 12' and 16' widths; AguaSeal branded. | |
| Banner American Products | Finisher 4000, Finisher 6000 | banam.com |
| CODA | laminating equip and mounting board | |
| Daige | laminating equipment | |
| Drytac | Laminating equipment including UV-cured liquid lamination | |
| GBC | laminating equipment | |
| InterLam | Jet Lam, 62", hot lamination | |
| LEDCO | laminating equipment | |
| Neschen | various models | |
| Seal Products Inc. | high end laminating equipment | |
| Royal Sovereign | Cold lamination equipment | |
| USI | | |
Lamination materials

Drytac and LEDCO

laminating materials of all kinds
Seal is clearly the #1 name in commercial laminating equipment. GBC is another large company, though a GBC machine at Kinko's ruined all my wide format panoramas (it was probably the careless operator; I would like to try another GBC machine to give the company the benefit of the doubt). USI has the most useful catalog, covering the widest range of accessories. LEDCO, already mentioned above, seems to make good basic equipment. Just as soon as we have time to wrangle a demo unit we will report on which company's equipment we have experience with.
Drytac, CODA, AGL, Neschen, Seal, LEDCO, GBC, USI, D&K are all reliable and reputable companies. This does not mean every machine is perfect, but the people you meet at these companies are honest and stand behind their products. These companies are known in the industry too.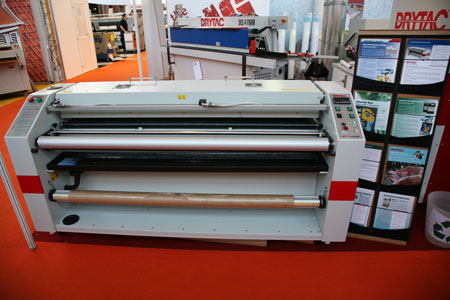 Drytac AFC 1600 WB ( Water-based) flood coater at FESPA Digital, amsterdam 2009.
To protect yourself, always use a credit card that allows you to refuse payment if the product is a sham or was potentially falsely advertised or misleading. Be sure your credit card protects against fraud on the purchase of laminating equipment and laminate. If the company tries to get you to pay with check or wire transfer, that may be an indication that they want to be sure you can't control being sure of a refund. Remember: your credit card company is your best ally when a sleezy company won't give you a refund.
And deal directly with a local US company. Do not buy direct from another country: they know full well you won't sue them in another country. A low price may look like a steal, but it may be a steal in more ways than you can imagine.
Check out whether the ink and media can take the heat of heat lamination. Otherwise you need a cold lamination system or a liquid lamination system. Liquid laminate is available from Valspar Corp. and other companies.

Be wary of companies that may no longer exist.
I am not able to find Repro Technology Inc, nor their Repro Technology Inc.
laminating equipment, Star 44, Star 62.
Liquid lamination equipment
We cover liquid lamination for canvas (for giclee and décor) on www.FineArtGicleePrinters.org. We will cover liquid lamination for outdoor signage, in the future, on www.large-format-printers.org.

Most recently updated May 23, 2009.
On line at least since August 2, 2001. Updated Jan. 16, 2006.