Canon ImagePROGRAF iPF6100.
This 12-channel 24-inch Canon ImagePROGRAF iPF6100 printer was the last of the original Canon ImagePROGRAF iPF printers to appear. The 17" Canon iPF5000 came first, then the 4X-inch and 60-inch, but still no 24".
Epson tends to show the printers also at desktop size first, and then larger all at once, though the new generation Epson Stylus Pro 11880 came first (a new 64", first time Epson produced a printer this wide).
Canon ImagePROGRAF iPF6100 is 12-channel, not really 12-color.
12 colors would be purple, lavender, maroon, green, blue, etc. Neither the HP nor the Canon offer 12 colors;
they offer 12 ink channels:
black
matte black
Gray (light black)
Photo Gray (light gray or light light black)
cyan
photo cyan (what everyone else would call light cyan)
magenta
photo magenta (what everyone else would call light magenta)
yellow
Red
Green
Blue
And neither really offer 12 inks either: they provide twelve ink channels. HP has one channel for a gloss optimizer (that's Epson's word; HP calls it something else, Gloss Enhancer or whatever). I usually get these names mixed up: their purpose is all the same: to reduce gloss differential, which in extreme cases is called bronzing. You get this especially with pigmented ink on satin or glossy media.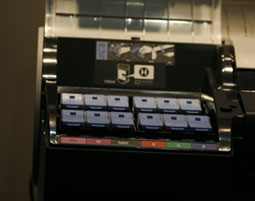 View of ink channels from Canon iPF6100
So, on a technicality, it helps to understand the difference between an ink channel and an actual different color, Canon offers:
Four blacks (and uses at most three at a time, seldom to never all four)
Two cyans
Two magentas
Yellow
Red
Green
Blue
I did not do well in Mathematics, but that's seven colors, not twelve. Of course this is pedantic; everyone calls the Canon iPF printers "12 colors." Same with the HP Z3100; everyone calls them a 12-color system.
All pigmented inks (Lucia ink), no more dye ink at this range.
In previous years Canon was "dye ink only." Then Canon produced dye-ink printers and some pigmented ink systems. Now most water-based printers are pigmented because color gamut of pigments has reached what used to be available only from dye ink. Dye ink prints deteriorate in high humidity, or even if a drop of spittle lands on their surface. Ozone causes deterioration of inkjet ink as well; most other companies don't dare mention how long their printed images survive where there is a lot of ozone produced (by refrigerators, laser printers, or proofing systems).
Thermal printheads (BubbleJet) means more nozzles than with piezo printheads.
During early years I would go with my students to visit the booth of Epson and Roland. The students would innocently ask about the difference between piezo printheads (used by Epson and Roland) and thermal printheads (in those days used by HP and Encad, Canon did not really produce wide-format printers in those years).
The booth personnel and sales reps would puff up with pride and provide a memorized litany of supposed benefits of piezo printheads, and a list of imaginary negative aspects of thermal printheads. The students dutifully took notes. Then after all the sales reps had done their chants, I would explain the reality. Indeed I wrote an entire series of FLAAR Reports to provide some insight into why sales reps told people such nonsense about benefits of Epson piezo heads.
Canon iPF6100
Now, since 2007, Canon thermal printheads (BubbleJet) are so far more advanced than Epson piezo printheads it's hard to even compare them: 30,720 nozzles for Canon heads. Its sort of like Mac enthusiasts with their litany of benefits of the Macintosh system when faced by a user of a Dell or HP computer with an Athelon or Pentium chip that runs circles around a Mac G3 or G4. Of course today even Mac admits this and uses Intel chips. I don't expect Epson to ever use thermal printheads, but Canon and HP have taken back considerable market share once it was realized that piezo printheads had pretty much reached their peak already. Epson has not been able to coax too much out of their printhead technology other than to make it less slow.
Keep in mind that I use exclusively Mac computers (indeed I own stock in Apple Computers, which is one reason I can afford to be independent and don't have to be beholden to companies that would like to buy a better review in a FLAAR Reports). FLAAR has more Epson printers at work than we have Canon printers, so these comments are only to restore a bit of reality to the Mac-vs-PC issues of piezo vs thermal printheads. Each printhead has some benefits, each has some downsides: Epson piezo printheads are inherently show; Canon and HP can produce thermal printheads with more nozzles per unit of area so are inherently faster.
What does "calibration" here really mean?
HP scoured a major coup in offering on-board color management. Since Canon came out with their printers first (with no color management) they were suddenly caught short.
So Canon is responding with various clever names, all suggesting color management capabilities. Indeed they call Kyuanos, "the next generation color management system." From the brochure, however, it does not appear to be more than an anti-metamerism concept.
Canon's brochure also tries to assure readers that they don't have a grainy appearance any more. Graininess was a downside of the Canon iPF5000 when it first appeared.
How much future remains in water-based inkjet printing?
Even Epson is trying to produce an eco-solvent printer. HP had to practically buy out Seiko to get a mild-solvent printer (lite solvent is same as mild-solvent; this is a bit harsher chemicals than eco-solvent). So the question remains, how long can Canon survive in wide-format printers if it offers only water-based technology?
Mutoh long ago moved from water-based to eco- and mild solvents: Mutoh Rockhopper 3 Extreme (eco-solvent), Mutoh Spitfire Extreme (mild-solvent), the new and faster Mutoh Blizzard (mild-solvent), and even the entry-level Mutoh ValueJet (eco-solvent).
The Mimaki JV5 has comparable potential but has issues drying. Neither Mimaki JV5, JV33, nor any of the Roland printers offer intelligent interweaving software that is available from Mutoh on all their current models.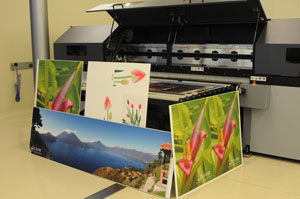 Dust Rho 800 UV-Flatbed printer
So 2008 is a busy year. FLAAR is evaluating the HP Z3100 and the HP Z2100 because these are the printers that landed at our university. Both HP Designjet reports are available.
Next we will evaluate an Epson 9880, and will do brand after brand, model after model, depending on when and where research funding becomes available. Since FLAAR is an evaluator for digital cameras, we are interested ourselves in learning which printer is best to print our digital photographs. Just this week I was evaluating two Durst Rho UV-flatbed printers in Lienz, Austria (the manufacturing site and demo room for these particular printers).