Canon imagePROGRAF iPF8100 reviews.
The user-groups were not kind to the first generation water-based printers. User-groups were critical of too grainy surface appearance of the original Canon imagePROGRAF iPF8000. So Canon R&D worked hard and came out with a replacement model, the Canon imagePROGRAF iPF8100. FLAAR did not initiate a full-scale evaluation of the earlier series because our university cut our budget that year (cut is not the word, evaporate is closer). That's because the State of Ohio has inadequate tax revenue due to so many manufacturing jobs going off-shore. So the universities simply have no more of their own funding. As a result all our projects required funding from industry; plenty of funding was available for evaluating UV-cured flatbed printers, so this is what we focused on the last two years.
But now in 2008, there are so many choices in water-based inkjet printers that our half-million readers of this web site are asking for reviews of the Canon, Epson, and HP printers.
Indeed our own university printshop asked FLAAR to obtain newer printer technology to replace the HP 5000ps, HP 5500ps, and Epson 7800 printers. The first replacement that came in was an HP Z2100, and our review of that is now available.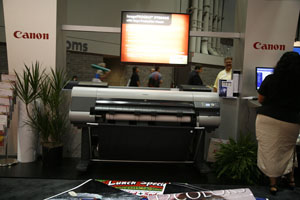 Cannon iPF8100 trade show.
Then this week an HP Z3100 is arriving: so our staff have been researching this already by visiting two places that have an HP Z3100 since last year. We prefer to have a combination of in-house experience for our reviews, combined with site-visit case studies of other printshops. This way our reviews can offer diverse perspective. After all, the half-million people who come to this FLAAR web site during 2008 are specificallfy seeking information on whether to buy a water-based, or an eco-solvent, or a UV-cured printer.
And the portion of our readers who definitely prefer a water-based printer, their questions are what are the pros and cons of the Epson 7880, HP Z3100, HP Z2100, and Canon iPF8100 or iPF9100.
Canon iPF imagePROGRAF 8100 for large format applications.
POP, point of purchase (also known as POS, point of sale) are all the alluring images you see in the mall, in the supermarket, and in every airport around the world. Many are backlit in special lighting displays.
Architectural renderings, usually 3D renderings but also architectural plans tend to be done with traditional CAD printers. Here HP has over 80% of the market since the years that HP plotters were the main way architects could print their drawings.
Signs and banners are everywhere inside any commercial building. Walking through the Frankfurt airport the day before I wrote this page, it was impressive how many banner ads were displayed, usually for telephone services.
Added software for the Canon imagePROGRAF iPF 8100.
Canon provides PosterArtist, Digital Photo Print Pro, and its own software: drivers and what is called firmware. You get a plug-in so you can print direct from Adobe Photoshop, and a RIP module (Raster Image Processor).
All of this needs to be evaluated and reviewed. 2008 will be a busy year.