Hewlett-Packard DesignJet 3000CP, 3500CP, and 3800CP are the 54 inch wide format printers from Hewlett-Packard.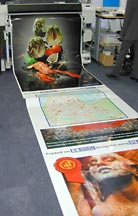 2000 is the 36" DesignJet with no RIP; you add your own RIP (we recommend the PosterJet RIP from DCS Software).
2500 is the 36" DesignJet with an internal RIP. This is a good start if you don't want to bother with an external RIP.
2800 is the 36" DesignJet with the EFI Fiery hardware RIP. This is good if you prefer a RIP faster than the internal one on the model 2500, but you do not wish to have to learn how to handle a software RIP.
3000 is the 54" DesignJet with no RIP. Again, we recommend the PosterJet RIP if you are a single owner-operator or a small company with just one wide format printer. If you have an entire shop full of large format printers than you might wish the Onyx PosterShop. The printer pictured below is the HP 3000, shown in the HP booth at DRUPA. It happens to have a ColorGate RIP. Since we don't know much about this RIP we tend to recommend the one we know best, the PosterJet. PosterJet is easy to learn and considered the fastest RIP available. It works directly from your Macintosh or you can have an iMac as a print server.
3500 is the 54" DesignJet with an internal RIP.
3800 is the 54" DesignJet with the EFI Fiery RIP.
Even though the HP 5000ps offers 1200 dpi and continuous ink system, the earlier 2xxx and 3xxx HP DesignJet printers still offer great value. If you are lucky you can find a 2xxx or 3xxx demo with original full factory warranty.
Sample printed by the HP DesignJet 3000CP.

If you need more information on the difference between hardware RIP and software RIP then please go to the index of all three FLAAR sites on printers; look in each index under RIP. Every chapter (on each site) is different. We recommend you read all three chapters (that is, at least one on each site).

These images above are most likely from the ColorGate RIP at DRUPA printer trade show.

For additional information and for help making your decision, ask for the "FLAAR report on signs, posters, banners" (specify whether for indoor signs or outdoor signs in the rain and sun) or for the FLAAR report on "Piezo vs Thermal printheads, fact vs fiction, pros and cons of each kind of inkjet printhead." You can also ask for the report on "Media and Inks for Photo-Realistic and Fine Art Giclee," or "Media and Inks for Sign Printing with Large Format Inkjet."

If this will be your first printer, then we have a special report that holds your hand and leads you through all the basic questions that will assist a first-time buyer of a large format printer. Purchase the FLAAR report on "RIP + Help." This explains what RIP software is, why this is useful, and includes tips, warnings, information, and help for a wide range of matters for a newbie. Here you will really appreciate that FLAAR is based at a university; Professor Hellmuth has plenty of experience writing in a manner that explains what you need, and why.

If you really want technical details on inkjet media, inks, and/or inkjet printhead technology, and especially if you wish to meet the movers and shakers in this industry, be sure to read the FLAAR Reports in PDF format and the FLAAR Information Network of web sites.

If you are in Canada or outside USA, please contact your local national dealer. Most USA resellers do not sell outside the continental USA.

But if you are looking for a place that is not a box-pusher (meaning you want a place that provides service after the sale), then one place we know for many years is Parrot Digigraphic. Their telephone is 978.670.7766.

Most recently updated March 11, 2005.
Previous updates: May 14, 2002, July 05, 2001.