ImagePROGRAF iPF9000s compared with HP Z6100.
If you own an HP Designjet 5000 or HP 5500ps, should you switch to a Canon iPF9000.
HP sold well over 100,000 of their Designjet 5000 and 5500 (these were essentially identical other than updated firmware and a frontal feature on the 5500 that was actually not activated). Now that these X-hundred thousand HP 5000/5500 printers are wearing out, just calculate all the market potential for selling new printers to these same printshops.
Both Canon, Epson (with their model 11880), and HP hope that the owners of HP 5000 and HP 5500 will select their new models.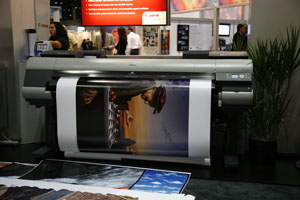 Canon iPF9000s trade show 2007
If you previously owned an HP 5000 or 5500, should be rather switch to an HP Z6100, or a Canon iPF9000s?
This is the question? Your old HP 5000 or HP 5500ps is old technology; roughly a 14-picoliter drop size. You notice that the newer generation printers have drop sizes of about 4 picoliters (give or take a few sizes).
Because 100,000+ printshop owners face this decision this year, these are reasons why FLAAR is returning to evaluating water-based wide-format printers now. For the last two years we had concentrated on evaluating UV-cured and solvent printers.
Or, if you owned an HP 5000/5500, should you buy an eco-solvent printer and skip water-based all together?
Of course this is the question that Encad never answered. Encad went out of business, and the entire Kodak wide-format printer business failed because they failed to predict (or accept) that printshops were moving to eco-solvent. Encad had a solvent printer under development, but decided not to continue with that ink chemistry for a variety of reasons.
Yet both Mutoh and Roland have been successful precisely because they understood the world of wide-format printers well enough to move into eco-solvent early. Ironically half the world passed them by, leaping from water-based straight into UV-cured without stopping at eco-solvent. I know a printshop for whom I am a consultant. They own several Epson printers, six Encad printers, but they skipped eco-solvent totally and moved straight into UV. They bought one million dollars worth of UV printers in the last 8 months; and previously had already purchased two earlier UV printers.
FLAAR is a consultant to printshop owners around the world. We are also consultants to UV printer manufacturers. Indeed I am writing this page in Europe while visiting the world headquarters of a leading manufacturer of UV-cured printers. I am here all week inspecting their factory, R&D facilities, demo rooms, receiving training, doing test prints, and writing my reports on the spot. I was also guest of Mutoh Europe an entire week to inspect their eco-solvent Rockhopper 3 printers and their mild-solvent Spitfire Extreme printers. Our reports on their new software has been downloaded by over 75,000 printshops in the last 8 months.
So the Canon iPF9000s enters the world in a period of many choices for printshop owners. As soon as research funding and the printers are available, we will add evaluations of the new generation of Canon iPF printers to our coverag.
Lexjet is a place I have visited on two occasions. They know all three brands of water-based printers so they can answer your questions.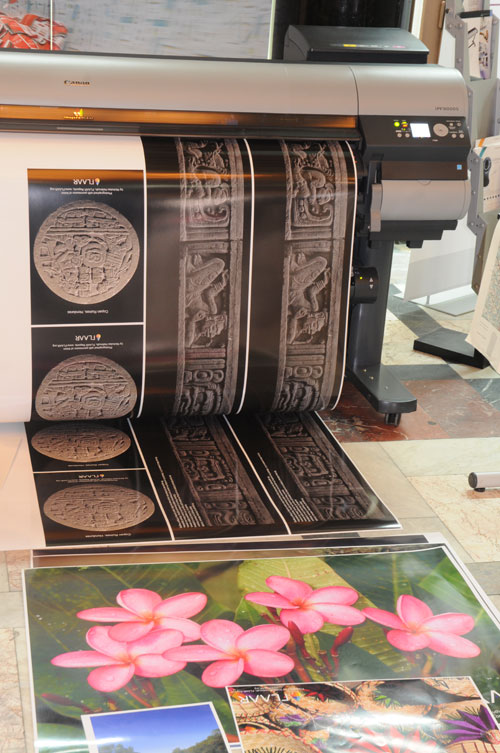 Canon iPF 9000S printer, at Belgrade Serbia, printing some examples.
Every two years there is either a new Canon iPF printer or a new Epson or a new HP water-based printer. It is hard to keep track of the new models. FLAAR is keeping track by visiting printshops that have these various brands. Each brand has its good points and a few deficiencies. Since FLAAR itself does not sell printers, for you to find out information on prices and availability of each model, we suggest you contact a company that offers all three brands: Canon, HP, and Epson. This way they are not going to push just one brand because they offer all three. One company that we know is LexJet. Dr Hellmuth has visited their national headquarters twice. LexJet sells all across the USA and to Latin America as well. Contact info is [email protected].
Most recently updated December 15, 2008.
First posted Feb. 20, 2008.
include '../plantilla-php/Textil_sidebar.php';?>