End of an Encad Era.
Kodak no longer has billions of dollars to invest in improving their inkjet technology, for two reasons: they don't have billions of dollars anyway, and there is not much Encad technology to improve. Canon, Epson, and HP have all the key patents for basic printheads; Xaar and Spectra hold the rest of the patents. Agfa was agile enough to rescue parts of its inkjet business as Agfa film and Agfa photography went down the tubes rapidly (the photography part of the former Agfa is totally gone today). Fuji is the only film company still making money in what's left of the film business. Fuji has no inkjet technology either, but somehow they have survived better than Agfa or Kodak. There were rumors of a desktop Kodak inkjet printer that was supposed to appear in 2006, but it never made it to PMA. For past years there was a rumor of "one more wide format Encad printer under development." But if so, it won't even be still born. Ironic that Encad had a solvent inkjet printer under development three years ago, and cancelled it. The next year solvent printers were booming for every other manufacturer, especially Mimaki and Seiko. According to the best information that we can obtain, Encad closed down its "Encad" offices during February and March 2006. It appears that the Encad factory has been closed as well. In effect the entire Encad printer company no longer exists and there is no indication that any new NovaJet printers will ever be launched. Encad was the first wide format inkjet printer we had, back in 1997. Epson was the first desktop inkjet printer we had. Both were, in their day, the best that was available. Epson gradually got better. Encad stalled and never really make any technological breakthrough. The Kodak 5260 printer wasted millions and was the equivalent of the Kodak 14n camera that caused the downfall of Kodak 35mm pro camera division. We hope Kodak can survive in other fields, though their NexPress has serious competition from Xerox iGen 3 and Indigo. The Kodak Versamark offers innovative technology in continuous inkjet. But for printing photographs, Epson currently holds 70% of the market for desktop sized inkjet printers. The rest of 2006 will bring further innovations.
First outside review of Encad NovaJet 1000i wide format inkjet printer.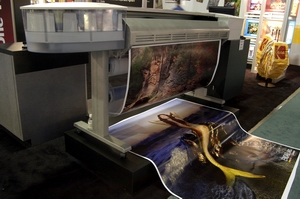 The newest Kodak printer is the Encad NovaJet 1000i
In the comprehensive FLAAR Reports on the NovaJet 1000i (and Kodak 1200i, identical printer with just a different name) we briefly mention such tidbits as the picoliter size of the Encad 1000i and the source of the printheads (neither are mentioned in the official specs).
We pride ourselves in offering the only reviews on the Internet that are not PR releases which merely repeat verbatim the party line of the manufacturer. Because we have to gather facts independently, we are a tad slow, but readers now depend on FLAAR to track down the pros and cons of all major printers.
If you have been a reader of FLAAR reports for several years, you will notice we have evolved considerably in the last several years in order to insure our readers that we cover all inkjet technology, both piezo and thermal. If you have acquired FLAAR Reports in previous years, you will find that our newer reports contain a completely new style of comparative tabulation of features. The first of the new style is available from our university; this report is based on two months in-house examination of the Canon imagePROGRAF W8200 .
For in-house tests we engage in two focuses: first, a standardized objective test routine is handled by the graduate students through the College of Technology, Center for Applied Technology. Second, we put the printer into actual usage in a print shop. Otherwise, how would we know what this printer would be like in a real-life situation? So at both our facilities the university runs a quick print facility for students and faculty. This allows us to better understand what a sign company franchise goes through daily. Sign-a-Rama, Signs Now, and many quick-print or commercial printers now come to FLAAR to ask what printers we recommend. We are in a much better position to provide factual information if we have the key printers in-house.
We intend to use this new style to benchmark all printers that are part of our primary research projects. If we do not have a printer available in-house, then we will use our site visit case-study evaluation standards. We have site visit reports on
• Epson 9600 (Epson 7500, 5500, 7600 we did in-house)
• DGI solvent ink printers
• ColorSpan DisplayMaker XII (we also have this in-house)
• Iris 3047 giclee printer (first a case-study then in-house)
• Arizona 90
• Mutoh / Agfa GrandSherpa
• Mutoh Toucan
Site visits are uncontrolled because we never know in advance what tidbits of experience the owners will reveal. We work at finding our own places to visit; we want to avoid just ending up at a pet place of a manufacturer that is little more than a PR arrangement as a sales outlet.
Most recently updated March 17, 2006.
Previous updates:Feb. 17, 2004, shortly after the printer was introduced at PMA trade show.