Oce ColorWave 600,
A wide-format printer for fast production; toner, not normal inkjet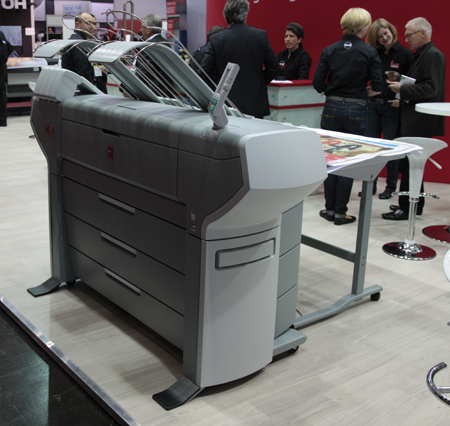 Oce Colorwave 600 Poster Printer is the newest addition to the Oce family. It was exhibited at VISCOM Dusseldorf 2011.
Until a few years ago, toner was not a popular technology in wide-format printers for several reasons, such as toner price compared to inkjet ink. The limited number of substrates it can print on, is something to take into consideration given the price (read further on). In May 2008 Oce launched the ColorWave 600, a 42 inches wide toner printer that has been gradually more talked about in recent years.
At FESPA 2011 this printer was being announced as a "poster printer" so the main target seems to be POP advertising of short-term life. Although toner is in general more expensive than inkjet, the main advantage of the ColorWave over comparable inkjet printers is speed.
| | | |
| --- | --- | --- |
| Model | Print Technology | Print Speed* |
| Oce ColorWave 600 | Toner | 215 ft2/hr |
| HP Designjet Z3200 | Inkjet | 28 ft2/hr |
*Speeds at high-quality mode, (Big Picture Magazine).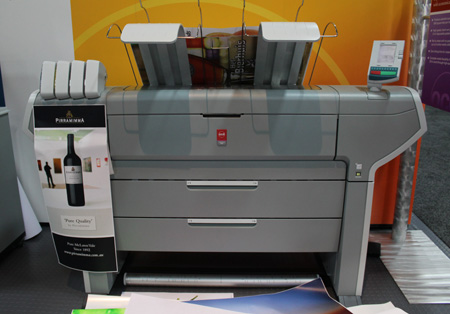 General view of the Oce ColorWave 600 at ISA 2011
Specs and Prices
As mentioned earlier, the max. print width is 42" and the minimum width is 11". Currently the ColorWave 600 comes in 4 color configuration. What is uncommon of this system is the ink: it comes in solid pearls, which are packaged in 500g cartridges each costing US$300. But this is an average because cartridge price varies by color. At least in Europe, the ink price is not openly discussed because it is included in the maintenance contract (apparently this contract is additionally acquired).
Although the printer comes only in CMYK configuration, the color gamut displayed at recent trade shows is acceptable for POP signage.

The price of the printer in America is in a range US$35,000 to US$40,000 (ISA 2011). In Europe the price is €35,000 to €50,000 (FESPA 2011). The price in Mexico and Central America is around the US$56,000.  Prices are given in ranges because of the optional upgrades.
Optional Features
One of the upgrades is the number of media rolls: you can have from 1 up to 6. The other options are a folding device and a copy delivery tray, which holds up to 100 printed copies. You can select 2 inch or 3 inch media cores. Another option is an upgraded version of the Océ software.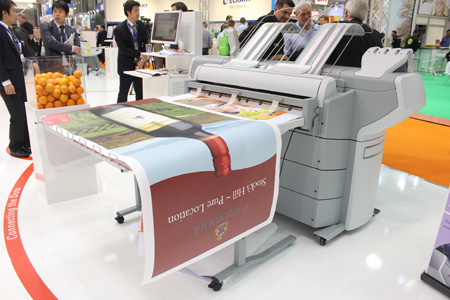 Oce ColorWave 600 Poster Printer at FESPA Hamburg 2011
Toner vs. Inkjet
When considering the Oce ColorWave 600 as a color printer for wide-format applications it is inevitable to compare it with any of the dozens of color inkjet printers that handle wide-format substrates. Here we list the pros and cons of the ColorWave 600 poster printer compared to an inkjet printer.
Pros:
As mentioned above, the selling point is the print speed.

No need of drying times.

Reportedly there are much less VOCs and no smell.

Toner is more water-resistant than inkjet ink.

The toner waste is non-toxic and solid.

There are no emissions, dust nor ozone common in some inkjet printer systems.

Océ claims the energy consumption is lower than in inkjet printers.

The printer can be placed anywhere (the environmental requirements are minimal compared to an inkjet printer).
Cons:
The output exhibited at FESPA 2011 was not photographic quality.

You could notice points in the samples.

Banding was noticeable in some areas.

The Océ red was not consistent throughout the samples.

Considerably more expensive than most waterbased inkjet printers (The price of the HP Designjet is Z3200 is US$6,155).

There are not after-market consumables, therefore, toner price is totally controlled by the printer manufacturer.

Not many, if any, after-market toner substitutes
Substrates and Applications
In recent trade shows the ColorWave is being advertised also as a poster printer. So the main target is indoor POP signage, although CAD/GIS are also mentioned. Packaging prototyping is another potential market. The life outdoors of some of these substrates is estimated to be 4 to 6 weeks.
The substrates listed by Oce are:
Bond

Recyled Bond

Polyester films

Translucent

Vellum

Tyvek.
For CAD and GIS many of the aspects that might be an issue for a sign shop are not applicable: architects and engineers may be content with basic line-work at generally acceptable colors. But once you move into signage, and from there into other applications, a CAD printer may have limitations that become obvious sooner or later.
This happened with the Xerox oil-based printer seven years ago. They tried to move this from being a basic printer into being touted as a more high-end system. In effect they over-promised. Using paid Success Stories backfired, since none of the downsides were admitted. Once people learned the downsides the printer was considered not ideal for the higher end market.
Over-promising is the single aspect of latex ink of HP which is disconcerting. HP latex ink is great for some applications, but simply not a good idea for other applications.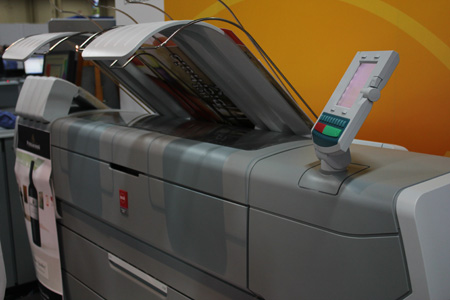 Oce ColorWave 600 at ISA Sign Expo 2011
In other words, in the long run a printer model may be more successful, and last longer in the market, if it concentrates on what it is good at, instead of trying to move into market applications where the downsides of the specific technology may be viewed as iffy.
So we hope to learn more about what applications the Oce ColorWave is really good at, perhaps from a factory visit and customer site-visits in the future.
Posted June 27, 2011.