Textile printers for 2009-2011.
Textile printers are a growing business. More printshops are tired of the problems with vinyl: it smells terribly, you can't fold it without creasing it, and it is not ecologically friendly. With soft signage of fabrics you can fold it, unfold it, many times. Printed fabrics do not smell as awful as does printed vinyl.

FLAAR began writing about wide format textile printers many years ago, but initiated additional textile printer reviews starting in Winter 2007. Now, in 2009, textile printing will be covered more and more on the FLAAR Reports web sites. Naturally we are evaluating primarily the newer printers, such as MTEX 3200.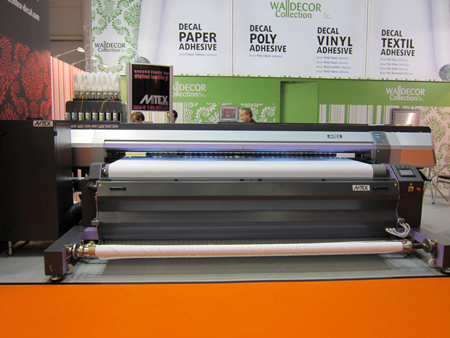 MTEX 3200 textile printer at FESPA Digital, Hamburg 2011
There will be some really great grand format textile printers in 2012, possibly by FESPA Digital 2012 in the summer or SGIA 2012 in the autumn. The rest will be launched at ISA 2012, FESPA 2012, SGIA 2012 or VISCOM Italy 2012.
L&P Digital Technologies Virtu 130" DirectUV.
L&P Virtu 130" DirectUV, RSTX and VIRTU TX are three Leggett & Platt textile printer names that I have in my list. I mention these because so many millions were spent developing them but the entire textile line was phased out. I was told that tech support cost would have been high. I am guessing they mean training and help in textile printing per se: I do not believe they meant that this printer was faulty and hence required lots of repairs. It is just that L&P is not a textile company. It is a company that makes machines that fabricate the springs that go inside most of the mattresses that we all sleep on. Since some of these mattresses are decorated, the idea occurred to L&P to make their own machines for decorating their own mattresses.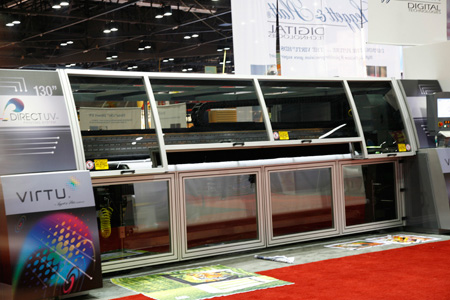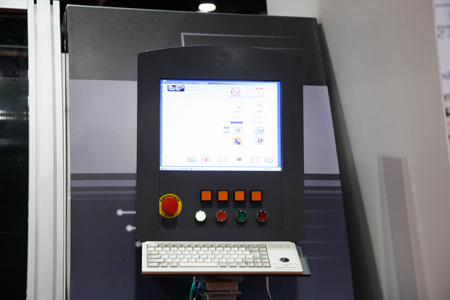 L&P Virtu 130" DirectUV printer, at SGIA 2007.
The designations for models with L&P were most politely defined as "fluid." This means the designations are confusing, mostly because there was a core platform which could be outfitted or retrofitted to turn it into several other different models. So, for example, you could modify a L&P Virtu 7200 or Virtu Plus model into a Virtu 7200 DirectUV textile system. Some places also call this the Virtu 7200dt, which makes everything all the more confusing.

From a marketing and engineering point of view the ability to modify an old model into a new model is a plus point. But it makes it tough to create a list of all L&P Virtu models and to know when one model began and when it was phased out.
Textile printers for the History Books.
L&P Virtu RSTX is a 138 inch textile adaptation of the Virtu RS model.

L&P Virtu TX, 138" instead of 98" on the Virtu 7200 and Virtu Plus.

L&P Virtu 130" DirectUV, was featured at SGIA 2007, but hardly any information is available on it. Evidently this direct fabric machine used a hybrid ink and was partially cured by the UV lamps on the carriage lights and then finished with a post cure oven elsewhere in the printer. I thank an end-user for this comment.

The advantage of the fact that several different models share the same basic core structure (mechanics and print engine) means you can take an old Virtu 130" DirectUV and turn it back into a regular combo (moving transport belt) flatbed UV printer for flat and rigid material as well as for roll-to-roll.

The melt down at L&P in the final days of their existance in late 2008 and the subsequent transition to WP Digital seems to have affected their old web site. So most of their old pages are no longer available. Most professional business provide transition, especially for e-mails to be forwarded. But L&P Digital Technologies simply abandoned what little was left of their system. Strange for a company that looked so impressive in 2001 at their first trade show. I felt this was the nicest new printer at that event.

As soon as I can track down brochures from past years, and as soon as I can speak with people who owned these legendary L&P Virtu textile printers I hope to be able to update this page. But my main interest is to draw attention to the platform: the chassis and technology, since this entire line of textile printers was phased out during 2007-2008. Yet untold millions of dollars of development went into these systems. I hope some company can resurrect this platform and return it to its place as a leading textile printer.

Discussion of other textile printers in the FLAAR network.
Solvent printer evaluations are concentrated on www.large-format-printers.org Mild-solvent, lite-solvent, eco-solvent, and full-solvent.

Water-based printers for fine art giclee and decor are on www.FineArtGicleePrinters.org.

Water-based and all other printers for digital photography are on www.digital-photography.org.

Water-based printers for markets and applications other than just photography of giclee are on www.wide-format-printers.org.

UV-cured printers (flatbed, hybrid, combo, and roll-to-roll) are all on www.large-format-printers.org (same site as handles evaluations of solvent printers because these are all serious production printers, not intended for home or office use !).

Most textile printers use water-based inks, so are on www.wide-format-printers.org
But then what about UV-curable textile printers? Well, I decided to concentrate discussion of textile printers on the wide-format site, so even if a textile printer uses UV or solvent or oil-based inks, it will find a home on this wide-format site.

I view the overall L&P Virtu textile printer platform to be one of the great achievements of modern grand format technology. Unfortunately the impressive engineering was hobbled by dull trade show booths, brochures that were not as useful as even the most deficient Chinese printer brochure, and a lack of a marketing program that deserves to be featured in an MBA university case study of how to lose business without trying.

But all this L&P Virtu technology still exists. And today there are fabulous new inks that did not exist in past years. Whoever is clever enough to buy the still-usable L&P technology, add the new inks, has the chance to zoom by everyone else who is stuck in free-radical pigmented UV ink race. This printer platform can still make UV printer history. Of course WP Digital could do this, but 90% of the UV printer companies today are locked into trying to keep up in the mercury-arc free-radical UV world. Others are struggling with LED curing (but the same old free-radical inks). Not many companies are willing to risk becoming innovative with an entirely new ink.

Fortunately there are one or two companies who are brave enough to want to jump ahead, so our consulting business at FLAAR is brisk. So far our consulting is going ahead at a faster rate the first month of 2009 than even our great year in 2008. Probably because companies are more cautious during a recession, and want an independent second-opinion before they make a decsion. It is a better move to invest in consulting, rather than to run the risk of missing something. FLAAR, being independent, has access to more information than any one manufacturer on their own.
Most recently updated August 26, 2011.