Converd Green Machine X3 Wide-format inkjet printers for digital wallpaper, UJET MC3 Express from DTP Link, Yuhan-Kimberly.
Samples printed by UJET MC3 Express.
I tend to associate wallpaper with my grandmother's house. Every room in the entire house had wallpaper.

In every house I have lived in since, there is rarely any wallpaper whatsoever. So clearly tastes have changed (in part due to the cost of hanging the paper). Also the repetitive designs of wallpaper may not suit your modern taste preferences.

But with digital wallpaper you can create your own colors, your own patterns, and you can avoid a pattern all together by doing a wall mural (but on wallpaper material).
So today several wide-format inkjet printing companies offer solutions for digital wall coverings and digital murals on wallpaper. The wallpaper printer I know the best is that of Yuhan-Kimberly DTP Link, the UJET MC3 Express. I have seen this printer at GraphExpo and in Korea at the DTP Link demo center. At ISA 2009 this printer was exhibited in the Converd Booth as the Converd Green Machine X3.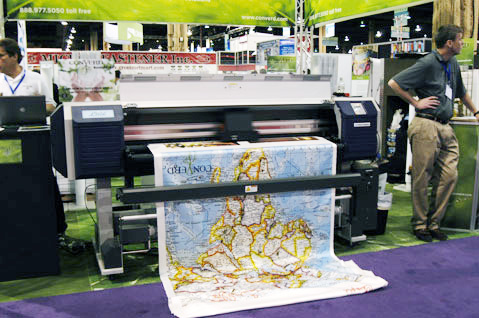 Yuhan Kimberly P3
textile printer, at Converd booth, ISA 2009.
Be wary of using solvent ink printers for wallpaper.
Some states may have laws about using carcinogenic ink for wallpaper that will be in a public space. So using solvent ink for wallpaper may not be a good idea.
Plus solvent-printed wallpaper may outgas with an objectionable odor for a few weeks (or longer). Some UV-cured wallpaper may also have an odor; this depends on which brand of ink and how the ink was cured. Often it will smell unbearable for a short while but then the smell will dissapate and not be as bad.
Some people may also find the smell of vinyl objectionable. Combine the smell of vinyl wall covering material with the smell of solvent ink, and you have a potentially unattractive product.
For all these reasons, it may be a good idea to look at water-based ink for printing wallpaper.

This is the UJET MC3 Express wallpaper printer circa 2008.
Now, in 2011 a lot of newer printers are available.
Wallpaper materials for digital wide-format inkjet printing.
Many companies now offer digital wallcovering media. The ones we know the best are:
Dreamscape,
Korographics,
InteliCoat,
Ultraflex
are a few of the many companies that offer digital wall coverings. This year (2011) we are adding DECAL because their wallcovering is a fabric surface texture.
Many companies offer inkjet wallpaper, including WallPro, a latex saturated nylong reinforced wallpaper.
I know the wallpaper printers from DTP Link the best, since Yuhan-Kimberly has opened their demo center for my inspection twice already. Yuhan-Kimberly is the Korean branch of Kimberly-Clark (makers of Kleenix and other products we all use daily). DTP Link is their division that specializes in making inks for printing on textiles with wide-format printers. However when this division was phased out circa 2009, we had to look elsewhere. That is when we evaluated DigiFab and now MTEX for textile printers.
Yuhan-Kimberly is the developer and manufacturer of several kinds of textile inks. I have visited their headquarters in Korea twice. If you are a printer manufacturer, and wish to get you hands on both a good textile ink as well as a company with ample experience in how to handle fabrics in a printer, then contact Yuhan-Kimberly or DTP Link (their office for textile inks, printers, and fabric materials).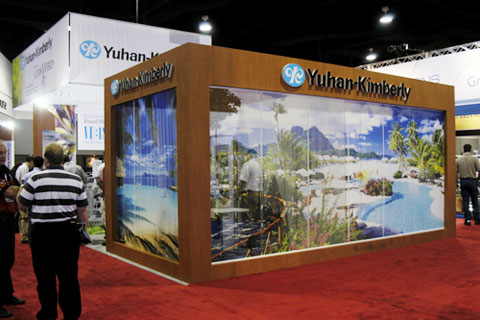 Booth of Yuhan-Kimberly DTP Link at SGIA 2008. All their printers are no longer available so we checked around to find substitute and are now evaluating the MTEX textile printer because you can also print wallcovering on fabrics.
Most recently updated May 16, 2011.
First posted October 30, 2008. Updated May 4, 2009 and October 14, 2009.
include '../plantilla-php/seiko_sidebar.php'; ?>