Agfa Graphics launches new 3.2 meter textile printer(s), Ardeco 3312, Ardeco 3308; with announcement at FESPA 2013
The Agfa Ardeco 3312 and Ardeco 3308 have now been launched at FESPA 2013. We look forward to seeing them perhaps at SGIA. But at ISA 2014 there was neither textile printer. Instead the same printers were in two other booths with different brand names!
In the beginning it was unclear whether the name is :Ardeco 3312 or ArtDeco 3312 or 3300, or whether 3300A to Z with 3300S in between. Whether a 3308 or 3306 also needs to be resolved. The booth decoration says it is Ardeco 3312 but should that be ArtDeco?
It turned out that the names were :Ardeco 3308 and :Ardeco 3312.
But all of a sudden they all disappeared. Neither is on the Agfa web site (mid-May 2014).
Yet every PR agency has big promotions for these printers! Why is there no PR release explaining why they were conspicuously missing from the Agfa booth at ISA 2014 in Orlando?
We at FLAAR know why the printers were dropped. To be polite we do not release this information on this web page. The printers themselves work fine, ironically that is part of the problem! The printers were sufficiently good that many companies wanted to rebrand them.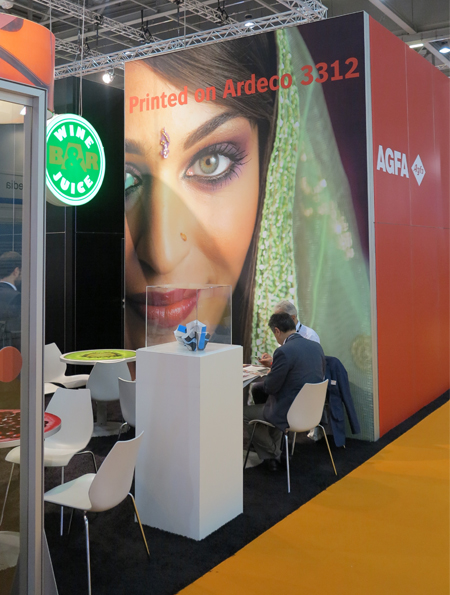 3.2 meter disperse dye sublimation, direct to fabric, have proven tough to make fully functional.
Several major large-format printer manufacturers face the same situation: there is a growing market for a 3.2 meter textile printer, but to find a 3.2 meter one which is fully finished is tough. Most 3.2 meter textile printers taken 2 to 4 hours to work out the issues, headaches, and problems.
The reason is because getting some textile inks through some printhead brands and models is not as easy as running solvent-based or UV-cured inks through them.
If you look at the 3.2 meter textile printers which use industrial printheads in the last several years, most manufacturers coming from the world of solvent and UV-cured had issues with their printers the first several years. Indeed Agfa Graphics appropriately and intelligently discontinued their AguaJet line, which was inherited from Gandinnovations.
EFI VUTEk has a textile printer, using solvent-based sublimation inks and Hilord ink. This project is functional since they have a capable ink partner (Hilord). But several other major brands, of respected names, with considerable experience in UV-cured printers, had issues with their textile printers, especially if they used certain other brands of printheads. These other printheads are great with UV-cured or solvent ink, but were not as successful with water-based dye sublimation or disperse dye inks.
At the recent ShanghaiTEX, the number of 3.2 meter disperse dye printers was very few. And the few which did exist were often relatively new (a polite way of saying they still needed more testing out in the real world).
There are many printers using Epson DX5 printheads but these heads are not easy to find since Epson has tried to cut off the supply of Epson heads.
No significant textile presence in the Agfa booth at ISA 2014.
In past years Agfa had the Gandinnovations Aquajet printer. Everyone finally realized this did not work as well out in the real world as it appeared in the factory demo room. Now that the :Ardeco 3308 and :Ardeco 3312 have been withdrawn, AGFA has no meaningful solution for textile printing. The Chinese-made pseudo-textile printers in the back corner of the AGFA booth at ISA 2014 in Orlando was a sad surprise. These Epson SureColor F-series textile printers are neither high end, are definitely not grand format, and are not from a company with significant textile experience.
We hope that AGFA can return to the market with a major textile presence in the future.
Most recently updated May 13, 2014, after we noticed Agfa was no longer offering grade format textile printers.
Updated June 27, 2013, after a bit more info filtered down to us.
First posted June 26, 2013.