EFI VUTEk TX3250r
At SGIA 2010 there was a prototype of an EFI VUTEk printer using dye sublimation ink from Hilord. This printer is now being released as the EFI VUTEk TX3250r.

;

Since we prefer not to release PR photos and prefer never to release a canned PR release statement, we will wait until our staff can inspect the printer in-person in the future, probably ISA sign expo (since I am not sure we will send anyone to Sign & Digital UK).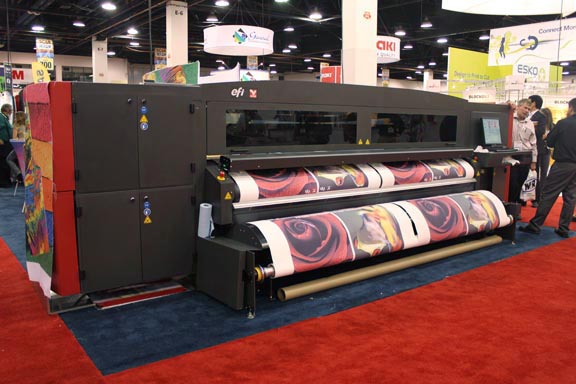 Prototype at SGIA 2010 of what is now the VUTEk TX3250r being launched at Sign & Digital UK 2011
24/7 capability
This is a serious production printer for soft signage. This is not an entry-level printer.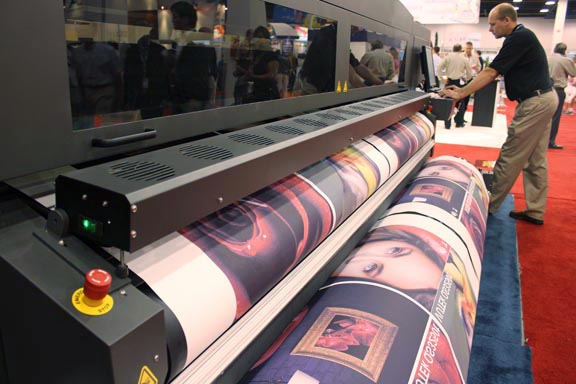 Prototype of what is now the VUTEk TX3250r at Hilord booth, SGIA 2010
By using second formulation, solvent ink you get triple print length without need to wipe heads.
Use with calendaring system such as Klieverik
Some print shops and clients will prefer direct-to-fabric with in-system fixation. Others will prefer printing and then fixating the ink in a dedicated separate fixation unit such as from Klieverik.
Many different ink options for dye sublimation
If you look at 3.2 meter dye sublimation printers launched since 2007, including printers launched as recently as 2010, the word on the street is that the ink set has needed to be changed. One printer started with oil-based, moved to another kind. Several years later there was PR releases all across the Internet that ink from DuPont was being used. Yet when I asked about how the DuPont ink was doing, I was told that it is no longer used. Someone else suggested "DuPont ink was not made for curing with IR system." I will need to get a PhD in chemistry to understand this. But the point is, if large printer manufacturers are having issues with what ink to use in their printer, then a plus point is an ink set that works.
One advantage of solvent inks is drying time. Every ink has pros and cons. Obviously a company the size of VUTEk has experience and can select whatever kind of ink it feels is optimal: they selected a solvent-based textile ink.
How do you know if an ink set works?
First, ask an end-user. Ask the owner of the printshop; ask the printer operator.
You will frequently get two slighty different answers; the printer operator will know the reality. The printshop owner is the one who staked someone's money on this printer and may try to weather out an ink set issue. But from one or the other you will get a better idea.
Next tip: find a printer manufacturer who has worked closely with an ink manufacturer. One, or the other (or ideally both) need to have long-term experience with printing on fabrics.
The norm in the industry is trial-and-error: first try one ink; then try another. Why? Because every ink is really good at something but not perfect at everything.
Since polyester is a "non-PVC" it is considered more friendly than vinyl
Soft-signage is one benefit of the new trend. Soft-signage moves in the wind outside. Even indoor at an airport or mall, the slight movement of soft-signage attracts attention.
But the other benefit is that polyester is a non-PVC and this considered more eco-friendly than vinyl.
VUTEk FabriVu, first version was oil-based
VUTEk has experience with textile printers, both FabriVu and the solvent-to-dye-sub switch-over printer system: VUTEk 3360 Fusion. So the decision to use solvent ink in the new EFI VUTEk TX3250r is based on knowledge gained from testing different inks.
As soon as it is possible to visit a customer site we can make comments on this printer system.
First posted April 4, 2011.