Eurotech Mermaid dye-sublimation grand-format inkjet textile printer.
The Eurotech Mermaid is a dye-sublimation inkjet printer in grand-format size (3.x meter width) for textile printing. So the Eurotech Mermaid can produce soft signage on polyester. In Western Europe and other parts of the world both legislation as well as personal commitment to protecting the ecology recommends soft signage on textiles to avoids the environmental issues of solvent ink VOCs and vinyl.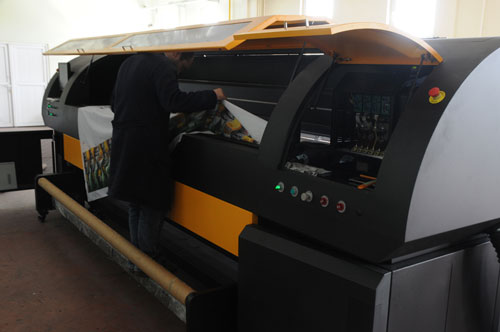 Eurotech Mermaid is a dye-sublimation inkjet printer in grand-format size.
Dye-sublimation with disperse dye textile ink is for banners, soft signage, etc.
The Eurotech Mermaid dye-sub large-format textile printer is for soft signage instead of old-fashioned stiff vinyl. Smelly vinyl is printed with solvent ink; soft signage flows with the wind, and is ecologically green. Plus all banners and other signage made with any kind of fabric or textile-like material is aesthetically more attractive than stiff, thick and creasable vinyl.
Direct-to-fabric kind of dye-sublimation textile printer.
Five years ago dye-sublimation was accomplished by printing onto transfer paper. You then had to move the printed transfer paper to a heat transfer calendering machine (a heat press). The heat press turned the ink into a gas and impressed it into the adjacent polyester-based fabric.

So, in addition to your dye-sublimation printer, you had to buy an $80,000 calendering machine, such as AIT, Monti Antonio, etc.

During the last two or three years engineers and chemists have worked at developing direct-to-fabric systems whereby you can skip the entire step of having to laboriously move the intermediate transfer paper from the printer to a separate heat press. The goal was to print directly onto the fabric and then steam the material in an add-on heating unit (bolted to the lower front area of the original printer).

So now you save yourself about $30,000 or more. Plus a single machine (like the Eurotech Mermaid) takes up significantly less space than having a separate calendering heat press.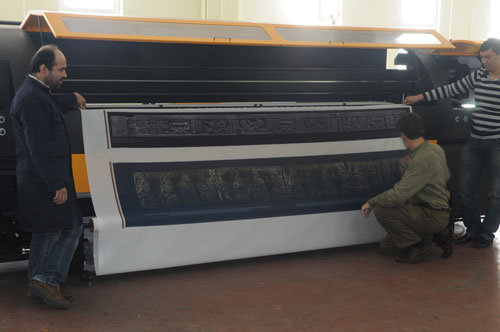 Dr. Hellmuth, checking a Eurotech Mermai printing example, at the factory.
Eurotech Mermaid dye-sublimation printer seldom exhibited.
When I first visited the factory the printer was not completely finished. In the last three years I have not often seen this printer at expos. So we have moved onward to look at other dye-sublimation printers such as the Durst Rhotex 320 and recently at the MTEX, based on a Mimaki JV5. There is now also a new 3.2 meter VUTEk textile printer (as of April 2011).
Eurotech Mermai dye-sublimation inkjet printer printheads.
How does FLAAR obtain its knowledge of inkjet textile printers?
After we visit all major trade shows: DRUPA, VISCOM Germany, VISCOM Italy, ISA, SGIA, and FESPA, we have a better awareness of which printers have potential. Our sources and resources allow us to relatively quickly learn which textile printers still have glitches: a big brand name, even in the US, Canada, Asia, etc is not immune to having a dye-sublimation printer that has features in need of significant improvement.

Our next step is to learn about the manufacturer: what are their goals, their philosophy. Do they just want to make piles of money for stock holders? Do they primarily need to look good for investors, in their Annual Report?

Or is the primary goal of the manufacturer to make a stable, sturdy printer that they can be proud of and their clients can be confident to use? Here I would list MTEX and DigiFab, as initial examples. Obviously there are dozens more, but I need to see their headquarters, meet their R&D team, to reach an understanding of both their technological capacity but even more, their personal experience and philosophy.

I first visited the corporate headquarters of Eurotech about 2006 or 2007, as I had been invited to give lectures and make booth appearances at a trade show in Istanbul those years. A booth appearance means that I make myself available in a trade show booth to answer general questions (at no cost to the printshop owners). During these trips I did site-visit case studies of several printshops in Istanbul and I visited the Tekiz Group as well (manufacturer of IR and UV curing units, an hour or so flight from Istanbul).

During March 2009 it was possible to make a special visit to Turkey to spend two days inspecting the Eurotech factory, their new factory about 100 km west of Istanbul. I spent one day learning about their new UV printers that were under development, combo-style flatbed (Eurotech Pars) and 5-meter roll-to-roll UV (Eurotech Malakan). But it is not easy to finish a UV-cured printer system. You can´t simply take a solvent printer and run UV ink through it. So Eurotech has, wisely, not exhibited their UV printers at foreign expos around the world.
The second day I devoted to studying their direct-to-fabric dye sublimation printer, the Eurotech Mermaid. Naturally it was also possible to see one Eurotech Eagle solvent-based grand format printers being finished in the factory.
Keundo tried for years to build a dye sub printer. A full version has never been exhibited outside Korea in recent years.
Even Gandinnovations had issues for many years trying to create a dye-sub printer. Their first versions had issues with inks and the sublimation. Agfa has tried to improve it, but at the last two trade shows that I attended, ISA and a large expo in Australia, the AquaJet was not exhibited.
What we can learn from this is that even companies with years of experience, such as Keundo and Gandinnovations, are not able to engineer a dye sublimation printer without issues. So far, Mimaki has been the company with the most success in engineering a total sublimation system. d-gen and other dedicated textile printer companies have as well. In other words, unless you have an entire division dedicated, for many years, to developing a textile printer, it's not easy just to build one from scratch.
Since we have not seen the Mermaid at many trade shows we have searched for brand that is from a dedicated textile company. We found the MTEX, visited their demo room, visited a customer site, and also visited the company that makes some of the polyester materials, DECAL. You can see all this (printer, inks, and fabrics) at FESPA.

Most recently updated April 2011 since we have not often seen the Mermaid or many other Eurotech printers outside Turkey.
First posted April 6, 2009.