Textile printing with inkjet printers: silk, cotton, polyester for banners.
Many years ago the basic water-based printers of those years could print well on textiles. Encad NovaJet printers could take paper-backed fabrics. Hewlett-Packard DesignJet 5000 and 5500 can all take paper-backed silk, cotton, and polyester (and a few other materials that are readily available in paper backing). The paper on the bottom of the fabric is needed to help feed the material through the printers by means of the grit rollers that are part of the pinch-roller / grit roller system on most printers that have a platen.

;

If the fabric had no paper it would either not feed through the roller system or would stretch. Plus, if there was no paper, the ink might go through the weave of the fabric and stain the platen.
A specialized fabric printer can cost about $40,000 to $60,000 (for entry level) and $120,000 to $300,000 as you move into the high-end. But for $14,000 you could obtain an HP 5000 or 5500 brand new and print on several kinds of textile if the fabric is paper-backed. Of course today, in 2009, these printers are rarely available new, but you can get them used for a few thousand dollars everywhere (they last forever if properly maintained).

I would not recommend a used Encad printer no matter what kind of a deal you are offered (and not really even if it is free!). Though the Encad 1000i or Kodak 1200i would be okay (if you get it free). All Encad printers had quirks that made them infamous.

A used ColorSpan FabriJet would have been okay if ColorSpan was still independent, but now that it is part of HP they will unlikely continue to offer spare parts and tech support for such old textile printers. But in its heyday the ColorSpan FabriJet produced impressive results.

Mimaki JV-22 and a few other models of those years, used, if in very good condition, were able to print on textiles, including with textile inks (acid dye, reactive dye).

Epson printers are almost never mentioned in context of printing on fabrics. And I rarely hear anyone using fabrics on a Canon printer: fabrics are not listed in the Canon brochures that I looked at. Most new water-based printers do not emphasize any textile applications. In other words: the HP 5000 or 5500, used, is the best and lowest cost to get started. Just be sure to use pigmented ink if you wish any longevity at all.

Since you do not need a zillion dpi on fabrics (since the weave negates most of the high resolution), there is no particular need to buy anything like an HP Designjet Z-series water-based printer just to print fabrics.

If you prefer not to buy a dedicated textile printer such as a Yuhan-Kimberly or DigiFab, then you need either a used HP 5000, 5500 or, (if free and in perfect condition), an Encad NovaJet 1000i (Kodak 1200i).
Applications for textile printers with normal water-based ink.
You can print photographs on fabrics (less ordinary than on photo paper). Just realize that some colors, scenes or designs will look better on textiles (which means that some colors, scenes or designs are better on paper than on a material with a weave and thus a texture). And each kind of fabric will have its pros and cons as a display surface for a photograph. But your photograph will have a more elite appearance on some fabrics.

Giclee and other art reproductions can be printed on cotton or canvas and on silk or other textiles too.
Wallpaper and other décor can be produced with water-based inkjet printers but if you intend to print wallpaper every week it would cost less with eco-solvent inks or perhaps with a Yuhan-Kimberly MC3 Express printer.

In summary, the least expensive way to test whether you wish to test the markets with textile prints is to purchase a used HP 5500 in good condition (and with at least a 30 day warranty). Get one roll each of silk, cotton, and polyester and see what your clients like.

If your test jobs are successful, consider a dedicated textile printer from Yuhan-Kimberly, DigiFab or other company that has significant experience with how to handle unbacked fabrics. Printable fabrics that have no paper backing cost less than paper-backed textiles.
If you are in the Balkans area of the world, a new dedicated textile printer is the Mermaid, by Eurotech. I recently visited their factory west of Istanbul (towards Greece).
If you are in the Balkans area of the world, a new dedicated textile printer is the Mermaid, by Eurotech. I recently visited their factory west of Istanbul (towards Greece).
CAD, GIS and maps on cotton, canvas, polyester.
Military maps are best printed on fabrics since fabrics can fold easily. Most inkjet materials are not foldable (at least not easily; and once folded, most inkjet materials leave a permanent crease).

When I wish to carry copies of all the FLAAR Reports (the front covers), I print them on canvas because I can roll it easily, and when people handle it, the dings and creases fade away later over time. I have such scrolls that are several years old that are in pristine condition.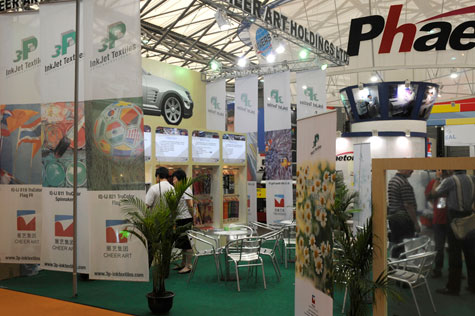 3P booth, at Shanghai 2008.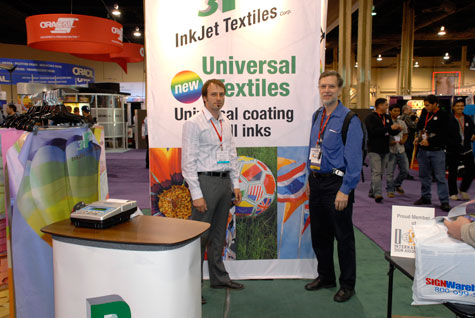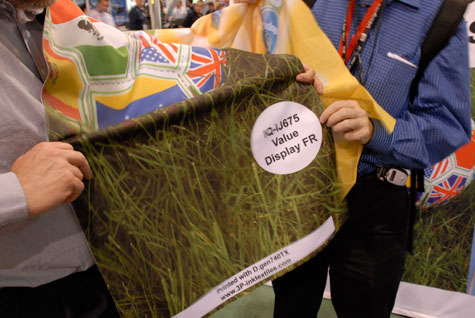 Dr. Nicholas Hellmuth. at 3P booth, reviewing some printiong examples, at ISA 2007.
Updated April 6, 2009.
First posted March 19, 2009.