Epson 44" SureColor SC-F6000 and 64-inch Epson SureColor SC-F7000 finally launches Epson's attempt to enter textile printer market
The launch of the Epson textile printers was repeatedly leaked over the last year. Plus you would have had to be living in a cave not to know Epson needed their own textile printer to maintain a market share (since Canon and HP did okay in winning back some of the giclee and a tad of the proofing market over the past five years).
Since Canon and HP are stuck with thermal heads it is tough for them to compete against piezo heads from Epson, Konica Minolta, Dimatix Spectra and Ricoh (Xaar heads normally are for solvent and UV-cured inks; Xaar printheads are not usually designed for water-based inks).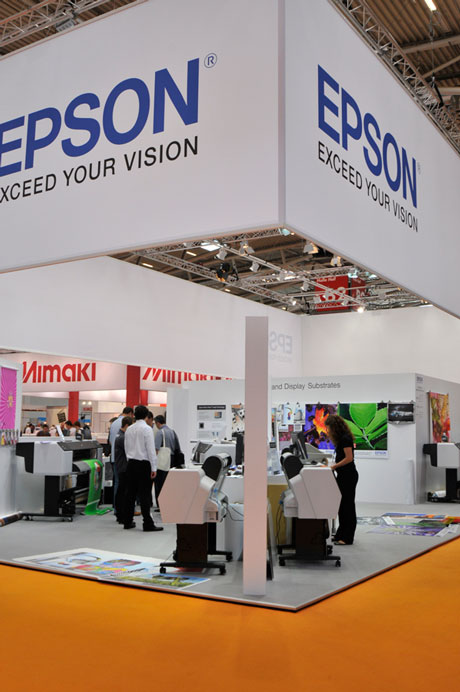 Presently Seiko, Canon and HP are about the main international printer manufacturers with no textile printer. A Seiko textile printer was exhibited in past years but not recently. Canon simply ignores the textile market since their strength is office copiers and corporate in-house printers.
HP clothes their HP latex printer as a textile printer so they probably don't themselves consider they are without a textile printer. But not many people outside HP would accept a latex printer as "a textile printer." But the exhibits of printed fabrics in the HP booth are pretty to the eye (albeit not to the hand), so as long as they nicely decorate their booth with latex printed textiles HP probably assumes it is okay in the textile printing market.
People in the industry correctly predicted the Epson textile printer
It was always assumed that the Epson textile printer would simply be a normal Epson printer but using a textile ink. In fact the test models of Epson textile printers were normal Epson printers, simply with normal textile ink.
By accident I saw one of the Epson test printers. I was inspecting a print shop for a totally different reason and by coincidence this print shop was testing an Epson printer with Epson textile ink. This was about 14 months ago. But I had already known about the Epson textile printer product the previous year.
The Epson 44" SureColor SC-F6000 and 64-inch and Epson SureColor SC-F7000 are what the industry predicted: same Epson printer but merely with textile ink instead of eco-solvent ink. This raises the immediate obvious question, what about this printer makes it a "textile printer" if it is simply a regular normal printer but has sublimation ink instead of eco-solvent ink?
Comments by all web sites so far merely repeat PR releases
The claim that "models are durable and robust" will need to be proven out in the real world. The plastic flaps are more accurately described as "cheap and flimsy feeling". The printer is rather obviously made in China. Whether this cheap plastic holds up as well as plastic used by HP Designjet printers remains to be seen.
I would assume that the insides of the printer are hopefully more robust than the cheap-feeling plastic on the outside.
Potentially a weak point in an Epson printer for textiles is lack of experience
Epson knows how to make printers and printheads, but Mimaki has a ten year head start in using comparable printers for textiles. Even Mutoh has more experience with textiles than Epson. But if you go into the average Mutoh or Roland booth at a trade show, the average sales rep, very pleasant, hospitable, and knowledgeable about their printers, they simply do not come from the world of textile printing.
Epson knows proofing and fine art giclee. That is where Epson does well. But they are not a textile printer company.
The companies with experience in textile printing are: • d-gen (sadly Roland withdrew access to their printers about two months ago, so how d-gen will be able to overcome this situation with a new printer chassis remains to be seen). Irrespective, d-gen, especially d-gen Italy, is well respected. • DigiFab has over a decade of experience. I can still remember trade shows over ten years ago where at every expo the textile printer with the brightest colors were always in the booth of DigiFab. • ATPColor has abundant experience with textiles. Their capable US distributor is Splash of Color. Two of us from FLAAR recently visited the ATPColor world headquarters outside Milano, Italia. We will be visiting a printshop in Germany which is using an ATPColor grand format textile printer next week.
Mimaki is not a textile printer company per se, but they have had a relatively successful line of textile printers for many years. But I still prefer to look at companies where at least, bare minimum, 50% of what they focus on is digital printing of textiles.
Do the Epson 44" SureColor SC-F6000 and 64-inch Epson SureColor SC-F7000 textile printers have a feeding system made for fabric?
DigiFab, ATPColor and d-gen know from their experiences that not all fabrics are the same. So these textile-oriented companies work hard to be sure their mid-range and high-end systems have fabric-feeding systems which can handle fabrics.
So my first question would be, do these Epson printers have the same rollers and media movement system as the Epson eco-solvent versions? If not, what in the world makes these "textile printers" (other than branding them as textile printers in the spec sheet). So let's hope that these printers really are designed from the ground up to handle fabrics.
Next questions, is there an ink trough to take the ink that tends to pass through fabric. Again, printers from DigiFab, ATPColor and d-gen, at least at their mid-range and high-end models, have ink troughs.
But, since the Epson printers are made for transfer paper, none of these problems exist: you just print on transfer paper as though it were other inkjet paper. This printer does NOT print on fabric!
If these printers are for transfer paper, is the dye sub ink water-based, oil-based, or solvent based? Not all transfer papers work well with water-based sublimation ink. This is why efi VUTEk elected to use solvent-based sublimation ink from Hilord.
And, if these printers are merely to print on transfer paper, how in the world are you expected to sublimate the paper?
What in the world makes these textile printers? They are printing on transfer paper only! Transfer paper is not a textile.
These would be my first questions.
The press releases are blissfully ignoring the key reality facts of textile printing. If these are for transfer paper (which is what keeps a printer price cheap), that means these printers will tend to be bought by printshops with little or no experience. These are precisely the companies that will unlikely have enough money, or training, to operate a heat press of 44" much less 60" width.
Positive comment in our review of the Epson SureColor
We always try to find something good about a printer (even if the overall system is not impressive). By Epson getting rid of their antiquated rectangular cartridges and putting ink containers of 1.5 liters is a great step forward.
This raises the question, why do Roland and Mutoh use the old-fashioned 220ml and 440ml ink cartridges of Epson dating back to 2001 or before?
The reason for small cartridges is so hard to figure out… a manufacturer can charge a higher price per liter if they deliberately sell less than a liter per container. If the client primarily things of the price per container he will hopefully never use basic math and figure out the price per liter.
Also, Roland and Mutoh have spent an entire decade developing an adequate ink handling delivery system for the Epson cartridge manner of handling ink. To move to a bulk ink system would mean substantially less income from ink plus would require that the engineers think and do something totally new and different.
Some Mimaki printers also use 220 and 440 ml cartridges, though increasingly they give you the option to opt for a bulk ink system. Mimaki is now using different types of bulk ink systems with one or two-liter capacity, using plastic ink containers or aluminum packs of ink to reduce costs; the newest bulk ink systems use degassing to avoid air bubbles. So Mimaki is a few steps ahead of the curve in respect to Roland and Mutoh, who are still using Epson ink cartridges.
I asked a pleasant Roland person in their Roland booth "why do you still use the old-fashioned Epson ink system? Not even Epson uses that for more than two years?
He answered "Roland knows well how to deliver and handle ink for the Epson cartridge system, so we have no incentive to experiment with a new way."
Just remember what you just learned (though hopefully you knew it already): if there were a bulk ink system it would lower the price of official Roland-branded ink plus people might start using even more after-market ink.
Digital textile printing
FLAAR has worked with textile printers for many years, from entry-level to grand-format textile printers costing a million dollars plus. We attend ITMA Europe and ITMA Asia, the world's largest textile expos. There are dozens of FLAAR Reports on printing textiles starting even before textile printers became well known. Plus FLAAR has presented lectures on textile printing already over ten years ago. It is on the basis of this experience that we can review an Epson attempt to enter the textile printer market, plus our knowledge derived from visiting printshops in Portugal, USA, Taiwan, China, and elsewhere who are using sublimation ink.
Final observations
Epson is jumping into a market already developed by Mimaki, a bit by Mutoh, and by Roland's textile printer partners. Epson is not offering anything new or different whatsoever.

I wish Epson had offered a resin ink, a latex ink which prints on rigid material; anything new and different. But Epson lets Mimaki, Mutoh, and Roland develop a market and then Epson steps in, cuts off Epson printheads to Mimaki, Mutoh, and Roland, and gobbles up as much of their market share as possible. This is very clever of Epson.

One thing you can say of Epson: they are consistent. So, as soon as everyone else finds, and improves, a latex/resin ink, Epson will move to take over that market share also.

This is why it is a pleasure to see the Mimaki booth: they launch innovative products. True, neither the SUV nor the latex ink of Mimaki are finished, but eventually the capable folks at Mimaki should get those inks finalized. At least Mimaki is intelligent enough to stop using Epson printheads. Mimaki woke up first, and switched to Konica Minolta heads.

Mutoh and Roland are still in lullaby land, not wanting to wake up to the fact that Epson will take over their eco-solvent printer market share, and now is after their textile printer market share.

The first Epson PR release that I read claimed their ink worked on all transfer papers: "Providing high quality output at up to 720 x 1440dpi on all leading transfer papers,"

I guess Epson will say that any transfer paper which does not work is "not a leading brand."

Every textile ink chemist, and every person in the textile printer industry will tell you clearly that not all sublimation inks work adequately on all kinds of transfer paper. So I view this as one of the stumbling blocks of the Epson system: either they are not aware of the differences, or they do not want printshop owners and managers to be nervous about what a SureColor "textile printer" might be incapable of doing. It would have been so much more professional if Epson had offered a comparative tabulation of what ink they used and what transfer paper brands might NOT work adequately.

Irrespective, it is good to see Epson enter the market. I just hope printshop owners have a good source of knowledge of how to handle transfer paper, and how to understand the significant differences between the different brands.

First posted November 20, 2012