Mimaki TX3-1600 TextileJet textile printer.
Mimaki has been a leader in entry-level textile printers.
The TextileJet, Tx3-1600, is the eight-color textile printer from Mimaki. This differs from the Mutoh Viper TX which is clearly stated not to handle stretchable fabrics (it is very ethical and honest of Mutoh to indicate this clearly in their advertising). If you want to print onto elastic fabrics using a Mutoh printer, you should consider the Mutoh Viper Professional, which has an integrated sticky belt to prevent fabric from stretching and skewing during printing.
There is a Mutoh-based printer that can handle stretch fabrics (and thick pile rugs too), the Yuhan-Kimberly UJET MC2-P Digital Textile Printer.
Mimaki's more recent model for printing onto elastic fabrics is the TextileJet Tx400-1800B, which has a belt carrier system to maintain the fabric into position while printing and to ensure no skewing. There is also an older version of this model, TextileJet Tx400-1800D, which is basically the same printer with a different media transport system with pinch rollers instead of a belt.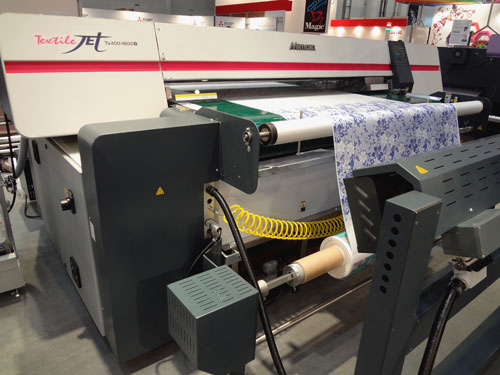 Here you can see the belt carrier system of the Mimaki TextileJet Tx400-1800B printer at FESPA Digital,
Hamburg 2011.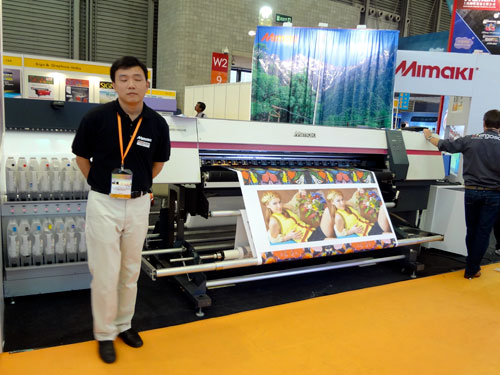 As you can see, there is no belt on the Mimaki TextileJet Tx400-1800D printer. APPPEXPO, Shanghai 2011.
Mimaki Tx2-1600 TextileJet.
The Mimaki Tx2-1600 TextileJet is an earlier less complex textile printer. You can use this printer for silk and cotton but post processing is required, this means steaming and/or washing.
Mimaki DS-1600, Mimaki DS-1800 dye-sublimation printers.
Both Mimaki, Mutoh, and Roland have dye sublimation printers. The Mimaki models are their Mimaki DS-1600, Mimaki DS-1800 dye-sublimation printers.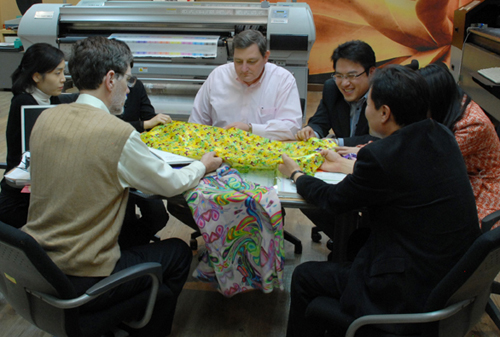 Here is Nicholas in the headquarters of Yuhan-Kimberly in Seoul, Korea, during a testing and review session with the textile designers and management team of Yuhan-Kimberly.
Roland-based textile printers.
Most after-market retrofits of water-based printers for textiles are designed around a Roland chassis. ATP Color would be the best example. This Roland+ATP Color printer has several names: Splash of Color Heatwave DFP-740 G4, DPF-1000 G4, DPF-1320 G4 direct to fabric inkjet printers and Roland Hi-Fi Express FP-740, Roland RS-640, and SJ-1045.
Most recently updated August 26, 2011
Previous updates: Dec.1, 2008, Feb 28, 2008.