Seiko Color Textiler 64DS launched at Graphics of the Americas trade show.
The Seiko Color Textiler 64DS appeared at Graphics of the Americas trade show in Miami on Feb 28th, 2008. Rumors about such a Seiko textile printer had been circulating for over a year before its launch.

The Seiko Color Textiler 64DS is built on the same chassis as the HP Designjet 8000S (since that printer is designed by Seiko, a follow-up to the Seiko ColorPainter mild-solvent printer series). But the Seiko dye sublimation printer does not use solvent ink: it uses oil-based sublimation inks for printing on transfer paper which then has to be sublimated in a heat press. So far I have not seen any heat calendering press nor any documentation on the complete workflow needed for actually producing finished dye sublimated polyester fabrics.

;

Hilord lists the pros and cons of water-based dye-sublimation inks compared with oil-based dye-sublimation inks or solvent-based dye-sublimation inks. In other printers (not in the Seiko Color Textiler 64DS), you need solvent-based dye sub inks in order to allow switching back and forth between solvent-based (not dye-sub), but traditional solvent for printing on PVC banner material.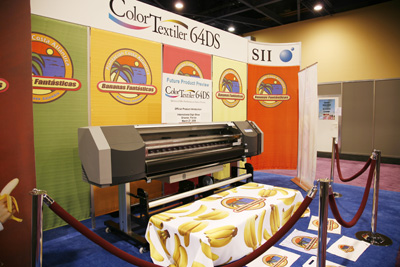 Seiko Color Textiler 64DS Printer at its launch at a Miami tradeshow, 2008
Seiko Color Textiler 64DS faces competition from well-established dye-sublimation printers elsewhere.
Mimaki JV4-160
Mimaki JV22-160
Mimaki JV33-130, JV33-160
Mimaki JV5-130, JV5-160
Mimaki DS-1600, DS-1800 (direct to fabric but requires heat setting)
Mutoh Viper 100 2.6 meter dye sublimation printer
Mutoh Viper Digital Transfer Printer
Roland Hi-Fi Express FP-740, Roland FB-740
One reseller even offers the CAD printer, Mutoh Drafstation Pro 42 as a dye-sub printer! (Probably because HP owns the CAD market and piezo is too slow and finicky with head-purging needs).
Mimaki became the de-facto printer of choice for entry-level and mid-range dye-sublimation printing during 2001-2004. Mimaki printers simply were the ones that most printshops and in-house facilities bought. Since Mimaki holds the leading market share in dye-sub printers before $50,000, it is a challenge for any other brand to take over significant market share without a budget for reaching printshop owners and managers with a new message of why their printers (Mutoh, Roland, Seiko, or whatever other brand), but these other brands offer something that is not available on a Mimaki.
Note that nowhere have I stated that Mimaki is best, and there is no insinuation that other brands are deficient. The market share is simply a fact of life today in 2008-2009.
But now that FLAAR is increasingly moving into evaluating dye-sublimation workflow, inks, printers, and heat press calendering machines, things will gradually change once we better understand which brand offers benefits to end-users.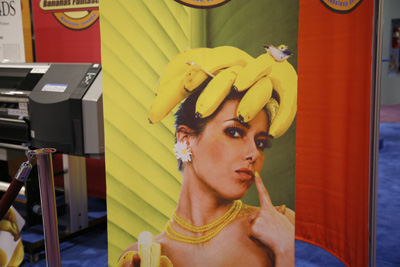 Print sample on Seiko Color Textiler 64DS dye sublimation printer at Graphics of the Americas, 2008.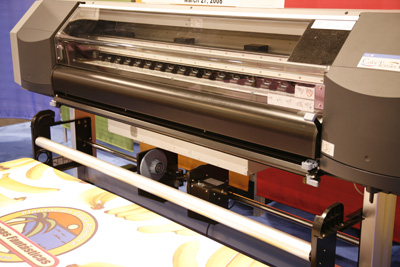 A closer view of Seiko Color Textiler 64DS dye sublimation printer at Miami trade show 2008.
FLAAR is moving into evaluating dye-sublimation and textile printers.
FLAAR Reports increased coverage of textile printers in 2007 by visiting Yuhan-Kimberly DTP Link in Korea, to review their Yuhan-Kimberly UJET MC2-P Digital Textile Printer. I have also written comments on the Mutoh Viper, the Roland textile printer FP-740: ATP Color, Mimaki TX3-1600 TextileJet textile printer, and various d-gen textile printers.
The week before SGIA 2008 it was possible to return to Korea to spend more time studying the next-generation Yuhan-Kimberly textile printers: their 8-color MC3 Premium and VU:1800 (12 color system).

At SGIA 2008 in Atlanta we initiated a long-range evaluation of the DigiFab StampaJet textile printer. During 2009 we anticipate evaluating the textile RIP software of DigiFab, Evolution RIP.
Next two of us from FLAAR went to VISCOM Italy 2008 to study the textile printers there (since northern Italy is a world center for innovative customized digital textile printing with inkjet printers).
So during 2009 please return to this web site for more information on digital textile printer price comparisons, evaluations and reviews. Our policy is to prefer to undertake in-depth coverage which implies inspecting the printer at a main demo room so we can do test prints. It is a traditional part of a FLAAR review of a printer to visit the corporate headquarters or at least the main US and/or main European offices, in order to see who and what actually stands behind the product. Then, when time and funding are available, the best way to evaluate a printer is to inspect it in an actual printshop, and to interview the printer operator. We call this a site-visit case study.
Links within FLAAR network: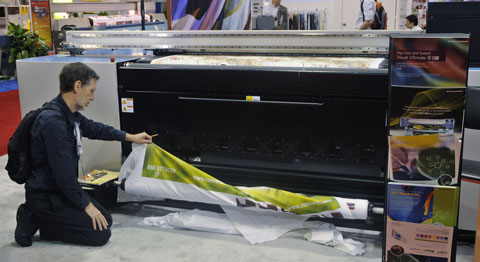 Nicholas has twice been flown to Korea to inspect the Yuhan-Kimberly DTP Link digital textile printers. Although these MC3 Premium printers are primarily for printing on silk, cotton, and diverse other fabrics, you can also use them for dye-sublimation, either direct-to-fabric or onto transfer paper.
Most recently updated Dec. 1, 2008.
Previous updates: Feb 28, 2008.