Dye sublimation wide-format inkjet printing on textiles is a growing and successful business.
Dye sublimation with wide-format printers onto textiles can be a profitable business. But it helps to first learn the jargon, gain knowledge of the textile printing workflow, and understand the different kinds of textile inks. So FLAAR Reports are being prepared to assist printshop owners, managers, as well as students and professors who wish to prepare themselves for this market segment.
Soft signage (meaning printing on textiles) continues to increase.


Every year textile printing slowly increases market share, largely because more diverse options in textile printers and inks became available. And the printers and textile inks today in 2008-2009 are a bit better. Also people got tired of printed on smelly vinyl. It also helped immensely that soft signage is easier to handle, less cost to pack and ship, and is more environmentally friendly.

Inkjet textiles are a friendly material. Vinyl reeks of VOCs from solvent ink, is heavy, and detrimental every Green initiative.

Plus several new brands of textile printers will be released in 2009 and more in 2010 (sorry, FLAAR is consultants to these companies but under NDA, Non-Disclosure Agreement). But once these printers are launched, this www.wide-format-printers.org web site will be the place to learn about textile printing (the same way www.large-format-printers.org web site is the de facto source of learning about UV-curable flatbed printers).

I begain studying inkjet textiles already by 1999, and after initial years of becoming familiar with inkjet textile printing I then visited the leading European textile centers in two countries. Then, starting in 2007, I have been receiving training from DTP Link of Yuhan-Kimberly. Starting in 2009 a project was initiated with 3P Inkjet Textiles. So for 2009 you will see a lot more about wide format digital printing on industrial fabrics for soft signage as well as for clothing and every other interesting application.

FLAAR is interested in all textile applications, more than just soft signage. We cover printing wall coverings (generic jargon that includes wallpaper), upholstery for furniture, curtains and drapes, as well as clothing (especially silk scarves). This particular web page is an introduction to dye sublimation jargon, and how many other kinds of textile printing exist; much more than only dye sublimation.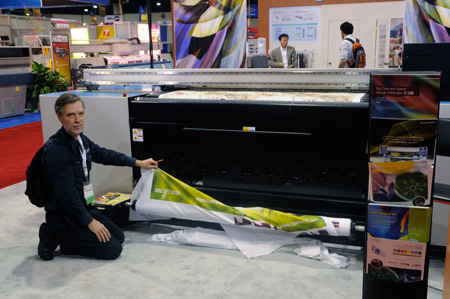 Nicholas with some printing examples of the Yuhan VU-1800 textile printer at SGIA 2008.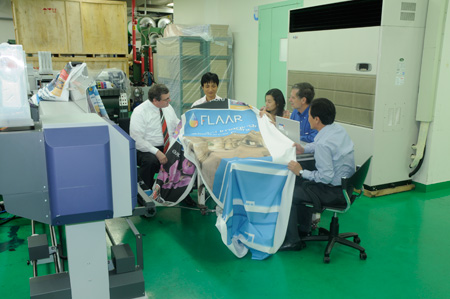 Dr. Nicholas Hellmuth site visit to Yuhan-Kimberly factory, 2008.


First step is to learn the jargon. We will start with listing all the different kinds of textile inks.
Textile inks for wide-format inkjet printing of fabrics.
Acid dye textile ink
Reactive dye textile ink
Pigmented textile ink
UV-cured ink (regular UV-curable ink for flexible materials, Durst Rho)
hybrid UV-cured textile ink (Sensient)
Dye UV ink used by L&P Virtu 130 DirectUV
Disperse dye
Dye sublimation
Oil-based dye sublimation inks
Water-based dye sub:
Solvent-based dye sub
Acid dye
Learning about each ink is a lifetime in itself, and for every rule there are exceptions. But here in a quick and easy format are the basis.

Acid dye textile ink is primarily for direct printing on silk, wool, nylon (polyamide) materials. Be sure to understand about what pre-printing and post processing might be necessary.
Reactive dye.
Reactive dye ink is for cotton, other cellulose fibers. Linen. Post processing includes steam or hot air, and then washing.
Pigmented textile ink.
Pigmented textile ink is used especially on cotton. So far, pigmented inks are not as bright colors as are reactive dye inks. But in 1999, Epson did not even have a pigmented ink and many years later HP dye ink was much brighter and more colorful than any pigmented ink. But by 2006 most pigmented inks had reached par and today not many people would waste their time with dye inks for water-based printing for photography, giclee or indoor signage. So if enough time and money is invested, eventually pigmented textile ink will have better color saturation.
(regular standard) UV-cured ink for textiles.
Durst Rho 351R and Rho 320R are two examples of grand format industrial printers that do well handling rolls of fabrics over 3 meters wide. These use free radical UV-curable ink (with mercury arc curing lamps). I have tested both of these printers on fabrics from Dynajet – Dollfus & Muller in the Durst factory testing facilities in Brixen, South Tirol, Italy.

This is regular standard UV-curable inks, similar to the inks used in dozens of different roll-to-roll UV-curable printers.
(hybrid) UV-cured textile ink.
The first hybrid curable UV ink that I learned about was from Aellora (Markem). They had lively exhibits and featured white ink on black materials at impressive quality for those years (2004-2006 especially). Unfortunately Markem disbanded that entire division.

Do not confuse hybrid ink chemistry and curing with hybrid manner of moving thick materials through an otherwise roll-to-roll printer. Hybrid ink and hybrid printers are two totally different things. FLAAR describes and lists all brands and models of hybrid printers in a separate FLAAR Report. Hybrid curing of a special kind of UV ink, especially for textiles, is a new project currently being researched at FLAAR; the report will be out later in 2009.

The next time I heard about hybrid curable UV ink was at VISCOM Italy, in Milano, in late 2008. Sensient was showing a unusual textile ink for a specially equipped Roland printer, modified by DTPColor printer, that cured about one meter away from there it was being printed. This looked interesting so I am arranging a visit to Sensient textile ink world headquarters in Switzerland.

This is how FLAAR learns: we go straight to the key indivduals in the industry and receive training directly in their labs, R&D facilities, testing facilities, and so on. I was trained in one kind of LED-curable UV ink on a Russian military base in Siberia, as but one example (no, it was not a military ink; just that there are a lot of empty buildings on military bases in Europe and they rent them out to normal companies for building their factories. As you can imagine, you don't get too many unwished visitors on a Russian military base in Siberia).

Then there is, or was, also dye UV-curable ink used by L&P Virtu 130 production digital textile printer. This was a half-million dollar UV printer so had features not expected on a normal wide-format inkjet. Unfortunately this remarkable textile printer was dropped before L&P effectively faded from the scene about the time (autuhm 2008) that what was left was acquired by WP Digital AG (who are working hard to reinvigorate what they obtained from L&P and Spuhl).
Disperse dye.
Disperse dye is used on direct printing of textiles (sublimated inside the printer immediately after printing).
Dye sublimation.
Dye sub ink is printed onto transfer paper and sublimated in a heat transfer press (a calendering machine). FLAAR is preparing separate reports on calendering heat press machines.

Dye sublimation inks come in three flavors: oil, water, and solvent. As would hardly be a surprise, each flavor has specific benefits, and each kind of dye sublimation ink has a few downsides.
Oil-based dye sublimation inks.
Hilord, which makes all three kinds of dye sub ink (oil, water, and solvent) says that oil based dye sublimation ink has the lower print density.
Seiko Color Textiler 64DS uses oil-based dye sublimation inks
Vutek FabriVu,
Gandinnovations Jeti.
NUR FabriGraph

Water-based dye sub.
Water-based dye sublimation inks are for Epson piezo printhead machines such as Mimaki, Roland, Mutoh and Epson itself. So also d-gen. You may get the best colors and definitions with water-based dye sublimation ink (better than direct printing with disperse dye ink). But there are many factors to consider, since anything that is better at some aspects has one or two downsides too.
Hilord Chemical Corporation makes water-based dye sub ink.
If your printer is a switchable version of a Scitex XL or VUTEk solvent printer, then you can't use water-based dye sub ink easily. For these two large printers you need a solvent-based dye sub ink.
Solvent-based dye sub.
Hilord Chemical Corporation makes all three kinds of dye sublimation inks: water-based dye sub, solvent-based dye sub, and oil-based dye sub. Their first introduction was on a Keundo SupraQ 3300 DS printer (Hilord via Next Wave media solutions).
Transfer Paper vs Direct
Mutoh intelligently offers both its Viper and Viper TX. The Viper is to print onto transfer paper. The Viper TX is to print onto fabrics directly. Most major printer manufacturers now offer textile printers. But the primary advantage of after-market specialized textile printers (Yuhan-Kimberly and DigiFab are two examples) is that these companies concentrate exclusively on textiles and textile inks and special RIP software for printing on textiles. So their solutions are better prepared then merely a stock printer with a textile label simply stuck onto it. And more importantly, the textile companies have better trained people on their staff who know textiles inside out. I have been to the headquarters of DigiFab and twice to DTP Link (Yuhan Kimberly). They know fabrics better than you get at a printer company whose real main business is signage, labels, or vehicle wrap.
Transfer Paper
AW Specialty Papers offers AW Subli-Trans SJ, oil-based; does not list solvent but "s" is in product name
AW Subli-Trans WB, water-based
Beaver is another brand name for dye-sublimation transfer paper: TextPrint is their jargon.
Coldenhove Jetcol OS, for solvent-based and oil-based ink.
Coldenhove Jetcol HS and Jetcol HTR
APPLICATIONS for dye sublimation.
Although most dye sublimation is to textiles, you can also do gorgeous dye sub onto aluminum. Just realize that all dye sublimation has to be to a polyester coated material, but you can easily find coated aluminum.
If you are clever you can also sublimate onto snowboards, skis, skateboards and other spots materials. But still, most of the dye sub is onto polyester or polyammid materials (used in sportswear).
Summary
FLAAR Reports are full-color PDFs varying from 8 to 30 or 40 pages that offer longer more comprehensive discussions of textile printers. On a single web page there is space only for some highlights.
Full-color reports are available when we have access to the printer by inspecting the printer inside out in the factory, testing the printer in a demo room, and when possible, eventually evaluating the printer at work in a printshop. Of course the first step is to visit every booth at all the major trade shows in Italy, Germany, and the USA. FLAAR attends every ISA, SGIA, FESPA, VISCOM, and also wide-format printer trade shows in Mexico, the Middle East, Africa, and elsewhere.
Mimaki TX2 1600
Mimaki TX3 1600, reportedly did not sell many of this model
Mimaki GP-604D, garment printer (mainly T-shirts)
Mimaki GP-1810, T-shirt printer
Mutoh Viper (transfer paper)
Mutoh Viper TX (direct to fabric)
Mutoh via GraphicsOne
Roland Hi-Fi Express FP-740
Roland HeatWave sublimation systems based on SOLJET and VersaCAMM
TexPress (Japan), DSS-1800 II (direct to fabric with heat unit on board)
Tex-104 (direct to fabric with heat unit on board). The TexPress printers are reportedly no longer available due to patent disputes.
VUTEk 3360 Fusion (change-over system, solvent-based)
Xerox X2, oil-based dye sub inks; dye-sublimation is not the full original intent of this aging printer, but it works okay if this is the only machine you have available. I visited one company in Slovenia that still uses this relic in 2009 (he has several of them for spare parts too).
Yuhan-Kimberly MC3 Premium
Yuhan-Kimberly MC3 Express
Yuhan-Kimberly VU-180
There are another dozen brands of printers, especially in Italy. But many of the other brands of textile printers pop up at one trade show then you never see them again. FLAAR can only write about a printer if we see it several times a year at different trade shows. If the printer never appears in public, then we need to be brought to the company factory, demo room, etc. So we prefer to work with the brands and models that are accessible.
Posted Feb. 11, 2009.