Wide Format Scanners, the new Generation.
All kinds of wide format scanners are available today to digitize maps, old architectural drawings, sketches, paintings, or any graphic work. The new generation of wide format scanners can scan documents of many sizes, either as sheet fed or roll fed. You can easily find sheet-fed wide format scanners up to 40 inches wide.
Action Imaging Solutions, ANAtech, Colortrac, Tangent, and Vidar Systems Corp. are just a few of the wide range of companies who manufacture professional quality wide format scanners.
Action Imaging Solutions is one of the larger of the wide format scanner companies.
At the left, the booth of Action Imaging Solutions at the PMA trade show in Las Vegas. At the right, a detail of a scanned image (original looks better before it had to be JPEGed to fit onto the Internet).
I subsequently inspected the ACTion booth at the CeBIT computer trade show in Germany (March 2000).
Altek Corporation, ColorScanner III, has a large format color scanning system, 40" scan width, 800 dpi, scan to print. But I do not know much about this company.
Vidar Systems Corporation now has a nice scan-to-print situation with ColorSpan printers. If you want more information on wide format sheet-fed and roll-fed scanners, contact John Dusenberry, e-mail [email protected].
Since FLAAR has two ColorSpan printers we are especially interested in the Vidar solution.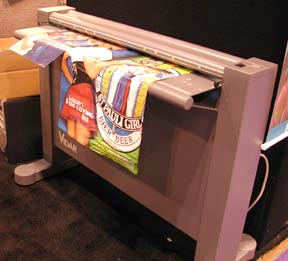 Vidar wide format scanner
.

Most recently updated May 13, 2002.
Previous updates: August 02, 2001.