Introduction to Wide Format Cutters for Trimming inkjet prints.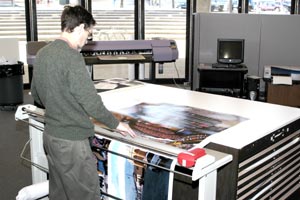 FLAAR uses Metoschnitt brand to do their cutting and trimming.
A cutter for trimming inkjet prints is something you forget about in the rush of excitement in ordering your wide format printer. You need a trimmer for repro departments, copy centers, and any office with a wide format printer.
Once you have your wide format printer you will need a laminator. Your printer will have an automatic cutting knife but you may prefer to trim the prints later. In this likely case you will need a trimmer, especially one that can handle plastic (the lamination). If you sell your output the client will expect the edge of each sign, poster, or banner to be nicely cut, not ragged.

Yes, your wide format printer has a cutter, this cuts only when the print is in the system. Once you have taken the print out, and it is dry, you may need to trim up the ragged edges, especially if a corner got bent over during the process of moving a large print around the studio. In this case it is good to have a wide format cutter-trimmer on the premises.
Trimmers, Cutters for Wide Format
Alvin & Company
Dahle, Safety First rotary trimmers
Keencut, Javelin, Big Bench, Excalibur
Meteor, trimmers for wide format inkjet prints
Neolt, foam trimmers, rotary trimmers
Rotatrim, "M" series trimmers
If you need a cutter-trimmer for a sign shop or other professional use, we recommend you consult with Mike Lind, Reprographic Designs. He imports trimmers from several different companies including Meteor, one of the nice German trimmers.
Reprographic Designs (ReprographicDesigns.com) also offers trimmers from Keencut, Rotatrim, and Neolt. Keencut makes Javelin, Big Bench, and Excalibur, including for trimming foam and gatorboard.
In addition to the cutter itself, you will also need a cutting mat and safety ruler as well. The leading place for these accessories would be SpeedPress. You can check with Mike Lind about cutting mats and safety rulers too.
If you wish additional information on trimmers, cutters, and especially on lamination equipment, just ask for the free FLAAR Fast Facts on laminating equipment, a report by Nicholas Hellmuth. Our university makes these available at no cost. Just fill out the survey form and our university sends the reports within 48 hours, as part of the public educational programs of the university.
Most recently updated May 20, 2003.
Previous updates: Aug. 25 2002, Aug. 19, 2002.