100 base-T Ethernet minihub (Fast Ethernet).
If you have a large format printer you need to add a simple mini-hub. What is a mini-hub and why do I need a mini-hub? Mini-hub receives and sends your files from your computer to your RIP to your printer. The mini-hub connects all the computers in your room so that anyone in the room can print to a laser printer, wide format printer, or any peripheral that has a network card. A mini-hub is easy to use... you do not need a technician to install it.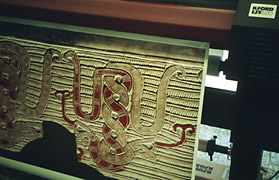 10Base-T is the normal entry-level network. If you are a repro shop or any business with large format printers where time=money you should opt for the faster speed of Fast Ethernet or Gigabit Ethernet. Desktop publishing, in-house publishing, prepress, graphics design studios, digital photography studios, repro shops and comparable print shops can profit by upgrading to 100baseT Ethernet. Upgrade to Gigabit Ethernet if your computer comes with that installed--Asante offers Gigabit networking for the Macintosh already. Just replace the old 10Base cards with new cards and get a new hub. The market for 100base and Gigabit Ethernet is growing so rapidly that plenty of companies sell these products.

Most high-end large format printers should be offering 10/100Base-T Ethernet already installed; if not, ask to have the 10Base-T upgraded to dual 10/100Base-T Ethernet before you buy it. Macintosh models up to 9600 usually came with 10Base-T; G3 moved up to 100Base-T Fast Ethernet and Gigabit Ethernet is on the horizon for high-end machines (aforementioned Asante Gigabit hubs are shipping already). The PC Windows world does not have Ethernet as a standard feature except for higher-end models.

My current system is only 10Base-T. I can send a 40 MB file from a Mac 9600 to an EFI Fiery RIP in perhaps 3 minutes. This hardware PostScript RIP then takes between 3 and 20 minutes to handle the file (3 minutes with a direct TIF file over Fiery Downloader, quick RIP but few print options). If I need the capabilities of a page layout program such as Adobe PageMaker, that same file, same size, can take up to 20 minutes for the Fiery RIP to handle.

For a small office or at home, a 5 port mini-hub is adequate and you can survive with 10Base-T. But if you do professional photography or desktop publishing and above, you will prefer the speed of 100Base-T (Fast) Ethernet. If you have a high-end large format digital camera you will need Gigabit Ethernet in the long run. I recently had to upgrade to an 8-port mini-hub to accomodate all the printers that arrive to be evaluated.

I have taped over the IN port because the "in" cord does not go there. All the "in" cords go into the "out" ports (computer goes in, then out to each printer, one printer for each port). So a 5-port minihub can handle a computer and four printers (dye sub, monochrome laser, color laser, and wide-format printer (actually to the RIP server which runs the printer)).A mini-hub is truly plug-and-play.

You don't really even need to read the instructions. Just plug the mini-hub power cord into the electrical socket, plug your connector cables into the hub. You now have your own network. There is no software to install, nothing to configure whatsoever.Connectors are simple economical cables that look like a telephone cable with a thick telephone jack at each end.

Ilford Imaging is a major re-seller of Encad and ColorSpan wide format printers. When you obtain your printer from Ilford you get everything else you need, and this includes 100Base-T Ethernet. If you are using a 600 dpi wide format printer then your files are large enough so that 100Base-T fast ethernet makes a difference. Technicians at Ilford have plenty of experience in all this and they use 100Base-T. If you are a repro shop, copy shop, or sign shop then you might consider advancing to Gigabit Ethernet.

Most recently updated May 13, 2002.
Previous updates: July 06, 2001.