Accuplot 3400, Accuplot 4300, and Accuplot 6200 replaced by Mutoh Falcon II.
The Accuplot 3400, Accuplot 4300, and Accuplot 6200 are nice printers formerly sold by Mile High Engineering Supply Company. All Accuplot printers are Mutoh printers under the Accuplot label. Mutoh is a respected name in the large format inkjet industry.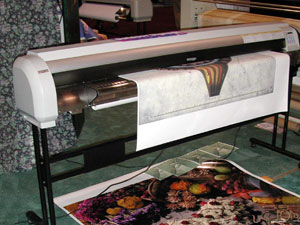 You could obtain the Mutoh piezo printer with Epson printheads from a variety of sources: Agfa, Kodak, and various sign companies. Mutoh is the company in Japan which manufactures all of these printers. Mutoh also manufactures the Epson 7000, 7500, 9000, and 9500. This generation of Mutoh printers is comparable to the Epson 9000 with one noticeable difference: the Mutoh can take pigmented inks. The Epson 9000 takes only aftermarket pigmented inks and those tend not to work well (we know, the art department on our university campus suffered through months of headaches with their Epson 9000).
Several companies who specialize in fine art giclee printing have both decided not to feature the Roland for fine art printing but instead the Mutoh. All these printers have basically the same Epson printheads (Roland, Mimaki, Mutoh, and Epson all get piezo heads from Epson). Actually IT subsequently switched from Mutoh to Mimaki since Mimaki got its newer printers to market faster than Mutoh or Roland.
But the Accuplot web site has been off the air for some time now (since at least summer 2002). And in the meantime, the Mimaki JV4 has taken over much of the market. The Mimaki JV4 has better printheads than the I-Jet, Accuplot or any of that older generation, newer and variable droplet size too. But the new Mutoh Falcon II has caught up: same printheads as Mimaki JV4 and Roland Pro II.
Mutoh itself is taking over sales more directly (since Accuplot and I-Jet clones are no longer sold, and as Kodak languished with its Mutoh clones after Kodak took over Encad). There has been a period where Agfa was one of the few national sales outlets for the newer Mutoh (Mutoh Falcon II, the Agfa Grand Sherpa). We discuss all this in detail in the FLAAR Report on signs.
Today (summer 2003) the Mutoh Falcon II replacement for the Accuplot, I-Jet and those vintage machines is gradually entering maturity. It was designed for 8 colors so is ahead of the Roland Pro II (only six colors). But still Mimaki has a head start, since it's JV4 was finished last year and has already sold more than 3,000 units. We have the Mimaki JV4 in the FLAAR facility at the university.
Most recently updated May 20, 2003.
Previous updates: November 18, 2002, June 24, 2002, May 13, 2002, 2002, July 10, 2001.