ATP Color textile printers on Roland chassis.
ATP Color, in Italy, has long been a leader in retrofitting both Roland and Mutoh printers to handle roll-to-roll printing of fabrics. Their main competitor would be d-gen of Korea. D-Gen makes their d-gen Teleios and d-den Heracle fabric printers.
Examples of ATP Color retrofitted Roland printers would be the ATP Tinta T64, based on a Roland SJ 745. The ATP Tinta T100 is based on the stretch model Roland SJ-1045.
There are also other series, ATP M54.
I have seen ATP Color printers at trade shows for many years, especially in Europe and naturally especially in Italy (VISCOM Italy).
ATP RF64 textile printer at VISCOM Milan 2005
ATP Color textile printers on Mutoh chassis.
ATP also retrofits the Mutoh Viper as the ATP Tinta T64. An alternative adaptation of a Mutoh printer is the Yuhan-Kimberly UJET MC2-P Digital Textile Printer.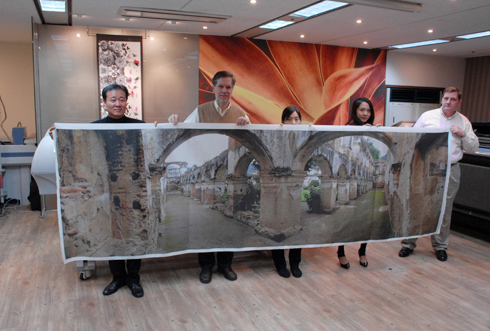 Yuhan-Kimberly encouraged me to visit them in Seoul so that I could learn more about this printer directly from their fabric design team and product managers. A trade show is a start, but to really understand the capabilities of a printer it is essential to visit the factory. Since my university obviously does not pay me to fly all around the world every two weeks to study inkjet printer technology, we appreciate when the manufacturers can host the visit. Indeed more and more universities are encouraging their professors to seek industry support for their research.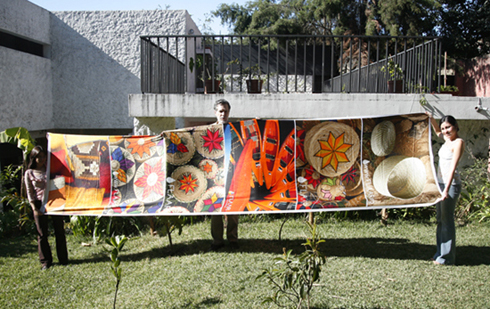 Here are Mirtha Cano, Nicholas Hellmuth and Jacqueline Najera, with the print made in Yuhan-Kimberly UJET MC2-P Digital Textile Printer, FLAAR Mesoamerica office.